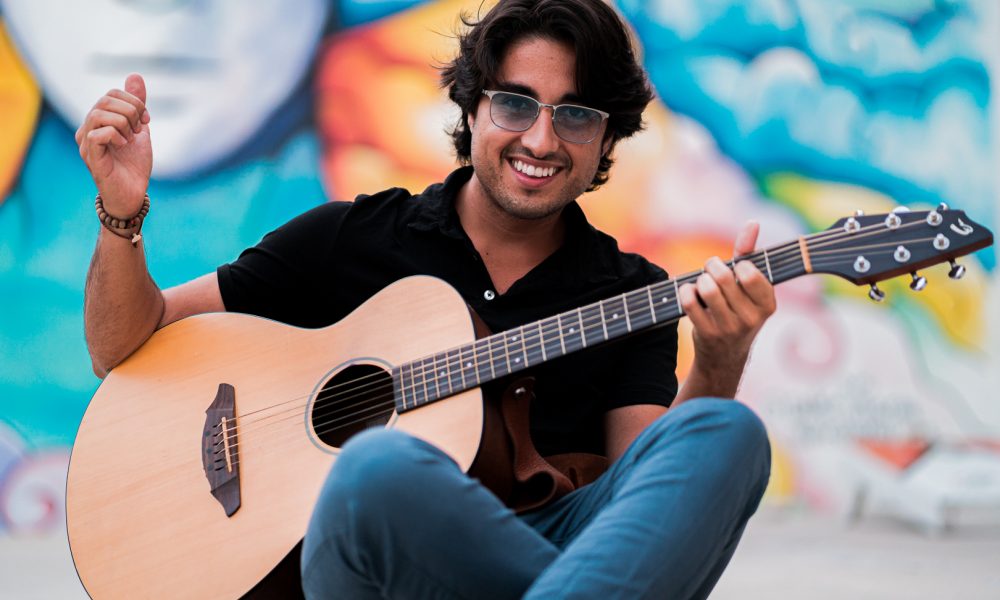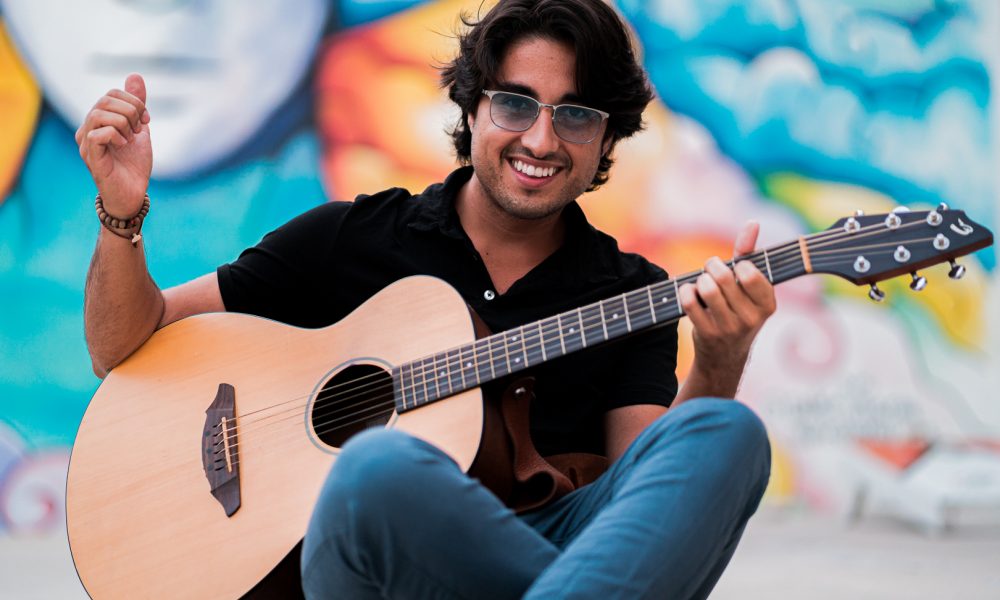 Today we'd like to introduce you to Kev Ohm.
Kev, please share your story with us. How did you get to where you are today?
Music has always been a part of my life. I've wanted to be a professional musician for literally as long as I can remember. As a child, I would sing and dance to Backstreet Boys songs at my elementary school talent shows. My parents are Brazilian, I was born and raised in Florida. Growing up, I would visit Brazil every summer vacation. At ten years old, I started taking guitar lessons during one of those trips to Brazil.
The first song I ever learned to play and sing on the guitar was Born in the USA by Bruce Springsteen. My Brazilian guitar teacher was really excited to teach someone who was actually born in America to play that song. Coming back to Florida, and ready to get serious with music lessons, my parents looked through the Yellow Pages (the internet was still in its baby stages back then) and found a music teacher named Pamela Davis based out of Jupiter. Pamela took me on as a guitar student but realized from day one that my singing and performance abilities were what set me apart from her average music student.
My lessons with Pamela started when I was ten years old, I fondly remember her saying on a regular basis that I was Elvis Presley in a previous life. Pamela introduced me to The Beatles, who to this day, are my biggest artistic influence. The first time I heard Sgt. Pepper's Lonely Hearts Club band, their psychedelic alter ego album, I knew I wanted to create music like they did.
Pamela and I met weekly for several years to develop my guitar and vocal skills, but I got so much more out of our lessons than just music instruction. Pamela was a mentor to me and taught me to question pretty much everything I had been taught about religion and life in general. She made a living as a musician her entire life and showed me that it wasn't just a dream reserved for superstars. Pamela taught me what I needed to know to get paid work performing at bars, restaurants, and clubs in the area. I started gigging at such an early age my mom had to drive me to some of my first shows. By the time I got my driver's license at 16, I was performing a few times a month around the Treasure Coast.
At 17, I started my first band, Keep it Civil, in a garage with a few of my best friends. By this point, I had written several original songs; playing them with other musicians became a real treat because up until then, my experience with music was always by myself. The time came to start applying for college, and although the music was by far what I was most passionate about, I couldn't commit to studying music full time. For one: music majors are one of the most time-consuming fields to pursue in college, and the bar is set very high to even gain admission into a college of music. Second, I wanted to appease my parents and knew that studying something else in college would give me a wider range of skills to pursue something other than music later on in life. So, I chose to study International Affairs at Florida State University.
From 2011-2015, I was a political science student living in Tallahassee continuing to perform as a soloist and with my band, playing bars, fraternities/sororities, and house parties. By graduation, I was making a living playing music and had no intention of pursuing any other career. Life had different plans for me- with no experience in education or labor relations an opportunity to earn more than I was making doing music while getting trained by the largest labor union in the South East United States fell in my lap through an internship with the Florida Education Association. The desire to make a decent living and make my parents proud were big influences on my decision, in addition to some personal reservations about pursuing music full time. I knew I had skills other than music and was curious to see what that path would look like for me.
From 2015-2018 I worked for Florida's teachers' union, traveling the state and the country learning about organizing and the power of unions. In 2017 I became an Executive Director at FEA, negotiating contracts and salaries for public school employees, working as an advocate for public schools and teaching education professionals how to organize effectively. Having a union job with benefits and a pension, I was making more money than I ever thought possible right out of college, with colleagues twice my age across the profession. And of course, my parents were VERY proud.
Although I believed in the cause I was working for; professional burnout was catching up to me quickly. The stress of the position was no joke. When a teacher of 30 years was being terminated due to performance or misconduct, I was the person they called to be their advocate. Going up against career lawyers, CFO's and school district superintendents on a daily basis, at 25 years old I was living for the weekend, working 12 hour days, and telling myself "if I can just get through 25- 30 years of this, I can retire."
After performing a few shows with my band towards the end of my tenure with FEA, I was reminded of how music was my calling. When performing I enter a flow state that I've never experienced doing anything else. That saying "do what you love" was repeating itself constantly in my head. Although leaving that steady paycheck was one of the hardest things I've ever done, I resigned from my position as Executive Director at FEA to pursue music full time in 2018.
I gave myself no other option but to make a living doing music. For a while after my resignation, I drove for Uber/Lyft just to have some income, but quickly realized even that was taking away precious time needed to develop an income from music, so I swore off rideshare driving and doubled down on booking live shows. With no money to pay for content, local musician and content creator @jakobtakos from @nothingnegativeco helped me with some professional photos. My longtime friend @chazmazzota (who I performed with as an acoustic duo in high school called "The Acoustic Soundings of Chaz and Kevin") a professional videographer and rising music star on his own right, created some music videos for me. Eventually, the bookings started rolling in.
Now in 2020, I'm proud to say I am building something I'm really proud of. Constantly working on my online presence and personal brand, I rebranded my solo act from Kevin O, a name I've used for most of my life, to Kev Ohm, a creative name that better represents what I'm all about. With a belief in the power of music to bring people together, heal, and effect change, I'm incorporating everything I do with the saying "Music is Medicine." My band Keeps it Civil is going strong with our self-titled debut album slated to be released in April of this year. We currently have a few songs on Spotify, Apple Music, SoundCloud, YouTube, etc. My debut solo album is on track for a release in Summer 2020.
Waking up, I'm excited to go to work on my passion. Learning to love the day to day grind of building my music business almost as much as I love performing has been a game-changer for me. I'm a member of 1909, a nonprofit dedicated to building community and support for creators/entrepreneurs in the Palm Beaches with a new-age bohemian co-working space. If I'm not performing, you can usually find me at their downtown West Palm location, plugging away at my dream reality. With aspirations to perform original conscious music that resonates with people internationally, there is a lot of work ahead of me, but at the end of the day, I'm making a living doing what I love, so the only way to go is up from here. Living the dream, I was born to perform!
Overall, has it been relatively smooth? If not, what were some of the struggles along the way?
My biggest struggle was battling social constructs about pursuing a career in the arts. The idea of going to college, studying something that makes me employable, getting a salaried job with benefits and retiring was something I completely bought into it. Because of that, I had reservations about pursuing music that kept me from diving in 100% for a long time. I passed up opportunities to attend art schools like Bach Middle School and Dreyfoos School of the Arts because I wanted to stay on the path the friends I grew up with were on.
With that being said, I truly believe many things happen to us for a reason. I needed to experience a career outside of music and learn that it wasn't for me so I could pursue music with no reservations.
Can you give our readers some background on your music?
As a musician specializing in live performance, I am currently known for performing popular covers with an East Coast Pop/Rock sound at bars, clubs, restaurants, music venues. and private events near Palm Beach County, although I also write original music.
I'm most proud of my ability to entertain audiences of all ages. As an entertainer, first and foremost, I always adjust the songs I play to who is listening. Some performers take few requests or none at all, sticking to what they do best that is well-rehearsed. I, on the other hand, actively seek out requests from my audience at a cover show because nothing beats the feeling of watching people light up when I play a song they know. The genres I do best are Pop, Rock, and Reggae, but I also do some Jazz and Country, I play music from the 40s and 50s, a ton of 60s and 70s, 80s, 90s and current popular music. Never taking myself or my setlist too seriously when performing, connecting with an audience is my first priority; everything else comes second.
My biggest confidence is that I'm a damn good vocalist. I'm pretty humble when it comes to most things in life, I'll be the first to admit my guitar playing skills are modest at best, but vocals/performing is where I shine and I'm not afraid to express that. Working with talented professional musician friends that cover all the musical bases, I can focus on what I do best.
What is "success" or "successful" for you?
Success for me, isn't really measured by financial goals or material possessions. The idea of retiring to a life on an island is the furthest thing from success for me. Leisure is great, but it's meaningless without hard work and purpose. Success for me looks like waking up with a defined purpose for every day, personal and spiritual fulfillment out of what I do to make a living, and service to others.
Service to others is probably the most tangible manifestation of success for me. If I know that my music is helping people heal, learn, transform, inspire, organize, grow, and feel happy, then I will have achieved the success I'm looking for. I currently wake up with a defined purpose and get personal fulfillment out of what I do, so I'm well on my way to that success, but there's plenty of work ahead of me in order to make an impact the way the musicians I admire have had an impact on me.
Contact Info:
Image Credit:
Kelsey Theater Photo by Koda Creative
All other photos by Jakob Takos at Nothing Negative Company
Suggest a story: VoyageMIA is built on recommendations from the community; it's how we uncover hidden gems, so if you or someone you know deserves recognition please let us know here.