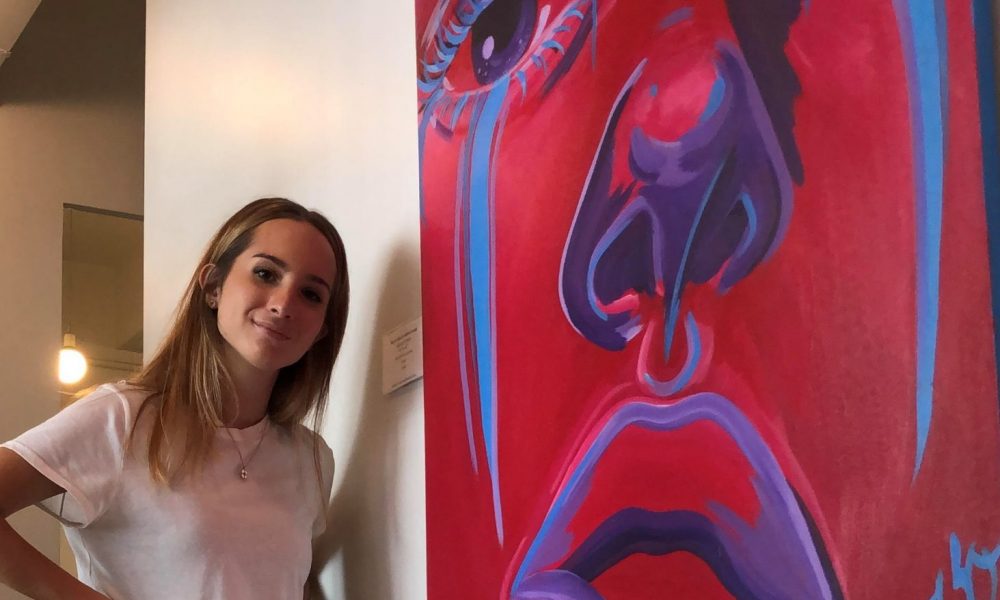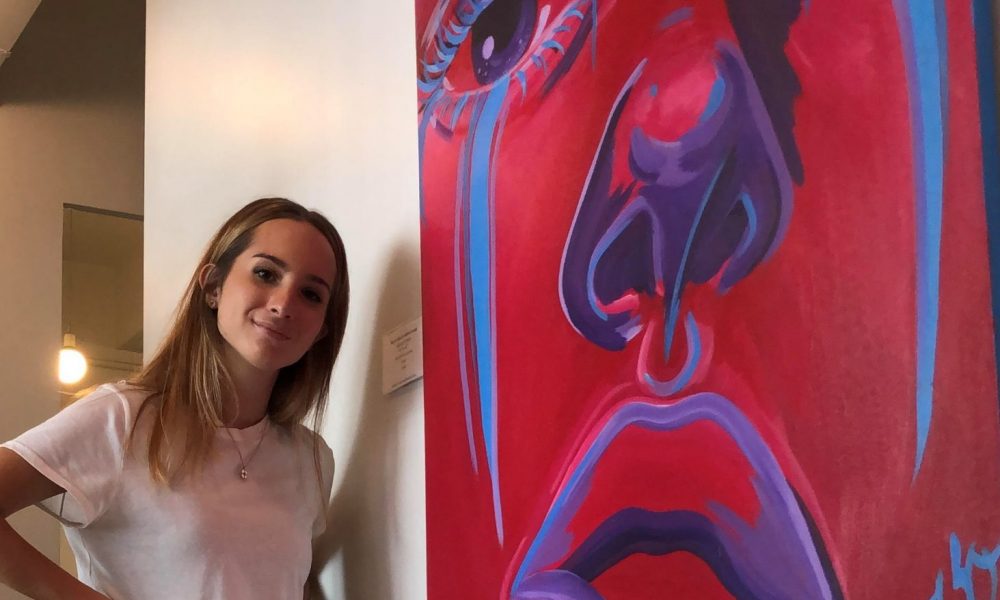 Hi K., so excited to have you with us today. What can you tell us about your story?
Being from South Florida (specifically the Fort Lauderdale region), I grew up surrounded by art in one of the most culturally diverse (and beautiful) parts of the country. I initially was introduced to working with acrylics when I met South Florida artist Deborah Fletcher (owner of The Painted Easel Art Studio in Weston), my art teacher at Coral Springs Museum of Art when I was around 12 years old. I credit her with setting me on this path and giving me the tools to channel my emotions into my work (and also thank her for introducing me to artist Romero Britto when I was 14, which undoubtedly inspired me to pursue art).
I eventually left South Florida to attend Penn State (in a non-art-related field) and took a five year hiatus from painting. It's easy to chalk the time off to college and life in general, but to be honest with you, what really caused me to stop painting was that I wasn't enjoying the pieces I was creating and found myself rarely completing a single piece and trying to shove myself into hyperrealism art (which, for the record, I am not good at). My breaking back into painting happened in 2018 when I tasked myself with just painting something- anything to break out of the cycle of painter's block. The piece I created that day in 2018 was my piece "Mara," a blue woman with bright red lips, oddly reminiscent of a piece I had created nearly a decade prior titled "Stay Gold." I'm happy to report I haven't put my paintbrush down yet. My inspirations and style have changed over the progression of my artistic and personal growth, but in many ways, I still the same girl fumbling for how to express herself in paint as I was a decade ago at Coral Springs Museum of Art- I'd like to believe I'm just louder now.
We all face challenges, but looking back would you describe it as a relatively smooth road?
It definitely hasn't been. I can genuinely say that after I started painting again in 2018 (at the beginning of my Master's at Temple, which also wasn't art related), making time to finish a piece in one sitting has been a test of my time management skills. I often have to create a piece in one go because my pieces are so emotionally charged that if I stop feeling the specific emotion I'm trying to portray, the piece just won't come to me or won't flow the way I want it to. It's like painting an angry piece and then coming back to it happy – it just doesn't feel right. I used going to school in Philadelphia as a way to start moving into the Philly art scene (which is fantastic but quite different from Miami's in my personal opinion), and can truly say I learned a lot about balancing deadlines and painting at the same time.
It's also very difficult to explain to people that painting is not really "fun" for me- it's more like something I have to do or a language I'll adopt to express something that might not be happy and fun. A common misconception (upon finding out I'm a painter) is often "oh, that's so relaxing!" or the idea that painting is a form of self-care, of which I can genuinely say it is not. So between allocating time to paint and also needing to self-care after I finish a piece, it's just quite a bit to juggle sometimes but I wouldn't have it any other way. I wouldn't trade the ability to share my work for the world.
Thanks for sharing that. So, maybe next you can tell us a bit more about your work?
I'd like to think that my work doesn't set me too apart from others- in fact I want people to be able to see themselves in my work and really resonate with it so that requires me not being too out-there with what I create. My work is different in that it's got very bright pop/contemporary influences while also talking about dark/taboo topics or displaying contradictory emotions, but I think that's what really beckons the audience to do a double take. I think another part of my work that sets me apart from others is my voice. I'm a very loud mental health advocate with a commitment both in my work and in talking about my work to being completely transparent (and painfully honest in my self reflection). I think there's a lot of pressure on artists on trying to create something memorable that we will essentially "leave behind" after we go, but I'm really more interested in starting and having a conversation now to essentially try and do my part in destigmatizing mental illness.
I'd like to say I specialize in acrylics but that's partly because I really love working in acrylic and also because I am too impatient for oils and far too reckless for watercolors (major kudos to my fellow artists who work in these mediums, I applaud you!). In regards to what I'm most proud… I think I'm most proud of the line of communication I've opened to complete strangers in essentially painting pretty, colorful pictures of my soul. It's one thing to stand on a podium and talk to people about my personal struggles with anxiety and posttraumatic stress disorder and it's another to be able to display a piece and let it speak for itself. It's the difference between talking just to talk and having someone truly hear you. The first time someone cried in front of one of my pieces because they felt what I was trying to convey was at my solo show in Philadelphia last year. I can honestly say that moment and the conversation following it was one of, if not the most affirming moment of my artistic career.
How do you define success?
I think about this often. I'd be lying if I said I didn't consider success to contain elements of fame or wealth, but honestly I'm also at the point in my life where I would judge success by how many lives you were able to touch in your lifetime. Art is something that has been around forever and utilized in so many ways for so many purposes, to the point where I think it's the true highlight of humanity. If you died today, would you be happy with the connections you've made? I believe I'm here to move, to empower people through both my art and my professional work. If I've changed even one life- if I've helped even one person, I'm successful.
Contact Info:
Suggest a story: VoyageMIA is built on recommendations from the community; it's how we uncover hidden gems, so if you or someone you know deserves recognition please let us know here.