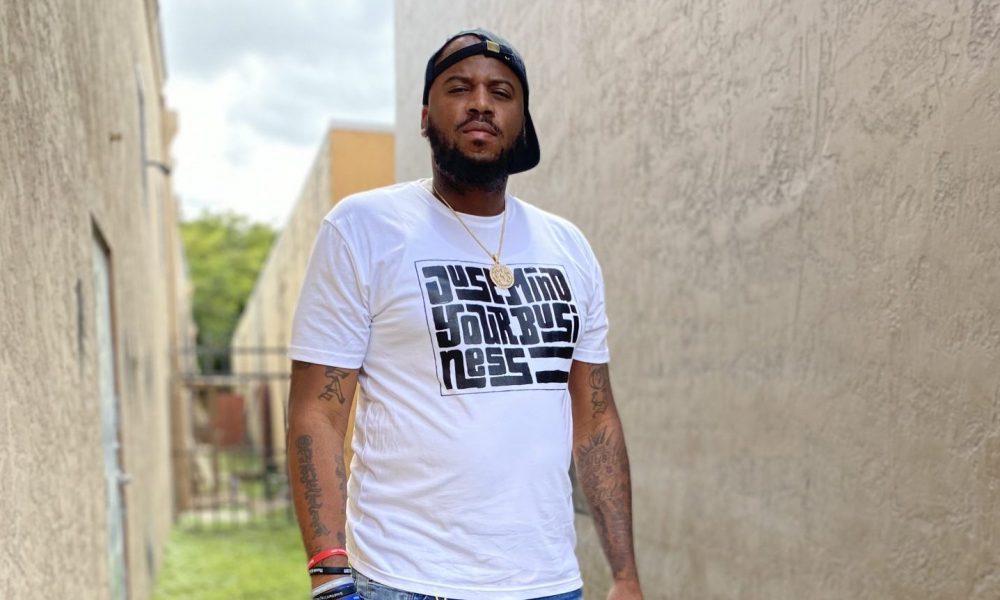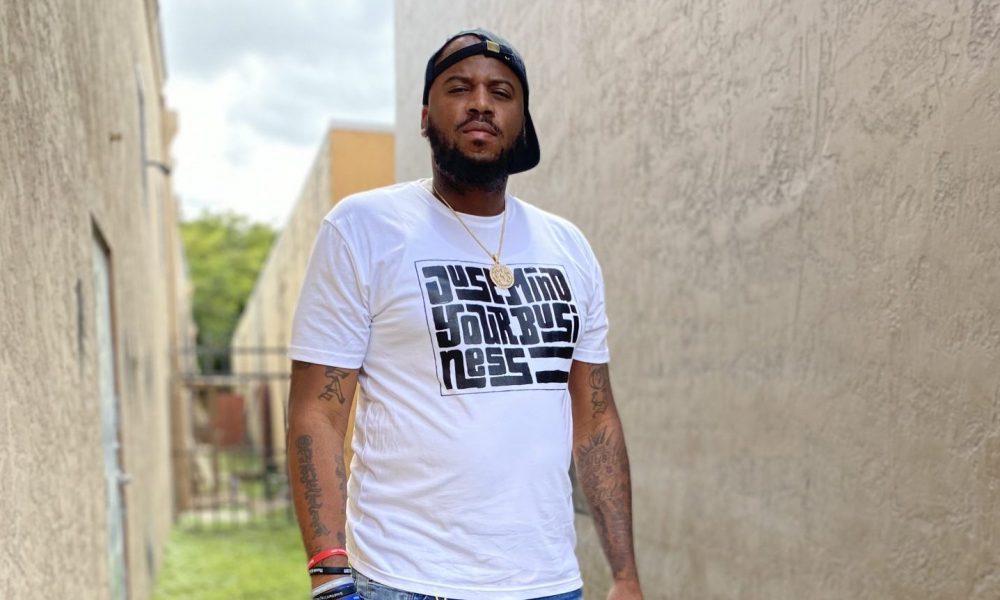 Today we'd like to introduce you to Joshua Mack.
Joshua, let's start with your story. We'd love to hear how you got started and how the journey has been so far.
Well my journey in business all started January 7, 2017, I had the vision for the brand and name months prior to my launching and releasing my brand to the world. I came up with the name one day chilling with one of my friends name Neysa she draws sews and paints clothes she helped me come up with my finger logo that changed the narrative of the middle finger well at least I'm still trying to change the narrative but hey when people say the F-bomb you say the F-bomb not stick a finger you feel me.
So yeah came up with that started making different logos just testing the waters my baby brother already had a clothing line and label so I knew a Lil bit cause I helped him figure the business part out about clothing like getting LLC so no one can use your name things like that but not everything but I'm smart and it's not hard for me to figure anything out so hey I was preparing researching all that stuff January came I launched my online website I launch my website so people rocking with it makes since and hey I know a lot of people so hey the support is going good, a week goes by I get locked up for a felony gun possession on the 12th of January so here goes the ride. Mind you I'm on probation already been on probation for maybe a quarter of my two years probation bid so yeah I go to jail automatic no bond so yeah now it's time to lace up my boots and adapt to the modern-day slavery life that's being locked up in a cell.
So yeah my first day I really get settled in and shipped to my unit I'll be in for a while I get my lawyer on the phone my mom and family and my guys so one of my partner's name Pooh has my phone so yeah I have everything for my business all setup on my phone PayPal the apps I use to run my business etc. so yeah everyday I'm on the phone fighting for this charge to drop because I was falsely accused of the crime I never got caught with a gun so how can you charge me with possession it was in my car but hey that's a long story short Lol so yeah everyday I'm here strategizing coming up with new ideas how I'm gone do this drop this on that I got my whole unit rocking with my message cause they have seen me talking bout it taking notes on it getting guys who draw and do creative stuff in that field make me logos giving them inspiration showing them like I know I'm in here but I ain't gone be in here for long so while I'm in here I'm gone get to it so everything that was coming to mind I was just writing it down.
So everyday fighting the charge on the phone shipping out orders with my boy on the phone really still got the business running while I'm in jail so people seeing me with my head up high and still gave them fuel like hey if there's a will there's away and I wasn't letting nothing stop me for what I believe in. So weeks going by lawyer coming to see me I'm playing basketball I'm adapting cause I still have no bond so I'm just doing all those things I told you repeatedly every week a month goes by my lawyer gets the charge dropped Thank God gotta relief cause I really turned to God In that time I was incarcerated and kept in touch with my people outside who loved me.
So yeah as time is going not going back just going, I'm still in here no charges but I have to wait to get expedited to another county, so they taking they time to come do another month goes by I'm still in here I done wrote so much things down that I said I was gone do on my notepad it's crazy I got bout three-four different logos made still making sales in my website, etc. another few weeks go by they finally expedite me to go in front of my original judge so I finally check-in I got court in the morning I go to court I get granted time served and just finish out the rest of my probation till the halfway mark which was in June and I was terminated off probation.
But before June when I got out at The end of March as soon as I got out, I got to it everything I said I was gone do when I got out I did I dropped hats coffee mugs hoodies stickers all type of stuff and I just kept progressing and progressing making different logos doing different things really taking it serious doing pop up shops just doing everything so as I kept going things just start getting better and better for me more people started seeing my vision seeing other people rock my brand everything coming together no my brother and others are seeing me go harder than he was doing his brand so now I'm showing him different things cause it's not hard I look at a business just like a hustle it's a real job you put in the work you get results and my brother was doing many other things and wasn't really taking it as seriously as I was so yeah I'm home everything is going on track my business is growing my fan base is growing more people are starting to really see my vision so everything is going well.
2018 of July I lost my little brother that right there broke my heart I'm talking bout broke me cried for months in unbelief still cry till this day cause we were so close raised him since he came out the wound he was one of the best little brothers anyone could ever have smart humble kool down to earth and always to himself never worried about what others had going on always had a heart pure of gold very great father and dude. He really made me stronger wiser made me get closer to my family cause that was tough for us all and still is so with him gone it gives me fuel everyday to go hard at what I do and believe in I rep his name everyday I even drop his name on my hats jackets and clothes for my brand he turned me even closer to God so hey my blessings come all type of ways, but hey he's watching over us everyday leading us the way.
Crazy how life is a few months later I lose one of my older brothers now it's like Damn what's going on is God telling me something is he punishing my family cause it was lost after lost back to back very close people in my life I done lost a lot of my close friends like maybe ten or more friends prior to 2018 so yeah those two losses right there made me numb to a lot of things like some days I don't feel like I'm human cause my mind is right here but My mind is in ten other places at one time, so my energy is always good but I feel when energy is bad or isn't good for me. But since then I just been elevating dropping new drip dropping new logos traveling more doing more things with my brand it's going great consistency is the key I keep going even if I don't get a sale will eventually come and I have great mentors such as my close homies that are like my brothers my power circle brothers my good friend from hour glass helped me a lot as far as learning the business and going out there on faith etc.
My business isn't still where I want it to be but it will be for sure my goal is to get as much people around the whole to just mind they business and believe in themselves and don't worry about the negativity of others and worrying about things they don't have, people can have all the glitter and gold but if you have no drive no mindset to better yourself in whatever field you want to pursue either it's a 9 to 5 or you working your small business to be a bigger one worrying bout somebody won't get you nowhere but will slow you down cause you put that energy into the wrong things instead of the right things. Just Mind Your Business & Handle Your Business all the glitter and gold will come to you cause you handled yours and let nothing come between your main goal. With this virus and stuff going on is just want everybody to stay prayed up for one & Just Mind Your Business your business is the people that are in your life and the people that you can touch you can't help everybody as much we wish we can we can't that's God Job.
We're always bombarded by how great it is to pursue your passion, etc – but we've spoken with enough people to know that it's not always easy. Overall, would you say things have been easy for you?
It's never a smooth road cause there are always bumps in the road especially in Miami where we from I done seen it all done a lot but I've been to jail lost brothers homies I lost three of my brothers I lost friends I've lost it all never lost my mind or my integrity and you just never know things happen the book and story already written you just have to be prepared when that day comes.
So let's switch gears a bit and go into the Just Mind Your Business story. Tell us more about the business.
I'm the owner and founder, my mom, is the owner and founder as well I just run the business as far as running the online website I'm basically hands-on with everything I specialize in putting the puzzles together I'm just proud that I'm still going still prospering and able to do more and more every year and consistency and not competing with others and competing with myself sets me apart from others but I love all the brands an entrepreneurs out there that I know
Just Mind Your Business is a brand promoting respect, privacy, and peace. Our main goal is to circumvent negativity by simply not worrying about other peoples' business and negativity. If it is not positive and it does not pertain to your growth then don't worry about it. In today's society, social media has become a staple in our daily lives. It has given celebrities a larger audience and even individuals like us a voice that would normally go unheard. The cyber-world has become oversaturated with negative messages and in some cases, unrealistic expectations. JMYB is here to provide the light at what seemed like an endless tunnel.
The CEO of "Just Mind Your Business" is a young black entrepreneur with an undeniable urge to make a change. After enduring life-changing experiences, he is using his knowledge and God-given talents to build a brand brick by brick that will change the world. The brand made its debut in November 2016 with originally designed clothing and apparel bearing the notable JMYB logo. According to the CEO, "Clothing is a platform that allows everyone to express themselves freely therefore, why not establish a business and a brand by utilizing the same platform in conjunction with today's technology." Two months after launching the online store was live and sales began pouring in. Since the opening, JMYB has had multiple clothing/apparel contracts with various stores in different markets and are constantly looking to expand.
Has luck played a meaningful role in your life and business?
I don't believe in bad luck or good luck. I believe in God and hey blessings can be overwhelming at times either good or bad but we all have ups and down more ups than downs any day just gotta be thankful for it all.
Pricing:
My shirts range from 20$ to 45$
My hoodies jackets range from 45$ and up depending on style
My hats and beanies range from 15$ to 30$
Contact Info:
Image Credit:
Everybody like Family but kayvon, Fam, Neph, Eric, Fatboy Kutz, Tish.
Suggest a story: VoyageMIA is built on recommendations from the community; it's how we uncover hidden gems, so if you or someone you know deserves recognition please let us know here.