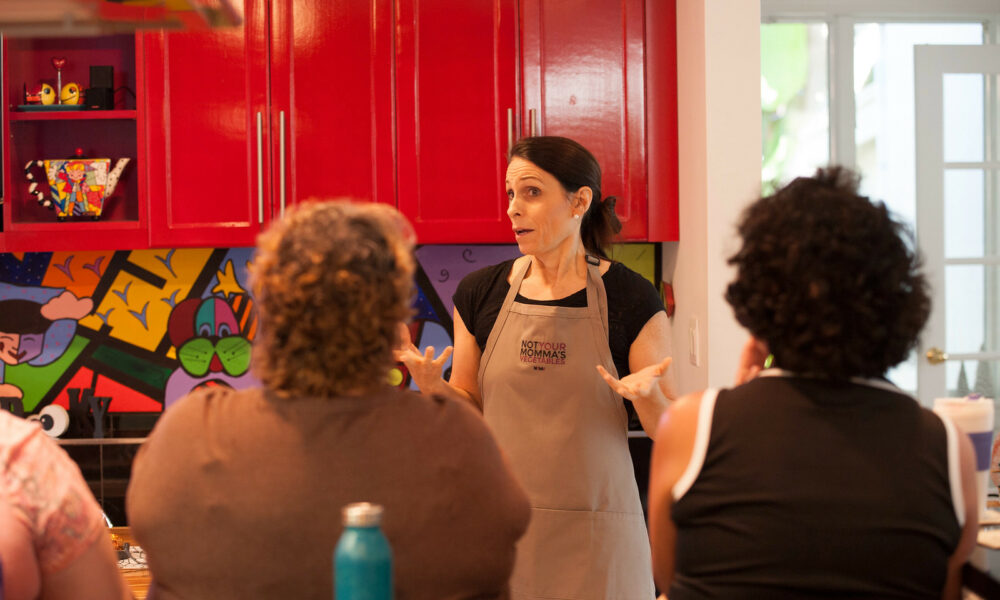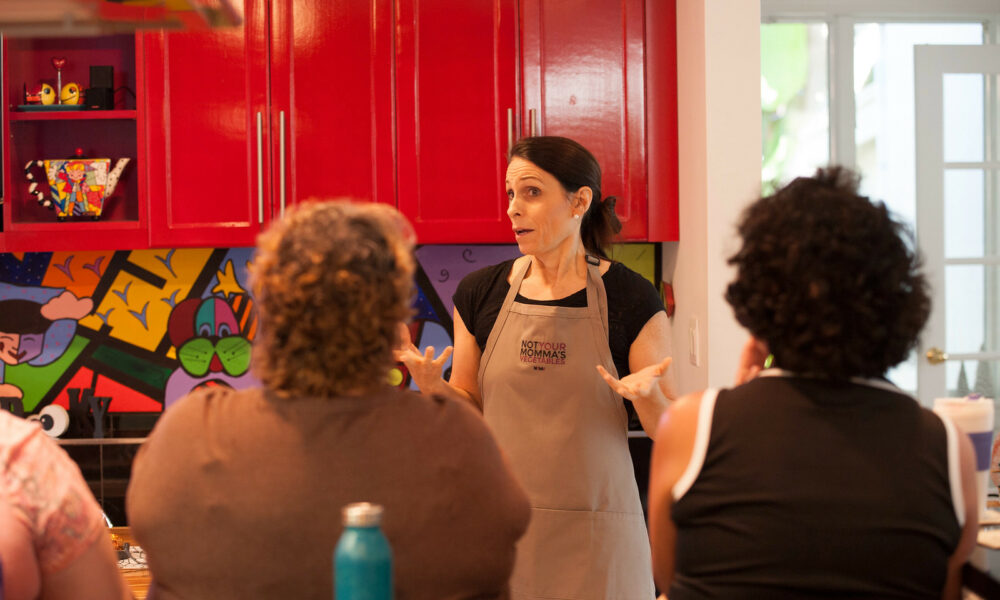 We're so pumped about our conversation with Julie Jeffries. Julie is a Plant-based health coach, corporate programs, lifestyle expert and is also a content partner. Content partners help Voyage in so many ways from spreading the word about the work that we do, sponsoring our mission and collaborating with us on content like this. Check out our conversation with Julie below.
Founder and Chief Onion, Julie Jeffries, is a survivor. The story of this awesome organization began with a terrifying diagnosis, only to be followed by an equally grim revelation just a few months later. But the Onion stayed strong, found the right path and believed in herself. As a result, she shocked the medical world by overcoming something "incurable" … all with diet and lifestyle changes that anyone can achieve. Do you love to eat? Do you love to feel incredible? Do you want to eat and feel incredible? We do, too!! Better sleep, more energy, and great health all start with what you put in your mouth. At Not Your Momma's Vegetables, we teach you how to eat properly, cook amazing food and find a new love for life! You might even cure your "chronic" disease! Join us at the table and remember… these are Not Your Momma's Vegetables!
Why do you feel that good nutrition is so important?
Every day, scientific evidence is proving the relationship between food choices and health and proving that we literally "are what we eat." But, beyond the lab and scientific evidence, you have so many incredible stories of health and people "fixing" themselves using food. I am one of those stories, which is how Not Your Momma's Vegetables was born. In 2013, I was diagnosed with an inoperable, benign brain tumor that had left me "permanently" blind in one eye. The recommended course of treatment to stop the growth of the tumor was radiation to the brain, which I was told could have impacted many brain functions for the rest of my life. I knew there had to be a better way to stop the growth of the tumor, so I set out on a path of reading and discovery that led me to the idea of a whole food, plant-based eating regime. I changed my habits overnight and within a month something incredible happened — I started to regain my vision! Within a year (which also included a subsequent breast cancer diagnosis), I had 20-20 vision for the first time in my life. It's been 7+ years since my diagnosis, my tumor has not grown and I have maintained nearly perfect vision just with diet and lifestyle modifications that anyone can achieve! My personal experience — and subsequent academic study of this concept –has led me to understand even more about how chronic disease develops and the impact that food has on our health — and our economy! When you stop to think about the idea that our food choices can create chronic disease and that chronic disease impacts not only our own lives, but also impacts the broader community by overloading the health care system and driving up costs for everyone, and also the business community through lost time at work and higher overhead costs, it is pretty eye opening. Then layer in the environmental impact of our food choices … it all adds up pretty quickly. It is incredible to think how a choice that we take for granted has such an impact on society.
As a society, we have moved away from educating the whole self and seem to now focus more on specific topics to check off test taking skill sets. How has this shift in education and personal development from a young age impacted society in your mind?
Yes, absolutely. In the US, we used to focus more on teaching life skills in school. Now, we seem to focus mainly on academic pursuits and particularly in test taking skills. The result that I deal with daily is that, as a society, we seem to have stopped teaching kids' basic home and life skills like cooking, nutrition, budgeting and health. This has, in turn, resulted in generations that rely on processed foods, fast foods, and other pre-made meals instead of fresh, local crops that generate better health. The Standard American Diet is highly processed, full of unnecessary fats, rich in sodium and added sugars and low in dietary fiber. This has led to increased obesity, increased rates of fatty liver disease, T2D, heart disease, and certain cancers. A Milkin Institute study released in September 2020 stated that "obesity is the greatest risk factor contributing to the burden of chronic diseases in the U.S". These are chronic diseases that impact not only the person with the condition, but also that person's loved ones, the person's employer (2016 economic impact of obesity related disease in the US was $1.24 trillion in lost productivity and revenue), the general health care system and the overall economy (the costs associated with dealing with these diseases across the country drive up overall health care costs). The truly sad part of this is that a large portion of these are diseases that are lifestyle driven, meaning simple changes to our daily choices in terms of diet, exercise, stress management and sleep can significantly impact the number of people suffering from chronic disease. My mission is to get people to eat more veggies! The reason behind this mission is to improve our nation's overall health and to do my part to address a situation that is spiraling out of control. The more that we can teach kids from a young age about the impact of food and lifestyle choices on their long-term health and ability to support themselves, the better chance we have at improving our overall health outlook.
What types of things do you offer to help combat the shift in education?
Not Your Momma's Vegetables offers everything from one-on-one coaching to group courses for adults and kids, as well as corporate programs to help companies improve the overall health of their workforce. NYMV partners with a variety of providers and groups to offer lifestyle combination courses such as exercise, mindfulness and cooking, talks on nutrition's impact on a variety of issues such as chronic disease, mental health and ADHD/ADD, and also courses that help kids learn to make good lifestyle choices, to budget, to cook healthy meals and to care for their homes when they are ready to leave for college or to live on their own.
Why should people work with a health coach as opposed to a doctor or registered dietician?
I don't see the question as working with one or the other. I think that we need to work as a team. As a health coach, I am not able to provide medical advice or call for testing as a doctor or a dietician can. However, I take a holistic approach to health and evaluate exactly how a person, regardless of age, can make healthier choices, I create a personalized approach to health, and I look at issues specific to a person's own situation that may impede the achievement of better health. I am the day-to-day support that helps a person realize the diet and lifestyle changes that are needed to improve their medical condition.
With so much focus on climate change, do you feel that what you are doing impacts the future of our Earth?
Absolutely! Reducing our dependence on animal products has been scientifically proven to lower our carbon footprint. In 2017, a comprehensive study was released by Paul Hawken that provided the most productive means of reducing our carbon footprint. Eight of the top 20 recommendations for change relate to our dietary choices and moving towards a plant-rich diet. Our history of industrialized farming practices, particularly in animal and fish production, is killing our Earth. There are reported to be over 400 dead zones around the world – up from 49 in the 1960s. These dead zones in the oceans are being created faster than we can recover them – and scientists agree that the primary cause is nitrogen and phosphorus run off from industrialized animal farming. Seventy percent of all tropical deforestation is due to agricultural land needs. Almost 30% of global deforestation is due to large-scale farming practices – much of which relates to animal production. Scientists have shown that it takes less water to produce a year's worth of food for a plant-based person than just one month of food for a meat eater, and — if this isn't enough, think of the amount of waste created by the packaging for processed foods – most of which finds itself in landfills or the oceans. Nearly 1/3 of the average American dump is packaging materials, according to the University of Indiana. But – can you believe that fruits and vegetables come in their own naturally biodegradable wrappers?? The World Wildlife Fund recently stated that 30% of the worlds' fisheries have been pushed beyond their biological limits and we are starting to see that the survival of some species is threatened – all due to overfishing of our waters! So, don't be surprised the next time you order your lunch if you are asked if you want your burger with a side of greenhouse gasses. Why? Because, according to a Harvard study, meat production is responsible for at least 18% of all global greenhouse gas emissions – more than cars, trucks, planes and trains combined! As clients of Not Your Momma's Vegetables shift to focus more on eating plant-based, they find benefit in their personal health, but they are also improving the Earth's health at the same time.
Do people need to be fully plant-based to work with you?
Absolutely not! In fact, most NYMV clients are just looking to get a better balance on their plates. I never tell my clients that they "cannot" eat something. The NYMV approach is to educate about what happens when you consume food, how the body reacts and where nutrition is coming from. We also focus on mindful living practices that help a person listen to their body in order to give the body inputs that are needed for amazing health. Once a client is educated about how the body really uses food and the reactions that happen as a result of our eating choices, it becomes much easier for them to open their minds to shifting habits to include more bright, colorful veggies on their plate!
Alright, so before we go, how can our readers connect with you to learn more and show support?
Every week, expert talks, 2-minute tidbits and recipe/food posts are posted in both English and Spanish on the NYMV Instagram feed (@notyourmommasvegetables) and new posts on my Facebook feed (Not Your Momma's Vegetables). Additionally, services, blog posts and upcoming events are shared on my website NYMV.org. I welcome you to contact me directly by email, as well, at goNYMV@gmail.com.
Contact Info:
Image Credits
David Parker