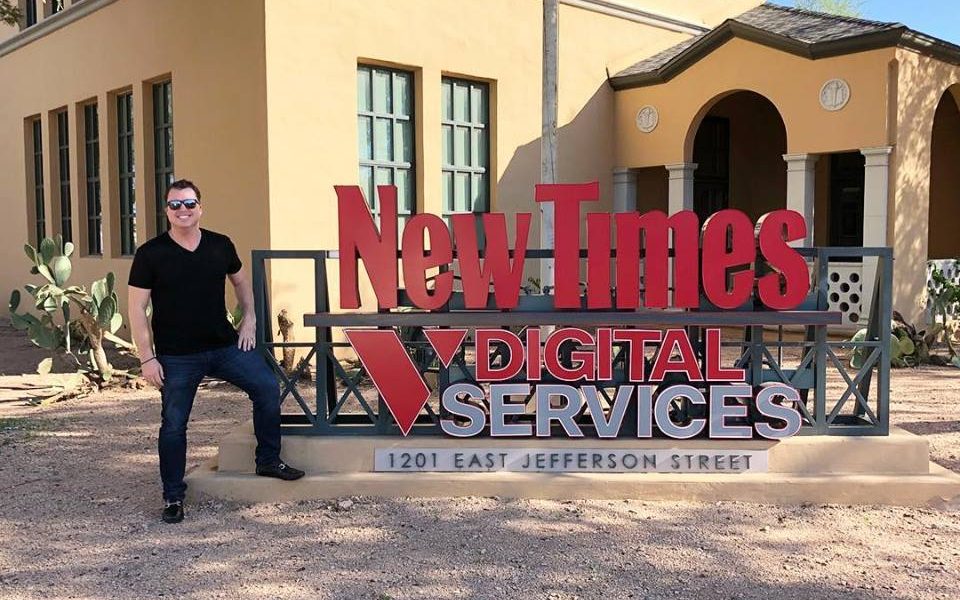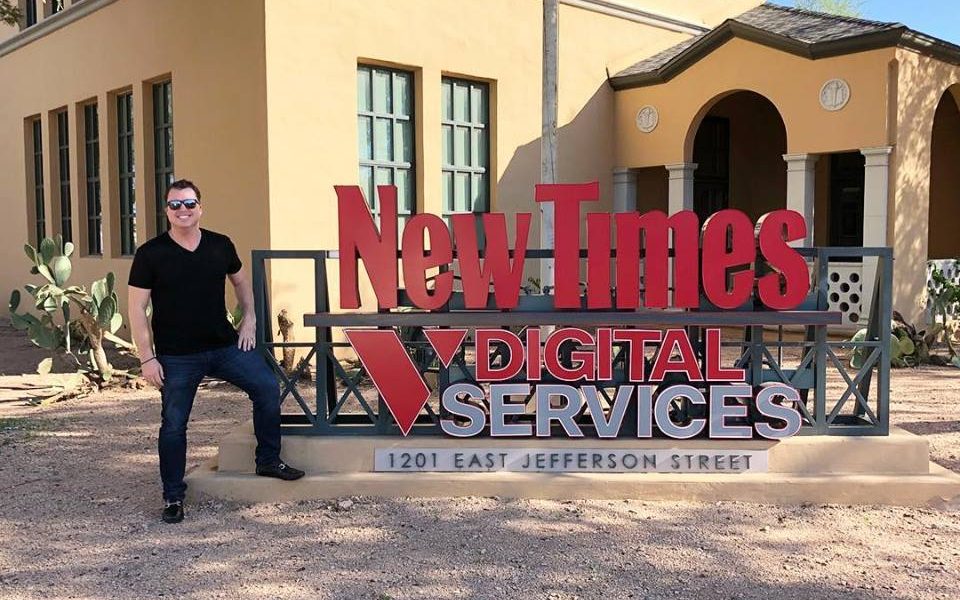 Today we'd like to introduce you to Jeremy Boyd.
Thanks for sharing your story with us Jeremy. So, let's start at the beginning and we can move on from there.
My story in sales and marketing dates back to long before my time with Voice Media Group. From a young age, I was always intrigued by the psychology behind the sales process. I was fascinated by it; always trying to convince my friends to do things. As a child, I'd invite my friends over, and politely remind them on the phone "bring your quarters and change over". I had set up my basement room like an arcade game room and would charge my friends for games that I created like basketball shot, or tossing ping pong balls in buckets which I took from Bozo's Grand Prize Game. I created clubs in my neighborhood and charged annual dues for them. It was fun just rallying everyone around my ideas during my elementary school years. Of course, at the time, this was more about personal gain than the growth of others first, which I have long since learned is one of the many formulas to success.
I was born in Fuchu, Japan, just outside Tokyo, one of the largest cities on the planet. I was raised on Japanese customs, had Japanese caretakers, and was just about as Japanese as an American child could get minus the striking bleach blonde hair and blue eyes I flaunted. My parents were teachers at the American School in Japan, a school mirroring the American ed. system of K-12. My father lived abroad for 14 years while my mother was there for 11. I learned much of my worldly knowledge from them, and this was an experience of a lifetime. My sister, Ashley was born during a sabbatical in Seattle, WA. She was born with some developmental and mental disabilities, and soon later we chose to move to the states, where my father's family was from. We settled in Williamsburg, VA, one of the most historic towns in our Nation's history. I took odd jobs, volunteered at Jamestown Settlement as a costumed interpreter, worked as a tennis court engineer at Kingsmill Resort, and then re-discovered my calling. I got into retail and worked at many stores, In fact, there were times when I held up to three jobs at once during my high school years.
I went away to college at Radford University and took the leadership gene to the next level. I became the Founding President of what is now known as the Theta-Lambda chapter of Sigma Pi Fraternity, International. Through many trials and tribulations, battles with university officials, and fighting for our right to assemble, we prevailed. Our circle was not content with the groups available on campus and we wanted to do our own thing. This was a big deal and my first real 'business plan' being drawn up. I worked with members of our executive office out of the Nashville, TN area to recruit student leaders along with my peers to form an interest group of the organization which later became an official colony and later became an official chapter of the fraternity. This was my first real step to leadership. Every summer I sold mattresses at two different mattress stores. I'd go from one job to the next. There was a lot of money to be paid commission wise on mattresses (who knew?). This was big money for me at the time! I loved the game; the customer walks in, head down, not wanting to be approached; later leaving with a pricy mattress for their son or daughter's first apartment. I got a big piece of every one of those sales. That was a lot of fun! I later took a side job getting back into the sales role with Vector Marketing, the company overseeing all the marketing and sales of the Cutco line of cutlery. Needless to say, I knocked that out of the park too and was able to break their "Fast Start" record for the most sales in the first month of employment.
My final summer away I received a call from Dave Edwards out at the Sigma Pi Executive office in Nashville. The call was short, to the point. "Hey, Jeremy, this is Dave Edwards. We've seen what you've been doing out there at Radford and the success you guys have had. We want you to come to Headquarters and do it for us on a larger level." I said without too much excitement in my voice, "Well, Dave, thank you for the call and the vote of confidence, but I'll have to think about it." I called him back an hour later and took the job. This was my opportunity to travel North America on someone else's dime, and taking my "convincing" gene to the next level. I had the chance to not only manage, and help struggling groups of students at which chapters have taken a toll due to lack of recruitment or loss of membership to graduation, and help them rebuild through strong recruitment strategies. My friends all jokingly laughed and made fun of me that now I get paid to travel and party. It was partially true. This went on for some time and come a full year in, I was promoted to the head of the fraternity's expansion department, given the success with recruitment for struggling chapters; this was my chance to start fresh, pitch university administrations all over North America and compete for new placement opportunities. I took this seriously, and we broke every recruitment record in the book during my time there, dating back historically to our creation in the year 1897! This got me ready for 'the real world'.
I leaped a faith and drove down to South Florida in the summer of 2006 with nothing but an old tube tv and a bunch of clothes in my old Honda Accord. I crashed on my friends' couch for a short while and was told after two weeks you need to start paying rent. I didn't make it that far… found what some might consider a dream job at the time, for a young man just moving to Miami. The job was an "RA" or a Resident Advisor, much like you had in college. I was tasked with the tall order of working the front desk at the EF International Language School on Miami Beach. When I say on Miami Beach, I mean RIGHT on South Beach at 24th and Collins. The gig included FREE meals in their cafeteria three times a day, a small stipend, and free accommodations, free utilities, the whole gamut, My job was to sit at the front desk one night a week, hand out ping pong paddles, answer the phones and check people in. I did that and MILKED IT. It gave me a tremendous opportunity to stack cash, which later came in handy. The real beauty of this, as I could hold a full time job outside of EF, so I was hired as the Director of Marketing for Luminati Lending, which was a mortgage lender, in another iconic location, the 420 Lincoln Road Building. I put on events for the company, recruited loan originators and handled the company's brand. When the economy hit the floor, this opportunity followed. I immediately jump into the digital marketing realm by accepting a sales position with Cherry one Web Design, which later became known as ElliottsWeb. They had offices in Miami Beach, Newport Beach and Chicago. When I say offices, I mean shoeboxes. They were cool, but really not what I was looking for. I had previously interviewed with Derek Warriner and Ewald Fuchs at the Miami New Times and I called them back up. "I'm ready to go". That was all she wrote… that was almost 13 years ago back in 2007. I'm still here and loving it.
Miami New Times has changed significantly during my time here. When I first began and was the new kid on the block, we offered a robust print product that hit stands weekly. All we sold were print ads… that's it. A year or so in, we began bundling some online ads, but just a couple of years later, the digital craze exploded. Emails, exclusive eblasts, rich media, video ads, native advertising; all these things were becoming super cool. New Times was changing into a multimedia company. We introduced signature events such as Iron Fork, Brew at the Zoo, Artopia, and others, which many have now morphed into new events such as our Best of Miami Party, Tacolandia and Burgerfest. We offered sponsorships, activations, on premise, hands-on opportunities for brands to connect with people. My Rolodex of offerings was growing. This was really great for a people person like myself. I could call anybody and always have a relevant conversation to have.
Just a couple years later, Voice Media Group unveiled their in-house digital agency, V Digital Services and we got into all sorts of digital marketing. Yet again, more great opportunities to work with people in the market. We have grown by leaps and bounds, and I'm fortunate to work with some of the most talented folks in the marketing world today all across the country. We have offices in 13 cities and growing. I love what I do, and love that folks recognize me for being with the brand for so long as more of a 'go-to' when it comes to the Miami New Times.
In my free time, I enjoy traveling (which most will say I do too much of), attending concerts and sporting events, fine dining (and not-so-fine dining). I enjoy spending time with my father Jack and his lady, Joyce, my mother, Pattie and sister, Ashley and try to keep up with as many of my contacts and friends I have made throughout the years as humanly possible. I keep myself busy and have a little downtime, but I'm all about it. Most folks say "don't you just ever want to relax?" I am also an avid/borderline obsessive Dallas Cowboys fan and travel to many of the games each year. #CowboysNation
I currently reside in Miami Shores where I purchased a home almost three years ago, with my amazing and extremely supportive girlfriend, Lindsay. We've got 2 dogs and 2 cats. It's a full house!
Has it been a smooth road?
The road is never smooth. Plenty of hiccups along the way, but the struggles have made me better. Many learning experiences; sometimes relationships broken due to business, but it's the nature of the beast. Every day presents new challenges. When you're working with a lot of people, it's a numbers game. There are always going to be hardships. It's really how you overcome them and handle each one. Sometimes it feels so overwhelming but again, we're just talking about the price of success.
Tell us more about your business.
The Miami New Times & New Times Broward Palm Beach is a weekly newspaper published in Miami, FL and distributed every Thursday on newsstands, street boxes, restaurants, retailers and residences. It primarily serves the Miami area and is headquartered in Miami's Wynwood Art District. New Times offers print and digital marketing and advertising opportunities.
V Digital Services is a Premier Google Partner and Facebook Marketing Partner. VDS is a true digital marketing company offering services such as Organic SEO, Local SEO, Email Marketing, Programmatic Advertising, SEM, Video, Native and CTV/Radio Advertising.
How do you think the industry will change over the next decade?
It's hard to say. I'm a huge proponent of the print product. I love the tangible element there, in a world of digital, but as we progress, I anticipate things to grow further on the digital side, print to plateau and really unique targeting options come into the fold. We can already do so many interesting things and I feel we're merely at the beginning stages. Very exciting to be in this business in this day and age!
Contact Info:
Address: The Wynwood Building
2750 NW 3rd Avenue, Ste 24
Miami, FL 33127
Phone: 305-962-5194 | 305-571-7586
Email: jeremy.boyd@miaminewtimes.com
Facebook: https://www.facebook.com/jeremydboyd
Image Credit:
Michael Campina (B+W Building 0- The Wynwood Building)
All others Jeremy D. Boyd
Suggest a story: VoyageMIA is built on recommendations from the community; it's how we uncover hidden gems, so if you or someone you know deserves recognition please let us know here.