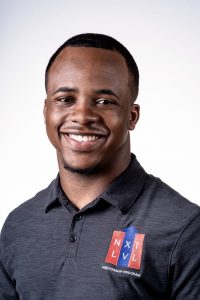 Today we'd like to introduce you to Jaylen Sanders.
Thanks for sharing your story with us Jaylen. So, let's start at the beginning and we can move on from there.
Throughout high school, business and leadership have always been of the utmost importance. During my 10th, 11th, and 12th grade years, rather than searching for full-time employment at large companies like my friends, I opted for a different route by researching different ways to generate income for myself. I would pick up smaller jobs such as cutting grass, walking dogs, and private basketball training. Upon being paid for these jobs, I would always be sure to put the money that I earned away and save it. Moral of the story: self-employment has always peaked my interest.
During the summer of my junior year, I founded an organization that teaches middle school boys the importance of life skills. These skills include self-esteem, etiquette, financial literacy, and personal responsibility. Prior to teaching the curriculum to the large group of mentees, there was a tremendous amount of business preparations that needed to be completed. An integral part of marketing the program was ensuring that a detailed business plan was prepared. After creating a detailed business plan, I had to coordinate logistics for the events. This required me to ask site directors the capacity of their facilities, waivers needed, dates available, etc. Shortly after these details were solidified, I had to market to corporate sponsors and receive funding for simply one event. Taking all of this into consideration, this process of initiating a business and seeing it from start to finish was simply a tremendous experience. This process of entrepreneurship, networking, and brand building is what inspired me to teach the younger generation the importance of being different. To teach them what it means to be a visionary and separate themselves from the pack.
The story of the organization "Next Level Mentorship" is one that I consider to be unique. As a graduating senior, there have been numerous times that I look back on missed opportunities. During my time in high school, there were tons of missed parties, hangouts, and events that nearly ALL of my friends went to. While I sat at home with my family or out working late on the weekends, there was surely always a video of a party happening on someone's social media page. I felt that these experiences were all a part of the 'traditional' high school experience. There was a looming thought that these experiences would ultimately define me. I'm sure that as you read into my missed experiences, you probably wondered why I was not able to attend. It's not that my parents did not allow me to. It was a choice that I made. I chose to spend my weekends spending time with family, working, and putting myself in a position to take myself to the "Next Level". This mindset of consistently progressing in all facets of life is what influenced the name of the organization, "Next Level Mentorship."
I have so many people that I can thank for helping me to be the man that I am becoming. I am eternally grateful for the amount of people that have invested their time, energy, and effort into me. There have been several phone calls, text messages, face-to-face conversations that I have had with people who have offered several gems about life, and some of the hard lessons that they've learned. My parents and grandparents have done a phenomenal job of encouraging me and guiding me during times that I was pathless. There were a few teachers that were incredibly instrumental in my development of having a perspective and having a vision. Not strictly in business, but in life.
Between my group of guys who make up my "brotherhood" and my mock trial team who I consider to be my "family", there has never been a moment when I felt like I was all alone. Something that I am extremely proud of is the diversity and extensiveness of my peer group. I would attribute my strong work ethic to my brothers, teams, and family. I consider everyone to be "assets." We are all invaluable to one another in some form. From this, I have been able to learn so many new things, see new places, and have a fresh set of lenses on business issues whenever they arise. The feeling of being able to call or text someone within this circle is always a rewarding feeling.
High school was surely one of my most difficult times. I have had my own trials and tribulations. However, rather than dwelling on the past, I have come to learn that there is value in bad experiences. One thing that I always tell my mentees is that "There is no such thing as a loss. Only a lesson." As I haven't spread my wings completely, these small doses of reality that I experience allow me to devise strategies and always have back up plans for everything in life. Being only 18 years old, my parents have given me the freedom to be able to make these decisions and offered their wisdom on how to handle such situations in the future.
Great, so let's dig a little deeper into the story – has it been an easy path overall and if not, what were the challenges you've had to overcome?
In life, I don't think anything ever comes easy. There is a certain level of commitment that you must set forth when completing a task, and with that, comes sacrifice. On a personal note, one of the biggest challenges that I faced is time-management. The struggles of trying to run an organization; work a part-time job; compete nationally in a mock trial; serve as president of Florida Law Honors Society, Men of Tomorrow Alpha Phi Alpha Youth group; vice president of school chapter of Black Student Union (Legacy); being an older brother became very challenging.
Throughout my junior year, I worked diligently both in school and outside it, fueled with thoughts of attending a prestigious college and repaying my parents for all the sacrifices that they had made for me. I managed a rigorous course load while practicing every day after school for mock trials. After mock trials, I would go directly to work and arrive home very late. This was a schedule that I soon became accustomed to. What I did not realize until it was brought to my attention by a trusted friend, was the effect that it had on my family. The same advice that I was teaching my mentees about enjoying and prioritizing their families, I was not taking. It took for my brothers to have to always send me a text, or let me know how their day was in a hurry because I was in a rush, for me to stop and realize that I needed to slow down.
From a business standpoint, Next Level has make significant strides in the community. Within the first three months of operation, we were able to host a four-day workshop with over 20 middle school students. In addition, when the school year began, we had the privilege of partnering with an after school program at a school of the arts and taught a 2-hour course once a week for eight weeks. We had nearly 30 students in the after school program. One of the biggest struggles that we are facing now is recruiting new mentors. The bulk of our mentors will be attending colleges outside of the state of Florida, and therefore will not be as hands-on as they were previously.
The organization targets male high school students for a specific purpose. We realize that middle school students admire teenagers who are closer in age. The relationship that is able to be developed is one of transparency and respect. Outside of the relationship with mentees, this opportunity gives high schoolers the opportunity to network and learn what it takes to be an entrepreneur. It is incredibly difficult to convince other teenagers that the level of commitment, sacrifice, and work that it takes to be a part of the organization is more meaningful than earning a paycheck.
We'd love to hear more about your organization.
The organization, "Next Level Mentorship", is an organization that mentors middle school boys. Our mission is to enrich middle school boys with the skills and knowledge, through several means of exposure, that they will need in order to be pioneers and leaders of the future. We teach a 'Core 4' curriculum, which includes: financial literacy, personal responsibility, etiquette, and ways to boost self-esteem. Examples of these behaviors include: shaking hands when entering a formal setting; introducing yourself in a clear, concise manner; how to tie a tie; how to properly fold and iron clothes; creating a budget for yourself; the importance of holding doors open for ladies; creating short term and long term goals, and devising a plan of action to accomplish those goals.
These core values are all values that are essential to succeed in life but are not taught specifically in school. This curriculum teaches the mentees how to create goals and habits for themselves that the best of the best display. We approach this through an active and repetitive way of mentoring so that they not only learn how to do these things correctly but also so that they can do them subconsciously. We believe that this approach will help lead them to develop their own unique paths of success and happiness through conscious and challenging thoughts and perspectives.
We are currently in the process of planning to host workshops for high schoolers as well. These workshops will be opportunities for driven high school students to network with other prospective entrepreneurs, and to further their education in the areas of financial literacy, personal responsibility, and etiquette at a more advanced level. For example, the next workshop that will be held will be one for high school sophomores and juniors. This workshop will be "How to build resumes and LinkedIn profiles 101". Through our experiences, these two documents and profiles prove to be very valuable and useful when a person is branding and networking. By introducing teenagers who will soon be entering the working world to these documents, it encourages them to do their due diligence, and create complete the tasks.
As an organization, we are most known for being a teen-led organization. With the help of other accomplished adults, we take it upon ourselves to coordinate meetings with them and devise our own curriculum to teach to students. Rather than making it similar to a classroom setting, the mentor-mentee relationship is one that has been proven to be invaluable. As an organization, we are most proud of our growth and the connections that the students have made. Outside of the relationships that the students develop with us, they develop friendships with other Next Level mentees. These relationships have been nurtured and built on the foundation of respect, integrity, and transparency.
What moment in your career do you look back most fondly on?
Prior to our first event, there were countless numbers of hours dedicated to planning. This planning included: selecting a facility, marketing, researching curriculum, and creating activities for the students. One of my biggest fears was that the students would not enjoy it. On the last day of the program, the graduation ceremony was held. During this ceremony, each student was rewarded with a certificate of completion, a leather wallet, or a leather toiletry bag filled with supplies. One student that I had, in particular, was truly a free spirit. Prior to the ceremony, his mother informed me that he would be moving from Florida to South Africa for school. When she told me this, I took him into a room and I had a genuine conversation with him. I told him about some of the mistakes that I had made in the past, in hopes that he would learn from my mistakes and not make them himself.
After that conversation, I was sure to keep in communication with his family about his performance in his new school. I would often reach out to him and let him know how proud I was of him. After six months in a different country, when he returned, I took him to dinner. One of my proudest moments was hearing him speak and to see how fast he matured. His mannerisms were different. His voice had gotten deeper. He was much taller since I had seen him last. But it was not the physical maturity that impressed me. Seeing how fast he matured mentally was mind-blowing. During the course of that dinner, it was incredible hearing his story. He had taken my story to heart and used it as motivation. He was slowly becoming more self-disciplined and structured. After this interaction with him, it made me realize the worth of what I was doing. I have come to the realization that I cannot reach every middle schoolboy, but for the ones that I can, it is imperative that I help guide them.
Contact Info:
Suggest a story: VoyageMIA is built on recommendations from the community; it's how we uncover hidden gems, so if you or someone you know deserves recognition please let us know here.