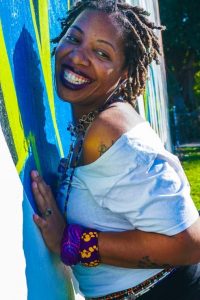 Today we'd like to introduce you to Jaiye Empress.
Jaiye, please share your story with us. How did you get to where you are today?
My artistic journey began far earlier than I can vividly remember. As a child, I loved to do any and everything creative. Sewing, beading, drawing, painting, singing, fashion design and more. I loved anything that allowed me to quietly explore my curiosities and playfully befriend my vibrant imagination.
Writing and poetry, in particular, has always been my greatest confidante. I was very shy growing up and unsure of myself. The ideas that I possessed and gravitated towards, seemed far too eccentric for my place in the world back then, in East Baltimore. But poetry made the impossible feel possible. However, I was very guarded about my words until years later when I began living in New Orleans after my first college experience.
Ironically, all throughout my high school career, I was known as a songbird. My poetry was only bestowed on those closest to me. But after high school, I stopped sharing all of my gifts. For years, none of my closest friends knew about any of my artistic talents, especially poetry. I kept many of my stories hidden. Fast forward, and a few years ago in 2012, I decided to create an artistic alias and anonymously post samples of my poetic works on Facebook. From there, I was invited to perform at an open mic by someone who read and admired my writing online. It took me months to work up the courage but eventually, I went and ended up forging my first poetry family! They helped me grow into my craft and encouraged me to keep performing regularly as part of their monthly event. From there, I vowed to keep the momentum going. So, when I moved from New Orleans to Florida in 2013, I immediately sought out other artists and stages to continue sharing my art.
My poetic alter ego has allowed me to simultaneously step outside of, and grow deeper inside of myself. I get nervous every time I share a piece of my art but it challenges me to continue doing so, no matter what, because of the profound positive impact I have witnessed as a result of people listening to me. The first time someone came to me after a performance, moved to tears by one of my poems, I knew I could not allow nerves to constrict nor constrain my voice. This poetic journey has also opened so many doors I would have never imagined available. I received the chance to share my words in different cities across South Florida, in different states; in professional academic settings as well as open mics and festival stages.
In 2018, I decided to incorporate all of my poetic expressions into a creative empire, called Empressive Expressions, LLC, which partially stems from my poetic stage name, Jaiye Empress. Empressive Expressions is a company devoted to the art of creative self-expression. I wanted a platform that showcases all of the many ways that I utilize art to practice storytelling, while also encouraging other souls to recognize that their own stories are valid and worthy of sharing. In just a year, my company has blossomed to include so many various elements of artistry. I still perform and share my poetry, much of which will be cemented in my first book "Wild Yoni Flower: A Self Love Journey" debuting sooner than soon! I also handcraft products, which I call my Empressive Keepsakes, that are directly inspired by my poems. Lastly, I curate and host a monthly artistic affair called Manifest Mondays, that provides a platform for aspiring and seasoned artists to showcase their craft, while also promoting Black woman leadership and entrepreneurship.
Sometimes, when I reflect, it is hard to believe that the shy little girl who used to get lost in her daydreams and novels, now has a business that prominently centers and displays all of my eccentric passions to the world! It has been one helluva ride…but it is just the beginning!!!
Great, so let's dig a little deeper into the story – has it been an easy path overall and if not, what were the challenges you've had to overcome?
It most certainly has NOT been a smooth road! The greatest challenge I have had beginning my business was deciding to commit to this venture while also attending graduate school. I have often wondered if I am or if I have masochistic tendencies!
But deciding to embark on an entrepreneurial journey while also beginning a doctorate program was extremely stressful and I often felt as if I had to choose between the two. Ultimately, I completed my master's and successfully completed the first year of the doctorate program. But I have decided to postpone my graduate studies for now and pursue my other dreams, namely these artistic-preneurial projects!
Another challenge I have struggled with is loneliness and burnout. I am very ambitious, and I'm a DIY individual who is used to flying solo. But it can be very overwhelming at times, wearing multiple hats and feeling very isolated and unsupported. I am learning to be more forthcoming with my needs, especially asking for help, as well as honoring my capacity. I cannot do it all and that is okay. I am learning that I can rest without feeling guilty or unproductive; that pleasure is a necessary component to productivity, and productivity should make room for peace.
What makes you or your brand unique?
So, I am a paradox! I often feel as if I have lived multiple lifetimes because of the number of experiences I have been blessed to have during my short stint here on this earthly realm!
But I call myself an artist-preneur. I perform spoken word poetry, and I use my poetry as the creative basis to develop the other forms of artistry I practice, such as the handcrafted products I create. I make beaded body jewelry that includes, waist beads for the ladies, necklaces, anklets, bracelets and more. I also make body butter and essential oil fragrances. Every product is a poem! That is what sets my brand apart from everyone and everything else. I use my art to inspire and empower people, especially women, (Black women at that!) to tap into the most beautiful parts of themselves and write their own stories.
In addition to all of that, I work as a Teaching Artist with the S.O.U.L. Sisters Leadership Collective, a nonprofit organization that uplifts and empowers Black, Brown and Indigenous youth.
I think I am most proud of the way my passion and principles intersect every facet of my life. Whether on my own or working for someone else, my aim is to help those who often feel silenced. I know what it feels like to wonder if what you have to say, or what you are thinking is worthy of seeing the light of day. I use my talents to ensure others who feel like that, whether youth or adult, start becoming cognizant of their own internal power.
How would you describe the type of kid you were growing up?
I was such a smart ass! Literally and figuratively.
I have always been an avid reader. My mom always shares with me how at three years old, I picked up a newspaper and began teaching myself how to read. Then, I used to read the dictionary and thesaurus, I loved words so much.
And although I was very shy and quiet, I also loved to argue. I remember having this Garfield bookmark that said, "I may not always be right, but I am NEVER wrong." That was the philosophy I lived by as a kid! (And still do, kind of now!) Lol.
Contact Info:
Image Credit:
Alexis Caputo, @metaphor.heaven, @rjdeed, @ulyssephotos, @abovereality2000
Getting in touch: VoyageMIA is built on recommendations from the community; it's how we uncover hidden gems, so if you know someone who deserves recognition please let us know here.