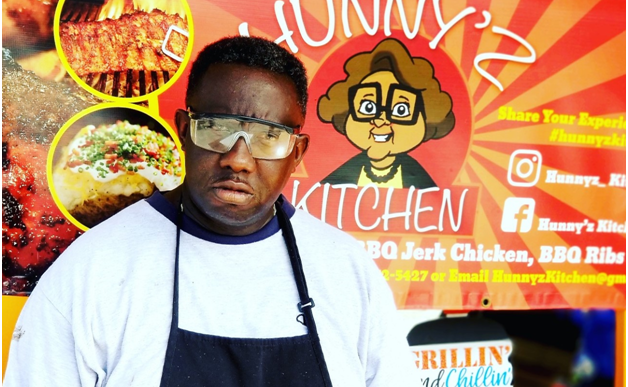 Today we'd like to introduce you to Anthony Harris and Dawn Fuller.
Anthony and Dawn, please share your story with us. How did you get to where you are today?
Chef Anthonys' journey to the kitchen is unlike any other. He realized his calling for cooking while taking care of his ill mother. Hunny'z Kitchen was started by my mother Mrs. Carrie Mae Harris (AKA Hunny). Hunny was born in the South in Hawkinsville, Georgia, a small country town of freed slaves. She was one of fifteen children. At the early age of nine, she learned how to cook by watching her mother and grandmother prepare southern-inspired dishes; sweet potato pie, collard greens, hog maw, fried chicken and chitterlings. She later relocated to Miami, Florida and met Alfred Harris (Pops).
The two later married and established a family of ten kids Brenda, Alfred Jr, Cook, Mary, Jannie, Curtis, Billy, Bernard, Mike, and Anthony. She enjoyed cooking daily for her family. She also worked very hard in ensuring that her family's classic southern dishes, recipes, and details would not be forgotten and remain in the family. Therefore, she made sure her children and grandchildren all knew how to cook. She was a well-known cook in Miami and everyone loved her soul food, desserts of pies and cakes, delicious cuisines throughout her family, the community local churches and organizations. Her mission was to spread love in the community where she lived in Liberty City. Hunny was more than just food, she was also a woman of faith. She would go to local hospitals and Senior citizens' homes praying for the sick and feeding them as well. Her food was known to put a smile on anyone's face despite their pain or illness because she cooked with passion and love. She always dreamed of one day owning her own restaurant.
The Vision of Hunny'z Kitchen. The vision of Hunny's z Kitchen was formed when my mother became ill and I had to quit my full-time job and become my mothers' caregiver. I had to supplement income so I utilized what my mother had taught me and what I learned. Which was cooking! So I started cooking and selling dinners out of her house. In the process, God called her home. In continuing my mother's legacy of providing food for the soul. It was in my mother's kitchen and front yard where I found the two loves of my life. Dawn Fuller, my beautiful fiancé and the delicate art of cooking & grilling. It's been these very Godsends that inspired Hunny'z Kitchen LLC.
After trials, tribulations, and some burnt ends, we finally stepped out on FAITH and opened Hunny'z Kitchen. I have always had a passion like my mother (Hunny), spending countless hours in the kitchen for hours at a time. I would sit and watch her and my two older sisters Brenda and Jannie, prepare food for our family, friends, and church. Hunny would always say, "My restaurant is coming soon". My oldest brothers Alfred Jr. and Cook, introduced me to the grill at a tender young age and I have been grilling ever since. Therefore, cooking and grilling became Hunny'z Kitchen.
I became incorporated with Hunny'z Kitchen in 2016. However, I continued to further my culinary skills and education from Miami Lakes Technical School and Miami Dade Community College Culinary Institute. Our current level of success could not be achieved without the help of my beautiful finance Dawn Fuller. Dawn is a teacher, a phenomenal educator in Broward County Public Schools, who has won countless awards from her peers, community, district, and students. We're passionate and we love what we do by making people happy, smile and forget about their cares for the moment and enjoy our food. Most locals have favorite spots, and for many, it's Hunny'z Kitchen. Hunny'z Kitchen is a food experience!
Overall, has it been relatively smooth? If not, what were some of the struggles along the way?
It has not been a smooth road. We have faced our share of challenges on our road to success. Challenges never go away in owning a business. It has its rewards, but there are extreme highs and lows, It is no surprise that some struggles along the way have been mainly financial obstacles, having to tap into our savings, 401K, managing expenses, maxing out credit cards, the unforeseen cost that arises and borrowing money from family and friends. Also, time constraints that sometimes keep us preoccupied with intricacies, whether it is sourcing the right ingredients, obtaining licenses. However, we are steering the course through choppy waters. We are grateful for a phenomenal support system that believes in Hunny'z Kitchen that is cheering and rooting us on.
Please tell us about Hunny'z Kitchen BBQ.
Hunny'z Kitchen BBQ and Catering is a small owned and operated business that enjoys sharing what we love; some "Good old Backyard BBQ". Hunny'z Kitchen was birthed from Mrs. Carrie Harris (AKA Hunny) Kitchen in Miami, Florida. We became incorporated with Hunny'z Kitchen in 2016 and had been cooking and grilling since. The company is currently based at the Yellow Green Farmers' Market in Hollywood, Florida.
Hunny'z Kitchen has that "Mom and Pop" comfort that specializes in Southern Style dishes, for instance, BBQ Ribs, Fried Chicken, Pork and Chicken Souse, Jerk Chicken, Collard Greens, Macaroni & Cheese, and Pigeon Peas and Rice. In addition, Chef Anthony is also known for his Delicious Loaded Baked Potatoes, which is a game-changer. His choices consist of Philly cheesesteak, grilled chicken accompanied by his secret sauce, grilled salmon or shrimp with his seasoned to perfection tri-colored peppers, broccoli with sour cream and melted cheese. It will change your life (lol). Since its opening, it has become a staple in the community and it's a favorite spot to grab some "good old" BBQ and Southern Food. Here at Hunny'z Kitchen LLC, we want you to feel a part of our family. It is our desire that our food is a place where many laughs, conversations, and memories are shared with family and friends at the table.
We are extremely proud of adding our nonprofit organization Hunny Cares. We make it a point to align ourselves with giving back in helping our communities. We have participated in food drives, giving donations to Back to School events and organizations for the underprivileged. We have partnered with local charities in providing Holiday Food Baskets during Thanksgiving and Christmas holidays for families in need. We love the mentorship of Chef Anthony using his story to encourage and convince at-risk people that we all have gifts, traits, and the ability to create their own business. We participate in several City Food Pop-ups for our followers locally like Perrine (Miami), Gainesville, and Orlando (Florida) and even some out of state followers in Hawkinsville and Atlanta, Georgia. Hunny'z Kitchen has also received support and referral for businesses from City Officials of Broward, and Miami County, Jill Tracy, Radio Host, (Hot.105), and Evander Holyfield, just to name a few.
What sets Hunny'z Kitchen apart from others? It's simple! We stand out from the crowd of other barbecues or food stands or businesses because we are consistent in quality and presentation on everything that comes out of the kitchen. We have repeat clientele and we aim for excellence in our customer service, fresh ingredients, herbs and spices, and food. We didn't change the BBQ Game, We Just ELEVATED It!!
If you had to go back in time and start over, would you have done anything differently?
If we had to start over, what would we have done differently? Well, throughout this journey, we have learned many things for instance, every obstacle, twist, turn, set up, setbacks we are overcoming is an important part of Hunny'z Kitchen story. Failure is not an end or the end, it's an opportunity to grow and champion a better you or business. The trials and tribulations make us not only stronger but wiser as we prepare for what's ahead (future). We also have learned and are continuing to learn that patience is key. It is accepting that great things take time to build. Throughout our journey of entrepreneurship, we have come to the conclusion that shopping in a holistic view is an emotional experience for many people and or customers and you don't always need a silver fork to eat good food. No matter how hard it gets, Never give up!
Contact Info:
Address: 3080 Sheridan Street
Hollywood Florida 33021 Operational Hours Open Saturday -Sunday 12-5 pm
Website: www.hunnyzkitchen.com
Phone: (561) 672-5427
Email: info@hunnyzkitchen.com
Suggest a story: VoyageMIA is built on recommendations from the community; it's how we uncover hidden gems, so if you or someone you know deserves recognition please let us know here.