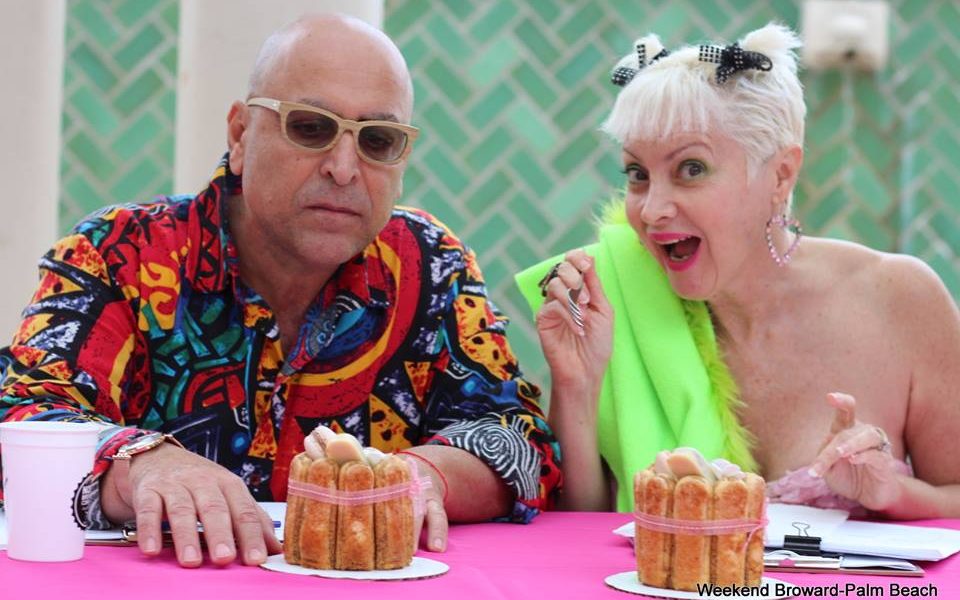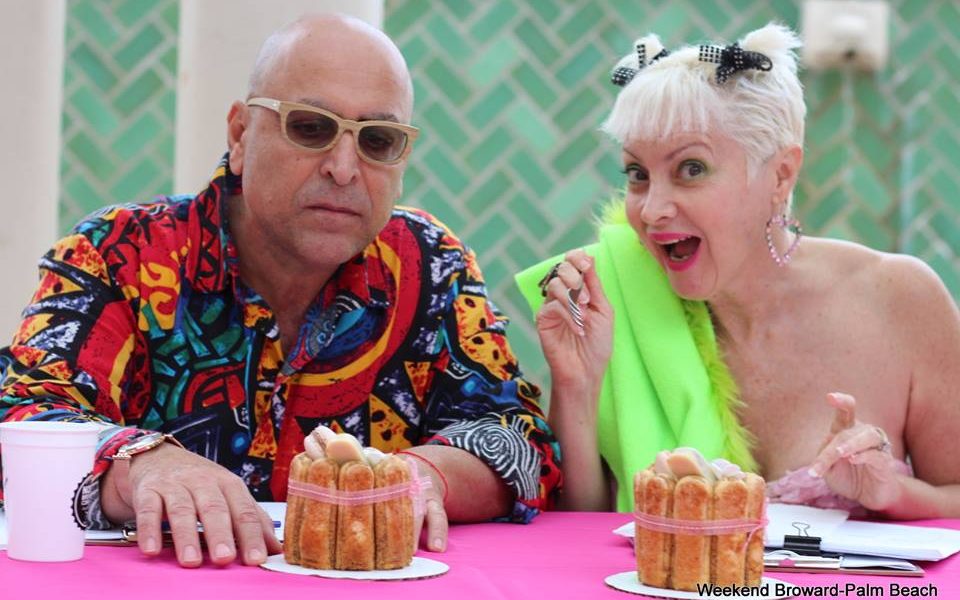 Today we'd like to introduce you to married couple Frannie Sheridan and Dani Michaeli who are Dessert Reviewers called THE SWEETHEARTS.
Frannie and Dani, please share your story with us. How did you get to where you are today?
When Dani and I married, there were two essential prerequisites in terms of location: 1. It had to be on the ocean and 2. Our wedding cake needed to be gourmet chocolate. We achieved both with panache – were married on the sand on Highland Beach and our yummy cake ended up being CHOCOLATE GANACHE:). Our union continued to sweeten on many levels, one being our shared passion for desserts. My parents are Viennese and German and Dani's are French, Egyptian and Israeli so we were raised on a potpourri of exotic delicacies. One day while observing him making love(practically) to a lemon tart(of course!) inspiration hit! "You are SO FRICKIN PASSIONATE ABOUT DESSERT – I'm going to create an upbeat show about us reviewing pastries and sprinkle it with our playful relationship stories!" Well… I had him at "dessert":) From there, I pitched WHOLE FOODS who sponsored a TV pilot which we shot in their studio kitchen in front of a live audience in Palm Beach Gardens, FL.
It was extremely well received and the Whole Foods execs loved it but ultimately determined that although it was very entertaining and equally informative it didn't sufficiently reflect their central serious culinary heartbeat – makes sense since the feel of our show although rife with fact-sharing is playful. Sticking to our vision has served us beautifully because from there we developed a youtube vlog(video blog) called SWEETHEARTS viewable on YouTube if you first click my name FRANNIE SHERIDAN and then SWEETHEARTS. It has become very popular on FACEBOOK, is published monthly in AROUND WELLINGTON MAGAZINE and was even touted by the legendary creator of EVERYBODY LOVES RAYMOND now multiple EMMY-AWARD winner and STAR of his fab TV show SOMEBODY FEED PHIL, PHIL ROSENTHAL. Phil said that he fell in love with us after watching an earlier vlog we filmed a wedding cake baker and then he proceeded to share our video on his private pages. We were beyond thrilled and fell in love with HIM!
Our admiration only grew after we met him in person in Miami because he is a delightful, humble, fun human. From there, I engaged a writer friend DAVID WOLINSKY and together we co-created the framework for a touring Canadian-American dessert/culture/humor TV series based on my vlog and managed to attach a number of exciting players including MARK BRESLIN(producer LATE NIGHT w JOAN RIVERS/Owner of the Canadian YUKYUKS COMEDY CHAIN which is similar to the American IMPROV chain), Legendary Photographer ROBERT ZUCKERMAN (both in and beyond the Hollywood film industry creating imagery for such films as THE TRANSFORMERS and THE CROW and personal portraits with a who's-who of A-LIST Celebrities and world icons – and perhaps most enduring is KINDSIGHT – Robert's long-running body of work using photos/texts which illuminate the richness of everyday life through random encounters and moments) and accomplished ACTRESS/COMEDIAN WENDY HAMMERS. Our TV show concept is: In search of the ultimate dessert, fast-talking Foody(me) and her Mediterranean monsieur(Dani) crisscross North America battling wits with Celebrities, Chefs and Comics. In the meantime, we are having a blast eating our way across the world and documenting it in our vlog THE SWEETHEARTS. We were just in Vegas a couple of weeks ago, in Miami this past Sunday and we will be in London and Israel end of November. We balance our sugar intake with healthy eating, exercise and other forms of misery(joking about the misery – we LOVE AND SO APPRECIATE our HEALTH and our scrumptious lives :).
Overall, has it been relatively smooth? If not, what were some of the struggles along the way?
Well rejection is never fun(such as what we experienced from Whole Foods, who we truly do love:) Afterwards, we very briefly mulled over the possibility of trying to fit into their concept, but it isn't us and considering stretching ourselves in a false way only powerfully strengthened our original vision and catapulted us ahead full force, with some very cool rewards as mentioned earlier. Another bit of contrast occurred when we were hired as Dessert Judges and allotted individual cakes from each contestant. Learning NOT to overeat so that our palates remain somewhat fresh and our bellies happy was tricky believe-it-or-not. We now liken ourselves to sommeliers and instead call ourselves "dessertiers" in the sense that we only take a mouthful or two of each dessert and that is all! No, we do not spit it out like a sommelier does – we are not that well-behaved! On another note, teaching myself to edit video was challenging but I now adore it as it is very much like writing visually, and I am also a writer(wordsmith) in other capacities with a memoir called CONFESSIONS OF A JEWISH SHIKSA being traditionally published and soon to be released.by the touted international Canadian publisher HOWARD ASTER of MOSAIC.
My husband deserves huge props for mastering elocution (which is imperative on-camera) since English is his second language. This has been essential not only for proper communication to our vlog viewers but additionally Dani's ability to articulate clearly went a long way towards our being cast in a series of south Floridian air conditioning TV commercials which we were hired to costar in, playing ourselves as dessert reviewers for AZTIL air conditioning. And since he is a Cheffy, learning to be objective about some of the less than perfect desserts we've reviewed yet appreciating the heart and soul that has gone into their creation over their perfection has further expanded his humanity!
Please tell us about your business.
We are most proud of the hybrid of information we provide in SWEETHEARTS which is that we dish out upbeat dessert reviews sprinkled with relationship sharing. We celebrate being a couple over 40 who've been married for well over a decade yet still has fun and often way more than previously as our union has richened, while at the same time we are honest about the obstacles we run into in our relationship and the lighthearted solutions we have come up with as a result. What additionally sets us apart is being an inter-cultural couple which excites audience members since the world stage has become more intimate over the past few years. Although we are both American, I am originally Canadian and Dani is formerly from the middle-east, so culturally we have run into a few snafus – which have only brought us closer and allowed us to more deeply appreciate each other.
Viewers have shared that this perspective – because EVERYTHING is perceptual – has given them the energy to come up with creative ideas to have more fun resolving their own relationship bumps. With the advent of the internet, the world has become smaller and our intercultural marriage reflects that reality. Also, most food reviewers are very serious to the point of being earnest. While we are ENORMOUSLY passionate foodies, our prime directive is playful joy. We are always honest but tactful and lighthearted in our reviews as we believe that sharing feedback forward(constructive criticism) is helpful and that the nasty old way of criticizing only breaks spirits and is unnecessarily painful.
Any shoutouts? Who else deserves credit in this story – who has played a meaningful role?
David Wolinsky(my co-writer on our associated SWEETHEARTS TV series in development)has been a producer/writer on various television shows over the years and shared a wealth of knowledge in the blossoming of our television product as well as having given excellent insight to our vlog and cheer led its expansion. He also inspired the concept for our use of decals which we post on the windows of many of the establishments whose desserts we review in the same style as ZAGAT. The decals include my website URL which drives traffic to my website and in turn, the restaurant's vlog review is visible on my site which provides additional credibility for them. A win-win:) Mark Breslin as previously mentioned produced Late Night w Joan Rivers so also greatly bolstered us with his insight. His on-camera role on the TV series is that of TOUR DIRECTOR. Keeping in mind that we will be traveling with the TV series, he will provide us with a Comic who is familiar with the particular lay of the land per episode. Robert Zuckerman, being a wildly seasoned photographer has given us honest, sweet feedback on improving certain shots.
Contact Info:
Suggest a story: VoyageMIA is built on recommendations from the community; it's how we uncover hidden gems, so if you or someone you know deserves recognition please let us know here.