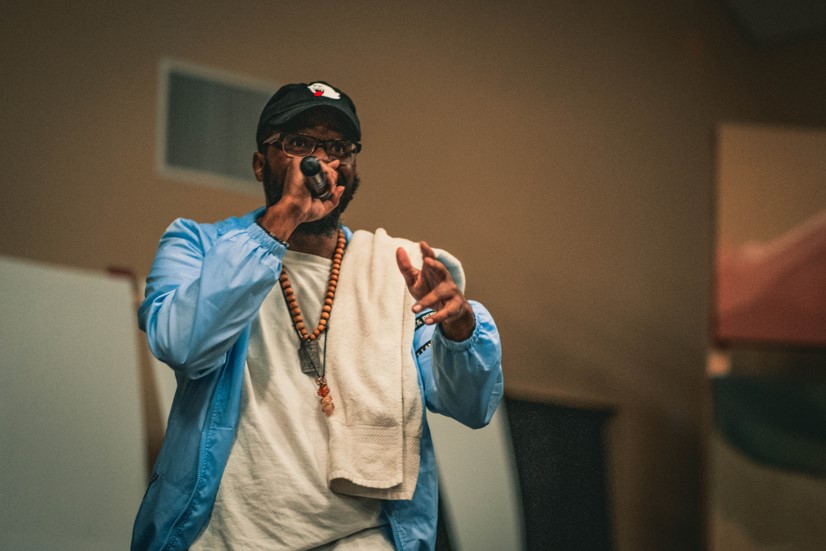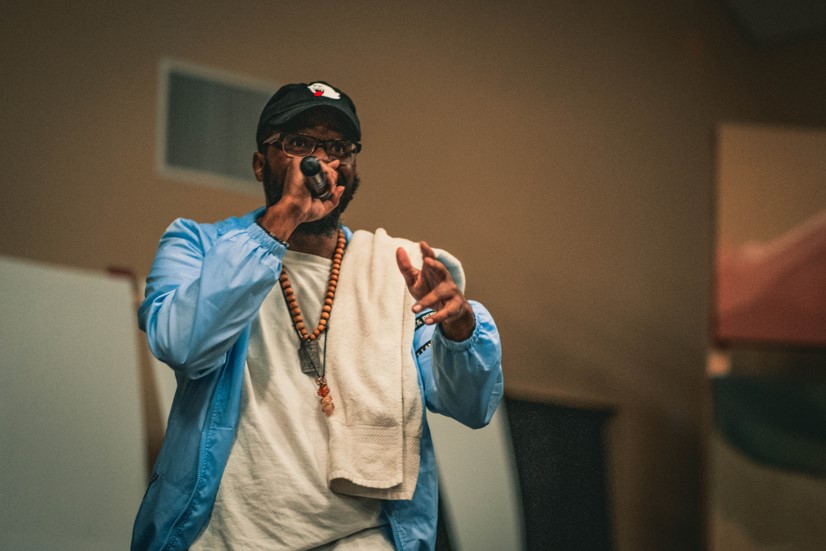 Today we'd like to introduce you to Ephraim Riggins.
Ephraim, please share your story with us. How did you get to where you are today?
I began as an average student making my way through the machine that is the school system. I would tell people my plans of becoming an electronics engineer but I never really had my emotions invested in that idea. It was safe, secure, and sounded good in theory plus nobody would continue to annoyingly prod for an answer about my future that I didn't have. The reality of my situation is that I had no clue what I wanted to do with my life until I found the rhythm. Hip Hop? Music? That was my world, asylum, and sanctuary. In 2007, my life changed because I found a fire in me that would burn for years to come. Me and my good friend, Ishmael, would beatbox and beat on tables in the back of our Math class just to break the monotony of school. We'd get in slight trouble, of course, but it was always worth it just to feel some sort of freedom. Outside of Math, I was learning the art of freestyling with my bandmates, Bruce and CJ.
During this era of my life, my world was Andre 3000 features, Kanye albums, Lil Wayne mixtape verses, Lupe Fiasco bar-breakdowns, Cassidy freestyles, and anything else Limewire would allow me access to (I know piracy is wrong but I was excited and did not have the money to cop all the Hip-Hop albums I missed). I studied the Hip Hop of old and new. I learned the words and even the dances. I would rap other people's verse so well, people would stop what they were doing on bus rides and listen. They would always ask "is that you" to which I followed with an honest denial. When Ishmael finally convinced me to pick up writing, I didn't put it down since. As a freshman in high school, my tutelage as an emcee expanded, even more, when I crossed paths with a fellow who would become one of my best friends in life; Benache. He would share his short, intense poems with me while I retorted with long-winded, amateur raps (he didn't tell me I sucked at the time because he thought I had potential and I'm grateful) and we'd always challenge each other like steel sharpening steel.
Thanks in large part to him, I began to tap into my poetic side which exponentially improved my writing skill and approach. Thanks to meeting those key figures in my life, I have discovered a passion that keeps me going daily. I didn't know what I was going to do with it even when I found it. I just knew I had something special to hold on to and no one, not even myself, could convince me to ever let it go. I met timeless friends and boundless sources of inspiration because of it. Be. I carried that conviction with me to college which led me to the inevitable formation of CAP 6. They say you only have a few friends that will be with you for life but I was blessed with more than that. To have five other individuals not only be your brothers but share a vision for the future is an invaluable honor. 2013, we merged with the goal of creating our own freedom and speaking our truth to the world as a force to be reckoned with. My journey through Hip-Hop was more than fated meetings and unbreakable bonds though. It was undoubtedly tied to my growth as a human. Consequently, the more I evolved as a person and expanded my self-awareness, the more my artistry did too. With that realization, my potential became limitless. I want to take this rapping as far as it can go, embody my potential, and inspire the world because, at the end of the day, God-given gifts belong to the people. If I am, then we are and the saga continues.
We're always bombarded by how great it is to pursue your passion, etc. – but we've spoken with enough people to know that it's not always easy. Overall, would you say things have been easy for you?
No. Self-doubt has always been my mental mountain to climb. In my internal circle, my path is atypical. I'm surrounded by creatives that didn't see their gifts as a feasible way to live. I wouldn't be here if it wasn't for their sacrifice, practicality, and resilience so I want to make sure I give all the due respect but I do wonder how life would be if more of my family took a chance on something that they truly enjoyed. Announcing my rap dreams was not an easy thing to stand-in and own because nobody has seen it done in my family. "It" being the pursuit of a creative outlet as life work. Forging a new path is unnerving and sometimes you don't get the assurance you need when you need from the people you need it from. I just had to have the courage to tell them that this is what I want and remain unmoved in that position. I have to show them that it's possible. On the external, my path seems typical. Another black man with rap dreams. Rappers, ballers, or trappers; those are three ways a black man's impact on society is stereotyped and I'm not necessarily breaking out the box. What would make me any different from them? In order to make this saturated route into a successful path, I had my work cut out for me that felt insurmountable some days. They always give some infinitesimal percentage of who actually has longevity in the music industry as if there wasn't enough to go around but that's an illusion. There's plenty to go around, I would just have to acquire my own tools and use my resources to get it. Not to mention the golden question: What are you going to do if it doesn't work out? I had to learn how to block out that inner negativity and outer perception because my story will remain my own. Even if a billion people pledged to go the distance in Hip-Hop, it doesn't matter. Many people are doctors and lawyers (both of which require much more time, money and effort than rapping) and still, people currently in school for doctoring and lawyering are putting in long hours. The only way it doesn't work out is if I don't work on it.
So, as you know, we're impressed with CAP 6 – tell our readers more, for example, what you're most proud of and what sets you apart from others.
I am a wordsmith — emcee and spoken word artist — and with my collective, CAP 6, I perform, coordinate and curate shows. What I take pride in about our movement is putting the spark in the community. We cultivate the artistic culture by providing a platform for artists of all mediums in our shows. What sets me apart is the fact that my creative process knows no real time constraints (unless its necessary). I could receive a beat, write to it the next few days and be done with it or I could get a beat and never come back to it until years later. That is because I have to grow in order for the path to take in the song to be clear. I have to hear it, feel it. The words and rhythms have to well up and from inside of me. Every song is a glimpse of who I was and my ability at that particular moment. I try to craft every verse with its own personality. Outwardly, I think my music charges people to live their dreams and provides motivation. They see me do what I do, hear me and it resonates with something higher inside them. It encourages them to want to go out and get theirs. That's special to me and my real life's work.
So, what's next? Any big plans?
Short-term, I have three projects slated for this year. One of them is coming out within the next few weeks and it's called Tale of 2Swordsmen (big shout out to the homie Flash, The Samurai and LOVE Culture) which comes out on May 12. Long-term, I'm saving up money and looking to eventually take my talents to Denver within the next year or so and join up with other CAP 6 members out there (big shout out to Donny Blot and Hakeem Furious for constantly striving). In the next five years, I'm going to be performing at a festival and earning program placements. Other than that, I'm keeping my ears open to the Universe and moving accordingly.
Pricing:
50-200$ show feature (travel and stay vary)
100$ song feature
150$ theme song writing
Contact Info:
Image Credit:
Chachiii, Nick Tracanna, Stephon X, [offbeatninja], trblshoot, D. Wind
Getting in touch: VoyageMIA is built on recommendations from the community; it's how we uncover hidden gems, so if you know someone who deserves recognition please let us know here.