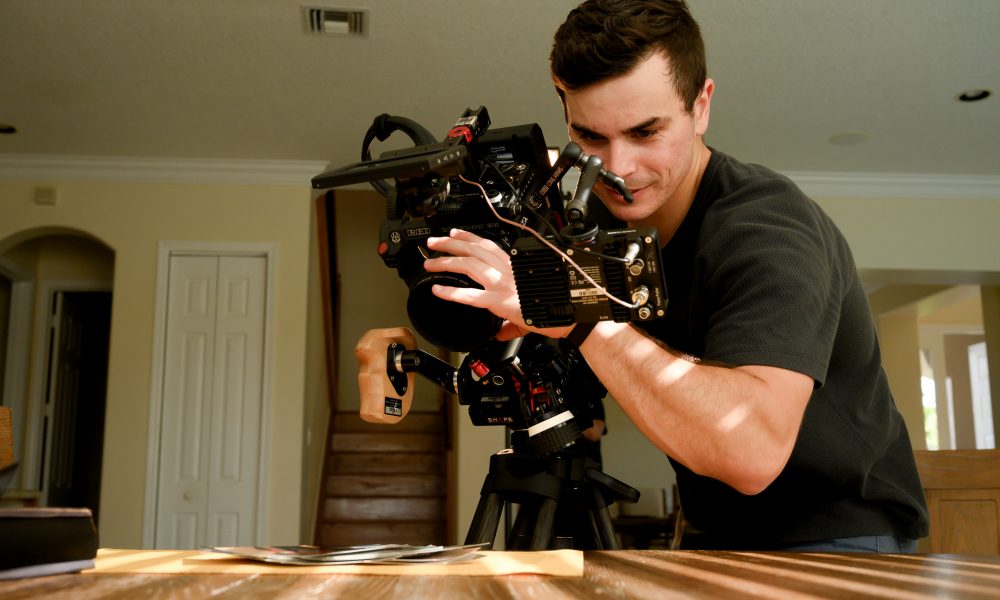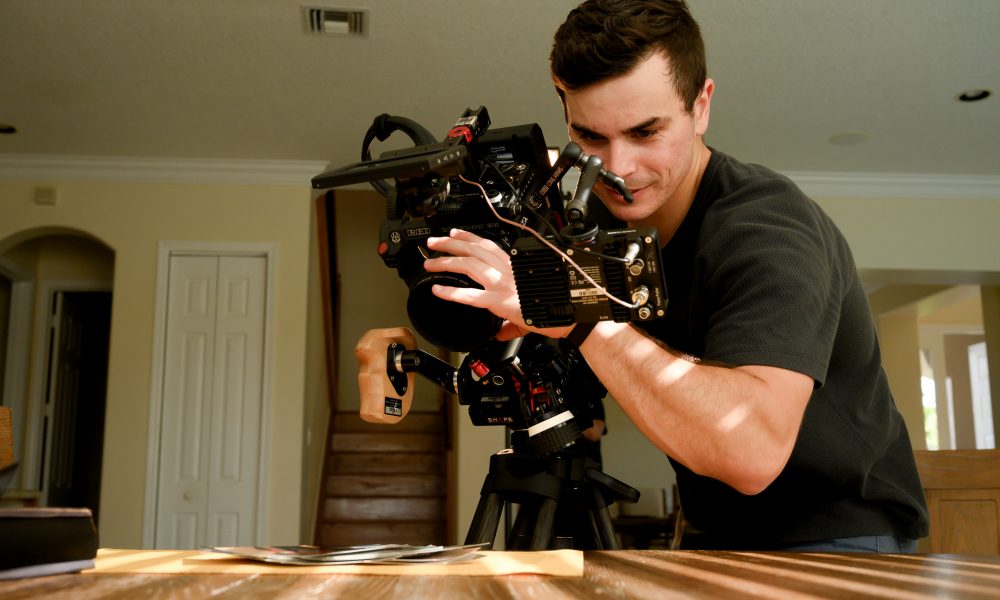 Today we'd like to introduce you to Dominic Anaya.
Dominic, please share your story with us. How did you get to where you are today?
I originally got into video production on an accident. When trying to decide on my major in college back in 2014, I was juggling with thoughts of being a massage therapist, or an actor. Vacillating between majors within one day, honestly. One night my father and I were talking on the phone in regards to which direction I should take, and then it hit me when he said, "you should do something creative. You've always liked making comic books when you were a kid. Maybe creative writing, or even acting since you did drama all throughout high school."
Now, from there, I looked online on Palm Beach State College and found the Film Program. I noticed it had "Acting For Film I & Acting For Film II" on the syllabus, so I thought this would be perfect. I could learn about acting and filmmaking all at once. Unfortunately, to my discovery, after I had enrolled in the program, I later learned (like two months into it) that I had read an old syllabus and "Acting for Film" was taken out of the program.
I'm stuck in the Film Program now, I thought. Whatever. I decided to power through it since there was student short films I could act in. I learned a lot in film school while working at Papa John's full-time as a Delivery Driver (2014-2015). I eventually quit Papa John's and started working at Ruby Tuesday's as a waiter (late 2015). My college career cut short when I figured out I was going to be a father at 22 (late 2015). So, I dropped out of college with 80% of my degree completed, because the acting wasn't going to get me anywhere fast and money in my pocket right away.
While transferring from job to job, I was picking up Production Assistant job's on the side. My first Production Assistant gig was from Investigation Discovery's: On the Case with Paula Zahn (early 2016). I eventually grew the urge to shoot my own work between all of my aforementioned work history. Obviously, I shot some short films in school, but that wasn't where the real experience kicked in – it was on my own independent projects with friends and clients.
I'll save all the miserable video projects I did on my journey to becoming better for another time (you gotta start somewhere). I grew an affinity for bodybuilding and working out, so that's where my video career really began, I guess you could say. I started filming my workout buddy, David Isaac Medina. We filmed vlogs for YouTube and creative short fitness visuals for Instagram (yes, I know)… Eventually, I just focused on filming him and started to "hone-in" on my skills to develop more.
I becamed obsessed with becoming better with each and every project I did. I eventually thought maybe I can do this full-time even though the income wasn't even close to be stable. Jobs were trickling in a little more often, even though in the video world, you never knew when your next job was as a freelancer or even as a new company until someone called you randomly. I accumulated over 70+ production assistant and camera assistant credits on various jobs spanning from corporate style interviews to reality TV between 2016-2017.
My son was born Julian Gabriel Anaya on June 22, 2016. Most people my age, or in general, feel like they have to give up their dreams and aspirations when a kid comes into play. I think it's an excuse to not work harder, to put in the maximum amount of effort needed. People end up quitting because they don't know how to push through those uncomfortable moments that make you grow.
I thought it was time to quit my job as a waiter and start my own video production business, unofficially. The company name, Beyond the Pines, came from one of my favorite movies, "The Place Beyond the Pines." Beyond the Pines was legally formed on 01/17/2018 when I was 24 and my son was not even two yet. I started the business with zero investment capital and put everything on my low credit line credit cards (I got into the credit card game late).
My office was basically a 10 ft long by 5-6ft wide den inside of a house that my girlfriend (soon to be wife in the present time) and I rented in Loxahatchee (the middle of nowhere at the time) that I shared with my son. I'd watch my son while I'd work (which was miserable at times) and the heat was unbearable. I was working off a 6ft long wooden workbench from Home Depot with my old Toshiba laptop that could barely handle any footage I threw on it for editing.
I had cameras in the past like the Canon T5i & Panasonic GH4, but I wanted to start my business with the Sony A6500 (this is early 2018 still). I had no money. I was maxing out personal credit cards on advertising and small business expenses. I had to ask my girlfriend, Nicole (who's my soon to be wife on August 1st, 2020), to loan me some money, and she was broke too. Luckily, Nicole has been a ride or die friend since 2010 and decided to loan me all the money for my first camera for my business.
So there I was in debt already on the personal side and now for my business. I had to slow down my advertising expenses because nothing was working. So I did the worst thing possible. I started cold calling businesses on google that were local to me. I called literally 30 businesses until one lawnmower business referred me to a screen repair service which was looking for video work. I called them up and landed my first job with a budget of 1.8k-2.5k. I was hyped! I opened my first business account with that money and reinvested the money back into the business. I was still freelancing from time to time, so that helped for personal bills when I was operating as a start-up.
I started to build some momentum and I didn't let up. I had just one metro rack barely filled with any equipment and a Sony a6500 all "Frakensteined" up with random inexpensive camera accessories. To any aspiring production companies, or filmmakers, the look of the camera never matters, it's the person behind the camera with the knowledge and experience that matters. There are a time and place and budget range for expensive gear, but you don't always need it.
Long story short, I kept pushing past those months of financial strife. I had a vision in my mind every single day. I was hungry. I'm still hungry. I was so hungry then that I tripled the company's revenue in 2019 and opened up our first studio on October 15th, 2019, with my lovely finance, Nicole. *PLUG* Nicole is an amazing real estate agent; she found me an awesome warehouse space near the Palm Beach International Airport that I converted into a studio space.
My company now has over a quarter million in gear and assets as of today, July 15, 2020. We're still growing. We're now offering a camera, lighting, and grip rentals for production companies in-studio and on-location for their productions. We're a full-service production company, a one-stop-shop. I write this, not to brag–but to encourage you to believe in yourself and to push yourself.
I got my company to where it is today and where it'll be in the future based on awesome customer service and, most importantly, calculated risk. Take the risk. Think about your goals everyday, non-stop. I'm obsessed with what I do, and I love what I do. I don't feel like I'm working.
I'm the sole owner and operator of the company, but on September 1st, Nicole (my wife to be) will be leaving her job and taking that risk to come work for my company as an Office Coordinator and Studio Manager. Also, we're hiring our current intern, Ryan Willens, as a Production Assistant. Nicole and Ryan will be Beyond the Pines Productions' first employees. We're going to continue to grow and innovate.
Please tell us about Beyond the Pines Studios & Productions.
Our company specializes in a wide array of content, such as: Commercial, corporate, live events, short films, feature films, documentaries, social media small business videos, micro-content for social media, music videos, and any creative visual you can think of. As a company, I'm proud of our determination and our success – where we came from and where we're going. What sets us apart is our communication, we'll always follow-up with our potential clients, we'll always guide our potential clients/clients in the right direction. I spend the time on the phone for too long sometimes with people, but I like to help. If you don't do any work with us due to your budget range, then we'll still point you in the right direction.
What were you like growing up?
Hyper. Excited. I'm still hyper and excited, haha. A little A.D.D., or a lot, you decide.
Contact Info:
Image Credit:
Sage Pacetti & Nicole Anaya
Suggest a story: VoyageMIA is built on recommendations from the community; it's how we uncover hidden gems, so if you or someone you know deserves recognition please let us know here.