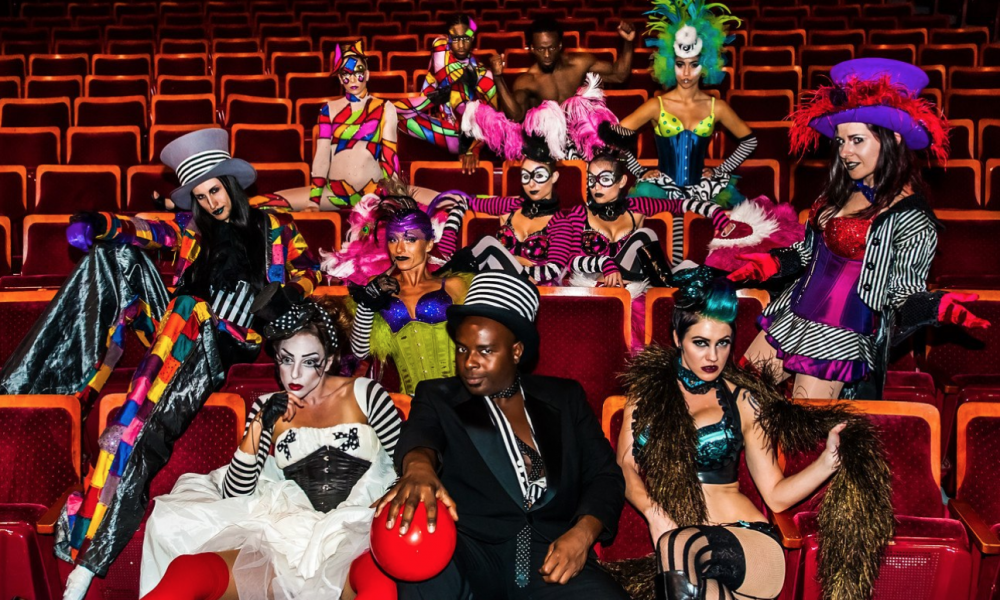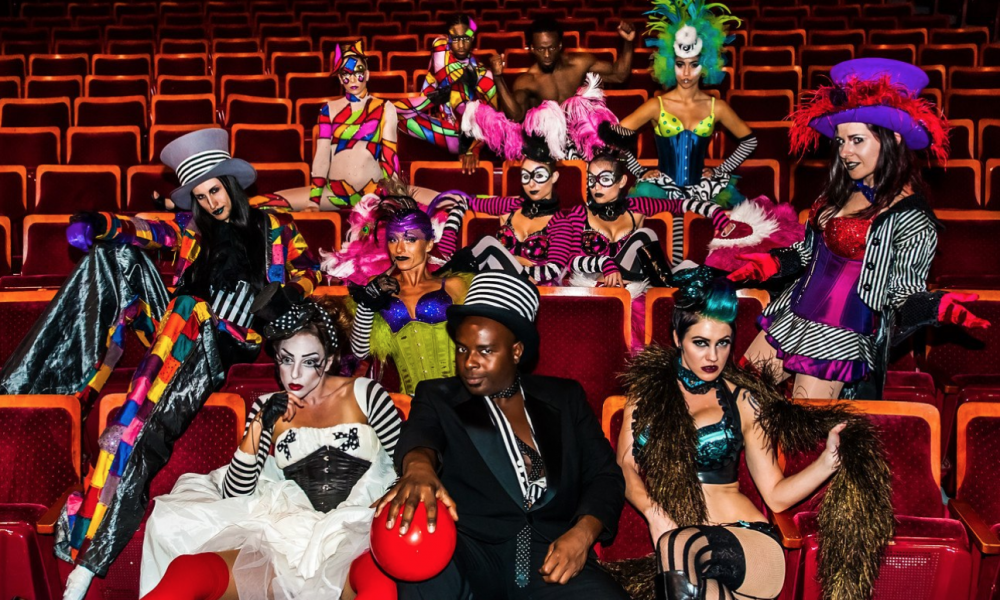 Today we'd like to introduce you to Diana Lozano.
Diana, can you briefly walk us through your story – how you started and how you got to where you are today.
I like to say I was raised by drag queens. Backstage while my dad performed, I hung out with all the artists from the weekly Drag Review at Teatro Bellas Artes, a theater in Little Havana. My dad was in the play just before the review; no he was not a drag queen. I suppose I have been in the theater ever since I can remember. From elementary to grad school, I attended magnet schools focused around the performing arts.
Through out my school years, I had also delved into creating out of the box events and I jumped at any chance to be creatively involved in the planning process. From pop up art raves in the school's parking lot to the yearly haunted house, these events consumed my extracurricular life. Although I am half Cuban, I insisted on having a Sweet 16 instead of the typical "Quinceniera", just so I could turn it into a Sweet Transvestite party as tribute to my favorite movie, The Rocky Horror Picture Show. I spent months prior preparing the center pieces complete with dismembered fishnet mannequin legs and black flowers; I even coerced my parents to dress up as Riff Raff and Magenta.
Continuing at the New World School of The Arts for my undergrad, I was introduced to the world of dance theater by teacher and now mentor and best friend Octavio Campos. To be honest, I was bored with traditional plays and musicals and was hungry to explore different forms of expression that broke the forth wall as well as all other conventions. Through Mr. Campos' class I remember once again being excited about performance. However as I approached graduation, I was at a crossroads, undecided on where to go next; whether to stay in the performance world or focus on technical theater instead. Fortunately after a heart to heart with my mentor, I decided to compromise and enrolled in the Integrated Media Program through the Schools of Theater, Performance Art, Design and Technology at Cal Arts.
The California Institute of the Arts, (CalArts) has always had a reputation for being unorthodox. Founded by Walt Disney, in the 60's the school encourage unconventional forms of expression all while maintaining a foundation in artistic excellence. We were allowed to go naked to class and bring our pets if we wanted to. There were no rules except, don't destroy another persons art. However, what I really adored about my time there, was that the focus was on interdisciplinary exploration. I loved that I got to take classes across all the disciplines and collaborate with a myriad of artists.
Graduating from CalArts, I felt lost. There was no longer this creative community to engage with and now the focus was just on surviving. It's not like there are companies just knocking on your door to higher you with a degree in experimental theater. So i found myself doing odd jobs like being a birthday party princess during the day and choreographing fetish/drag shows in the gay bars at night. Oddly enough, it was in at the kids party company that I met the person who would embark me on the next chapter of my artistic journey.
His name was Ken Johnston, and he was the front man of a performance based glam rock band out of Atlanta. One day as we were packing up the balloons and piniatas for our next party, he mentioned that his band was looking for another performance artist for their summer tour across the U.S.. Without hesitation a jumped at the chance, after all it had always been my dream to tour with a rock band, and they just to happened to be opening up for the Misfits. I packed up my bags and left for Atlanta the following week.
Arriving to Atlanta was a rude awaking. It turns out the band, was not so much focused on performance art as it was focused on pornography. They were known for performing live sex acts on stage. Horrified, I could not have walked out of our first meeting any faster, however they assured me that since they were opening up for the Misfits, a punk band who's main audience base are 14 to 16 years old, they had to make their show PG-13. After about a night of thinking it over, I accepted the challenge, and ended up having one of the most exhilarating experiences of my life. To this day, few things compare to the raw visceral energy you get from performing in front of a crowd of screaming rock fans.
Unfortunately the journey was cut short, as we were en route to open up for Metallica, our tour bus caught fire while driving across California. Stranded outside of Barstow, CA, we ended up being bussed back to L.A. and the tour was over. Depressed, I was now fixated in continuing this life style, so this time I packed up all my belongings and drove cross country to moved to Atlanta, only to find out I was no longer welcomed in the band. They were back to their X rated antics, and in summation wanted girls that would "party with the band".
Having left my life in L.A. I was now closer to home, Miami. I made the long drive back to live once again with my parents. It was disheartening to find myself in the same place I was before this epic journey; back at a night club running lights. Part of my job was to light these girls they would hire to dance, and I could not help but think "is there not something more interesting you can do than wiggle in a bikini". Frustrated I would hit the dance floor each night at closing and burst into some sort of aggressive yet humorous interpretive dance. What ever it was, it was enough to catch the attention of my boss at the time, Shannon Miller.
After my creative tantrum one night, Shannon approached me and said something like "if I paid you 1k each night, do you think you could put some thing together for us". Without hesitation, I shrieked "YES!!!..but give me a month to do it right." The next day I went to my old alma mater, The New World School of the Arts, to put up posters looking for talent. I reconnected with some of my past schoolmates and teachers, and we began to create. Each week featured a different surreal world of immersive theater and fantastic characters. That was the birth of Circ X.
Has it been a smooth road?
The road has been far from smooth and to be honest we still face challenges. Miami, more so than most cities, (except maybe L.A.) tends to value image over substance or talent. Especially, in the early 00's, when we first started, night club entertainment was nothing more that beautiful girls in cute costumes barely breaking a sweat on the go-go platforms. We came in and broke all the rules.
We found our home at Back Door Bambi. Created by Carmel Offir and Mykell Stevens, BDB was a night life experience like no other. We were allowed to create anything we wanted. From a reverse strip tease where we start out in sexy lingerie and slowly put on sweats and gorged ourselves on pizza, to politically charged performances featuring mirror ball covered gas masks pouring oil all over our bodies, nothing was ever censored or off limits.
In 2004 we got our big break that launched us in the "corporate" world; a touring contract with Bacardi Limon. At the time, liquor companies were not allowed to advertise on TV so they needed to create experiential stunts where the consumers would remember their product. We were hired to create subliminally branded bizarre characters and infiltrate night clubs around the US with our wild immersive antics. This is how the "Lemon" character was born: a pale yellow unitard costume where the head is in the shape of a lemon; however, it also happens to look like a giant condom.
For 2 years, we continued touring with Limon while working at BDB, Crowbar, Pawn Shop and a handful of other night clubs that were open to our unorthodox approach. Then we got our first "real" corporate contract, to create a multi-media show for Mercy Hospital. I say real because it was the first time I was confronted with the limitations of the corporate world. A catholic hospital, there was a laundry list of things we could not do. To be honest I was surprised that they would even consider using a company with such a provocatively ambiguous name such as ours. Fortunately, we were easily able to calibrate our performance to suit their needs; however, it's also when I unfortunately realized that bigger paychecks meant bigger compromises.
Throughout the years, we have learned to calibrate our approach to each client and as the owner of the company, I have had to make some tough decisions; mainly NOT expanding. Perhaps I could have been richer by now, but I did not want to dilute the essence of who we were as a company and our foundation in theater. I am proud to be a boutique company that focuses on artistic excellence. I never want to create watered-down copies to simply fulfill contracts. It's important that I remain hands on with each client, whether it's a 500 dollar budget birthday party or 60 k corporate event.
I believe, remaining true to our identity, is why companies such as Red Bull, Ikea and Art Basel have trusted us to create for them and why community programs such as the Miami Book Fair contract us each year. Furthermore, our involvement in the legit arts community in South Florida, has allowed for us to be commissioned for performance development programs such as the Here and Now Festival through the Miami Light Project and most recently being awarded a 50k grant from the Knights Arts Challenge.
We'd love to hear more about your business.
In 2002, I incorporated the company as Circ X. The name is derived from the Latin Circa meaning around or about and X, like in math is any variable. In short, we are a performance 'company' around or about anything. However, when said out loud, Circ X sounds like circus and X has it's own "sexy" connotation. That's intentional. At the time, it was really important for me to pick a name that really captured who we were as an ensemble.
To this day, Circ X is a traveling Performance and production company based out of Miami FL. Each performance is dedicated to creating unique cutting edge interactive entertainment. Since it's inception, the company has grown as an ensemble of actors, dancers and circus artists. We incorporate European Clowning, Corporeal Mime, Street Theater, Contemporary Dance and Burlesque to create an experience that is wild, intense and outrageously funny.
What do you do, what do you specialize in, What are you known for?
We like to say we specialize in beautifully bizarre interactive entertainment and theatrical circus artistry. For the most part, we provided entertainment for events. Whether it be a B-mitzvah or a Fortune 500 corporate gala, clients look to us for our unconventional approach and ingenuity. From impressive "flash mob style" performances to fully choreographed spectaculars we work with our clients to create unforgettable experiences. We are mostly known for our creative costumes coupled with theatrical performance approach and focus on artistic excellence. Each one of our performers is technically trained in their craft, most having degrees form accredited universities or conservatory programs.
What sets you apart from others?
What sets us apart from other entertainment companies is our focus on character development and through line. All of our performers are technically trained actors and dancers who have acquired a variety of circus skill sets instead of simply focusing on the tricks with out any consideration of dramaturgy. Unfortunately, most companies in South Florida, simply put pretty people in pretty costumes. It is of the up most importance to me that our performers have a solid foundation in physical theater and improvisation.
What are you most proud of as a company?
Being chosen as a Knights Arts Challenge Grant winner, definitely ranks amongst the most proudest moment for me. Through this grant we were able to create a Miami-centric politically charged cabaret spectacular with an over 30 person cast. This would not have been possible otherwise as corporations tend to shy away from controversial topics. It received rave reviews and even a stellar write up in the Huffington post.
Is our city a good place to do what you do?
Miami is a great place for entertainment companies. There are always plenty of parties and events they can cater to. This is how we have thrived for over a decade and a half, by performing for a myriad of night clubs, private parties and corporate events. However, on the artistic and cultural side, I believe Miami as a city still has a long way to go. Culturally, I still see us as a city focused on image and scared to take risks. Cities like NY would not bat an eye at seeing a 600 pound drag queen perform a death drop in heals or someone hammer a nail through their head. These acts, for example, would be a much harder sell in Miami. However, this has allowed for our niche, so from a business perspective, I would not change a thing.
Contact Info:
Getting in touch: VoyageMIA is built on recommendations from the community; it's how we uncover hidden gems, so if you know someone who deserves recognition please let us know here.