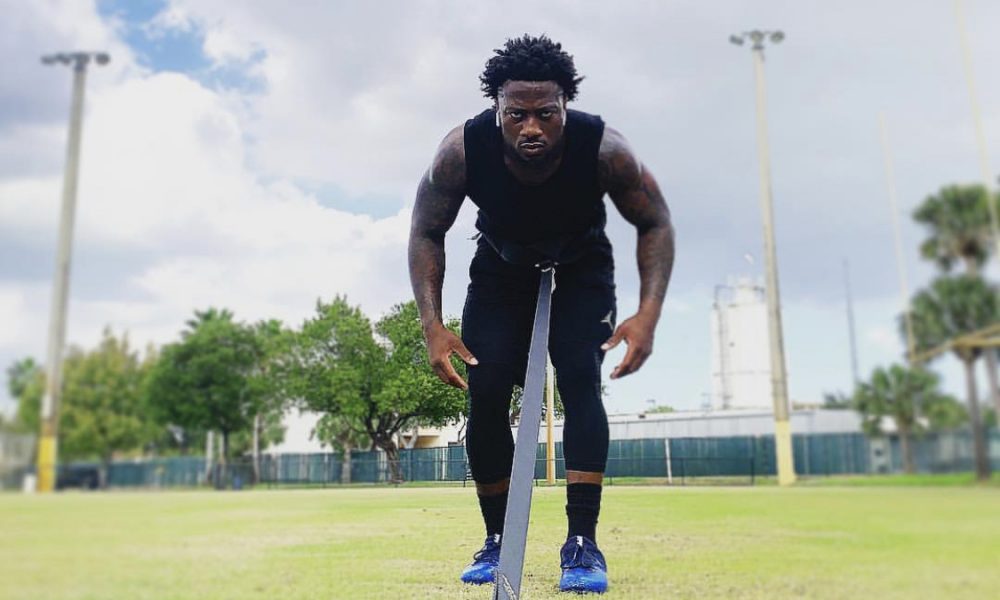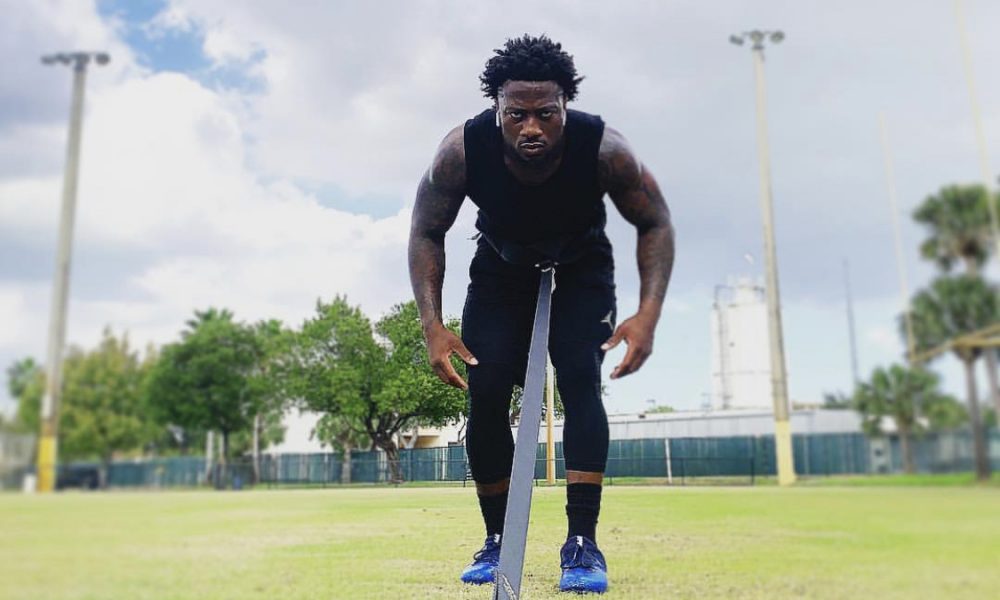 Today we'd like to introduce you to Dee Edwards.
Dee, please share your story with us. How did you get to where you are today?
After graduating from FSU, I came back to Fort Lauderdale with Pro Football aspirations. For my first few years back in Fort Lauderdale, I trained most days trying to stay ready for any and every opportunity which came my way. I was doing everything I could, traveling to tryouts, making phone calls and I even tried to enter the Canadian League at one point. After money started running low and plenty of empty promises, I began to work full time. Many of my close friends saw some of the crazy workouts I would do and would ask to train with me, but very few ever came through. I invested in so much equipment over the years trying to stay on top of my game, it wasn't until we actually moved into our new facility now that I realized just how much I had.
In the very early stages I experimented with a few friends training them at local gyms and parks, to my surprise I was actually pretty good at it; however, being able to explain exercises and proper form was the biggest challenge for me because I had been training since high school and many people didn't understand the terminology and techniques to proper training. For me it was a no brainer, to them I was speaking gibberish. The questions and puzzled looks on people's faces let me know I'd have to work on how I'm explaining these exercises in order to be an effective trainer or coach. So I had to learn to explain proper form in more simple terms and understand many of these people have no idea about training.
In 2015, I started my first training company as ID Fitness with my best friend at the time, which was supposed to be a joint effort. We were not official trainers though. We didn't have certifications or any of the things that would legitimize us as trainers. The plan was to get those things along the way, but just get started as soon as possible. Needless to say, I was really the only one doing any real work to make the company successful. After about a year of not seeing progress with it, I stopped training my clients and went back to just focusing on my own training again.
In the summer of 2017, I found myself a new name and new motivation to start my own business. This time would be different. I didn't plan to stop no matter what and I wasn't depending on anyone to help me. I came up with the name of the Zenith Factory and applied for my LLC. I have always been fascinated with the word "Zenith", which by definition, means "the time at which something is most powerful or successful." I guess as an athlete. You are always trying to be the best or most successful version of yourself, so I felt it fit perfectly. Not to mention I was sick of the usual names people were using for their business at this time. They all sounded alike, body by whomever (no offense). I knew I wanted to blaze my own path and not try to imitate those who came before me.
I started the process all over using local parks and gyms and recording a lot of my own personal workouts to Instagram to let everyone know I was back at it. Family and friends started to take notice and often referred people to me and I slowly started building some clientele. Things really took off towards the end of 2018. I had a whole operation going mainly at Planet Fitness during the week and boot camps at Willie Webb on the weekends. I would do early morning classes with about three to four people at a time. I couldn't carry too many people because I was trying to fly under the radar so the staff wouldn't make a big deal about it. The weekends were the most work. I had to load up my car with equipment from my house, take it to the field, unload it, do the class, load it back into the car and then unload it back into the shed. I was tired but I was there faithfully almost every weekend unless I was traveling. I somehow managed to fit semi pro football in the schedule too. I even had a fitness challenge to kick of 2019, which was a lot of fun. It worked, believe it or not, and I maintained this crazy schedule a lot longer than I expected.
Around May 2019, I got kicked out of Planet Fitness after a falling out with one of the staff members about training people. It was actually kind of funny when it happened because I knew I was training, but obviously, I couldn't make it that easy for them. Unless they had proof my answer was no I was not training these people. My clients at the time stood right next to me and argued on my behalf. Gotta love the original Zenith Team crew like Shae, Rae, Mel, Mama Bear, Candy, Kennedy, Adri, Nova, Carmen, Tasha and Will. They hung in there with me on some long days.
After getting kicked out of Planet, Fitness business slowed down even with the faithful few. I'd like to think life just was happening to all of us. You know people started moving, schedules changed, they had some kind of injury or something come up that took them away, whatever could have to happen happened. I knew I couldn't stop though this was just part of the process. I had come too far. I had to improvise by turning my backyard into an area to train clients. It was a headache though because I was always at the mercy of South Florida weather. Some days it would be storming and everything was wet, other days it was extremely humid. It was a tough few months but let me say I have some of the best clients those ladies stuck with me in that backyard because they believed in me and what I was doing. It made me feel like I need to pull the trigger and find a real place to call home.
So I started looking at some places, trying to get an idea of just how much this project was going to cost me. I had to consider everything at stake but within reason. While shopping around I got a call from a long time teammate and friend of mine and we got to talking about our businesses. He works more with the youth, while most of my clientele are adults. One thing led to another we ended up joining together in November of 2019 and opened up our training facility. It was a huge help for us both as we are able to provide training to both adults and kids. We typically work opposite times of the day and evening and our facility is more than spacious with almost 3000 square feet. I knew it was God's plan because this came right on time. The best part is we were both considering each other as a partner to start this venture with. He just called me before I could reach out to him. I must say I am grateful to God for giving me the strength to endure, patience to wait, and faith to trust that he would make away. I never gave up.
We're always bombarded by how great it is to pursue your passion, etc – but we've spoken with enough people to know that it's not always easy. Overall, would you say things have been easy for you?
NO! NO! NO! I'm laughing as I say this, but it has been as much of a rollercoaster as it could be. First, there was the double life I was living — full Time worker during the day and trainer at night and early mornings before work. I was so tired somedays I would skip my own workouts and training sessions. I was chasing any and every dollar I thought I could make. I wasn't thinking like a boss I was just all over the place and it made me burnout several times to the point I had to tell my clients I was tired.
Between getting kicked out of Planet Fitness and not having anywhere to go, I constantly was faced with trying to find a place suitable to train my clients. The transporting of equipment wasn't easy and the weather was so unpredictable. I battled myself inside on whether or not this was all even worth the hassle. I knew what I wanted for my company, but my motivation and determination wavered back and forth.
It was tough mentally because I was looking at other trainers and they had all these clients, their own gym, people were showing them a lot of love, and here I was making training videos in my backyard. I knew I was good but I didn't feel like people were taking me seriously. I had purchased well over $3,000 worth of equipment, got certified, purchased insurance, everything I needed, but after getting kicked out of planet fitness and almost out of 24 hour fitness I felt like I was pretty much stuck. It was either join these places as a trainer and let them eat up all my money or stop. Deep down, I didn't want to stop and I didn't want to fork over my money to a big company and I get the crumbs but do all the work.
I found it very hard to at first to compete with other trainers, so I stopped. I used to think I had to post like everyone else and do exactly what they do to get the attention of potential clients, but I never gave into it. I found my way is my way and I respect the other trainers in my area, but if a certain style of training isn't for me I learned to be ok with it. Self confidence gave me more power than any likes on social media ever could do and once I got it, I knew I was exactly where I should be.
Many people want to be entrepreneurs, but for reasons like this, it is not for everyone. It some long days, it takes money, countless hours, and many ups and downs. It is not for the weak.
Please tell us about your business.
So what I do is provide personal training as well as sport specific training. I specialize in strength, conditioning, speed, and agility. I have programs for weight loss, weight gain, and training athletes who are preparing for competition in their respective sports. A typical training session is going to include weights. I was huge into utilizing weight training for weight loss and strengthening programs for any experience level. I offer nutritional plans, and we work with you to not starve or gorge yourself on bad food to lose or gain weight. I do my best to clear up a lot of misinformation that circulates around in this industry. Between the fad diets, flat tummy teas, and body work that out there, I'm constantly having to emphasize this is a process and it takes patience and persistence. When I meet potential people, these are some of the first things I address.
I feel I'm most know for my attention to proper technique, form, and being very detailed. In my years of playing competitive football, I was never the fastest, so when I trained, I worked more on my technique and fundamental skills at my position. In doing so, I think it made me a better player than most. That mentality translated over to my business when I work with my clients. I think it is super important because I don't want my clients to be injured and also I want them to maximize their training. Im strict about those things, but people can appreciate that especially when they are new to exercising.
I'm also proud of the fact I give back. For three years now, I have put on the Zenith Factory Family Fit Day, which is a day dedicated to activity and health awareness. I partnered with Eat Well Exchange which is a non-profit organization and other local health vendors, to share free knowledge and education with my community. Through donations from family and friends and my own personal money we give away book bags, gift cards, and more during our event. I can't supply everyone but I do what I can for my neighborhood and those in need.
For me having people know I'm not going to encourage bad form and they try to give me their best or even just ask me if they are doing something correctly shows me they care just as much as I do. I'm not a killer coach I modify things for those who are beginners until I feel they are ready for the next level. In most cases they are telling me they can't, but I believe in my programs, I see the progress they don't see and I push them to at least try.
I'm most proud of the family like atmosphere I have created within my company. I take care of my people, whether it's just giving them shout outs on social media for their accomplishments in the gym or personal life to just giving them something I think could help them perform better or something they may like. I made it my business to get to know them both in the gym and outside. In doing so, I get a lot of love and support from the Zenith Team and that's more than I can I ask for.
So, what's next? Any big plans?
My plans are really to just continue to grow. I am looking to bring other trainers aboard to work in my facility as a staff of the Zenith Factory. I would like to be able to offer even more classes like yoga, Zumba, spinning and more. I would definitely say opening up another facility would be in the plans as we grow, but for now mastering my craft and building my clientele is the priority.
I'm in the early stages of planning my 4th annual Family Fit Day which I host every year as a give back to my community. Every year the turnout is better each time so Im really looking forward to another successful event in 2020.
This summer, my goal is to start my training academy for the local high school football players geared towards sport specific training. I believe by being a current seven on 7 Football coach, I can see the potential impact it can have for my players and others as well as keeping me involved with football.
I have what I like to call a dog mentality. There are going to be some really good days and some really bad ones. Every day is not going to be your best, but you can't quit. I'm only mentioning the things that come to mind, but nothing is off the table for me going forward. The sky is limit. With the help of the man upstairs Im sure Ill get to where he is directing me.
Pricing:
12 month Membership (Contract)- $125 a month includes minimum of 3 months: unlimited classes, custom meal guide, before and after pics, access to all events, 5 guest passes per month and 20% off merchandise
Month to Month (No Contract) – $150 includes: unlimited classes, meal guide, before and after pics
Drop In Session – $15
Weekend Warrior Boot Camp (Saturday ONLY) – $15
Class Bundle Deal: $120 includes: 10 sessions (NOT VALID FOR SPECIAL EVENTS)
Contact Info:
Suggest a story: VoyageMIA is built on recommendations from the community; it's how we uncover hidden gems, so if you or someone you know deserves recognition please let us know here.