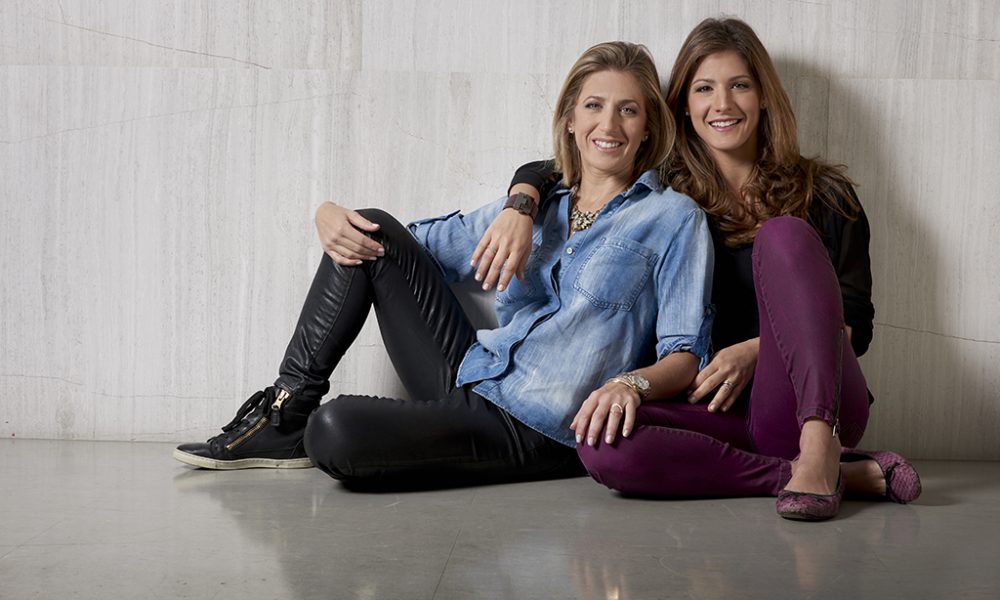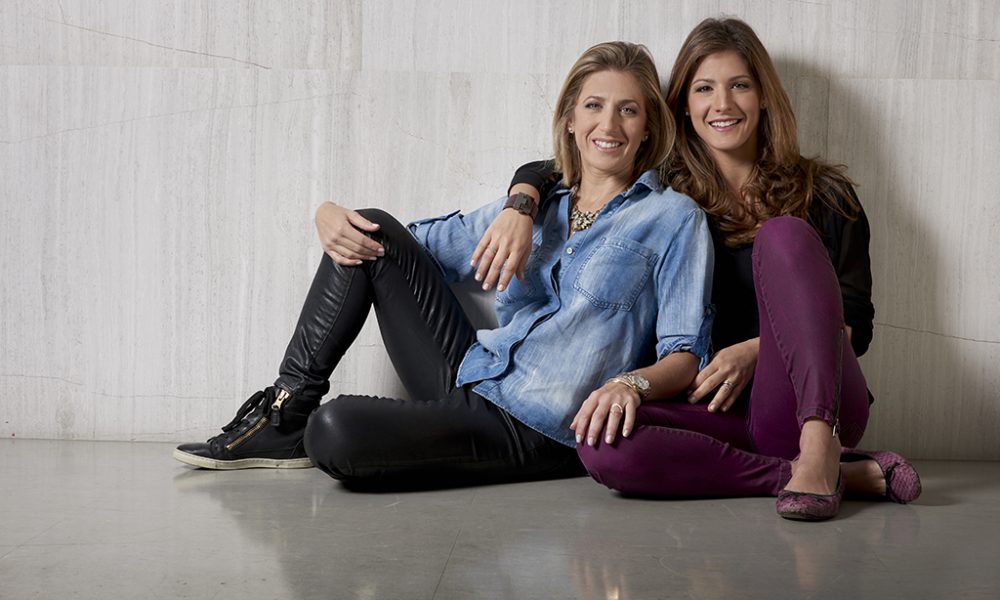 Today we'd like to introduce you to Daniela and Gabriela Apeloig.
Sisters Daniela and Gabriela moved from Venezuela to Miami, Florida with their husbands and young children, and began the process of building a contemporary Jewish home. They felt a strong need to merge their love of Judaism and Jewish traditions with their contemporary design aesthetic.
Quickly, they learned that they were not alone and that many young families were also searching for Judaica products with modern designs that would honor the past, yet look to the future. The two sisters, are in constant search for new materials and trends to develop new products that will hopefully encourage more people to keep Jewish traditions in a very stylish and creative way.
Driven by the desire to find Judaica products that worked in harmony with elegant, minimalistic designs that they loved, but unable to find exactly what they were looking for, they created Apeloig Collection in 2014. Named after their beloved grandfather, who did not have grandsons to carry on the family name, Apeloig Collection serves as a living memory for all generations.
Apeloig Collection began with Daniela's Master's degree thesis project in Integrated Marketing at New York University, which required the presentation of a Business and Marketing Plan. The idea to create the collection developed, culminating in an extensive plan that included marketing, branding, investors, logistics, quality assurance and production. The establishment of a new Jewish home truly drove the idea into reality.
We wanted to start small to test the market, we launched the brand in 2014 with mezuzah cases in 3 sizes and 14 colors. We tested the brand with a small run in the Aventura market to prove the concept before committing to a big investment, but we had such an incredible turnaround that we could not even keep up with the inventory. We quickly grew and now we sell our products in Judaica stores, boutique stores and museum shops all around the world.
A line of customized mezuzah cases has been created for several major Jewish organizations in Florida including Scheck Hillel Community School Athletic Center, the David Posnack High School, the Chabad Lubavitch Aventura South and Shaarei Binah Academy for girls.
The success of the mezuzah collection and enthusiasm from customers led to the creation of a unique line of challah breadboards and challah covers, successfully funded through a Kickstarter campaign.
We're always bombarded by how great it is to pursue your passion, etc – but we've spoken with enough people to know that it's not always easy. Overall, would you say things have been easy for you?
Product Innovation and Manufacturing:
Acrylic is far more difficult to work with than typical Judaica materials like wood or silver. The development of our acrylic challah board took longer than we expected. We spent more than a year in design to ensure the final board was perfect. But we think the painstaking design process was 100% worth it.
We partnered with expert industrial designers and artisans to deliver a product of premium quality. We launched the board through a successful Kickstarter campaign and we met our fundraising goal of $15,000 in less than 9 hours. We manufacture in China and we have never been physically there. With internet, it is very easy, but sometimes communication is challenging and things take longer than we expect.
Small Business/Mompreneurs:
We are a small company comprised of 2 sisters, we handle everything, from selling to stores and online to packaging and shipping, to advertising, designing new products, doing the accounting etc… all of that besides being moms and managing our homes. Sometimes it is challenging but we manage to do it all.
Family Business:
More than a challenge we see this as a benefit. Being sisters has made it easier than working with any other partner. Whenever we have had our DIFFERENCES REACHING AN AGREEMENT has been very easy because we KNOW EACH OTHER SO WELL. We are very honest with each other, and we know that our love as sisters is greater than anything we can be arguing about.
It is also great to work together as sisters because it is easy to coordinate meetings, and our working schedule together with our personal life responsibilities. In most of the cases we share the same schedule so it is easy to works together and to help each other.
We would say that the most challenging part is trying to separate work from family. We try not to discuss work-related subjects in family gatherings and other personal life events AND we have honestly done a good job there.
We'd love to hear more about your business.
Apeloig Collection strives to create Judaica products that honor Jewish rituals while paying tribute to a sleek, modern design aesthetic. At Apeloig Collection, we believe that "traditional" shouldn't translate to "typical," and creating elegant design never has to mean compromising the true essence of each ritual object. Our products are designed for the contemporary family who chooses to celebrate traditions in style.
We are known for cutting-edge design and using the latest trends in design.
We are proud of everything we have accomplished in such a short amount of time but we are most proud of honoring our Jewish heritage by creating products that reflect the modern, minimalistic style we love. For years Judaica products have had the classic traditional design and we were able to maintain the essence of the object but adapting them to modern times and design via disrupting innovation.
What were you like growing up?
We were both raised Jewish, we went to a Jewish school and the Jewish values and the love for Israel are deeply engraved in who we are. We are both very extrovert, outgoing and passionate about art and design.
Neither of us has professional or academic art backgrounds, we studied numerical carriers but our Mother's side of the family is very creative and artistic. She is an artist and very creative since we were very young she has taught us to appreciate art and design, we have visited many art museums of the world and studied art history. We both love art and appreciate design.
Daniela – After graduating high-school I lived in Israel for a year where I worked in a Kibbutz for 5 months, I did a course in the IDF army for 3 months and a leadership course for 4 months. It was a very enriching experience and it solidified my connection to Israel and my Jewish background.
I moved back to Venezuela to start the university but after 2 years due to the insecurity in Venezuela, I transferred to the University of Miami where I graduated B.S (Bachelor in Science in Business Administration with a Major in Marketing). I then moved to NY to work in the fashion industry/digital marketing. I got married in 2010 (my husband is from Venezuela from the Jewish community) I then did a Masters Degree at NY University in Integrated Marketing.
To graduate I had to present a Business Plan. The idea to create the brand surged from there, I developed an extensive plan that went from the marketing and branding to the financials, logistics, and production. When I moved from NY to Miami I decided to make the business plan a reality together with my sister Gabriela. A few things changed from the plan to execution; for example, I had prepared the business plan with the idea of using Pewter (aluminum material) from Mexico but we decided to Change it to acrylic.
Gabriela – After graduating high-school I studied Business Administration in Venezuela, by the 3rd year I got married and moved to Los Angeles where my husband lived and worked (He is from Venezuela as well from the Jewish Community).
I transferred and finished my studies in Loyola Marymount University and graduated from Business Administration with a Major in Finance and Marketing. I worked in the food industry for 4 years where I did business and marketing. I dedicated to my kids for a few years and moved to Miami. When my sister came back from NY we decided to make her thesis project a reality and started Apeloig Collection.
We both decided to move back to Miami at some point looking for a Jewish community life and to be close with Family and friends. It was the closest we could find in the United States to the life we had in Venezuela.
Pricing:
mezuzah cases $85-$100
Challah Board $360
Challah Cover $75
Contact Info:

Image Credit:
Photographer Moris Moreno
Getting in touch: VoyageMIA is built on recommendations from the community; it's how we uncover hidden gems, so if you know someone who deserves recognition please let us know here.