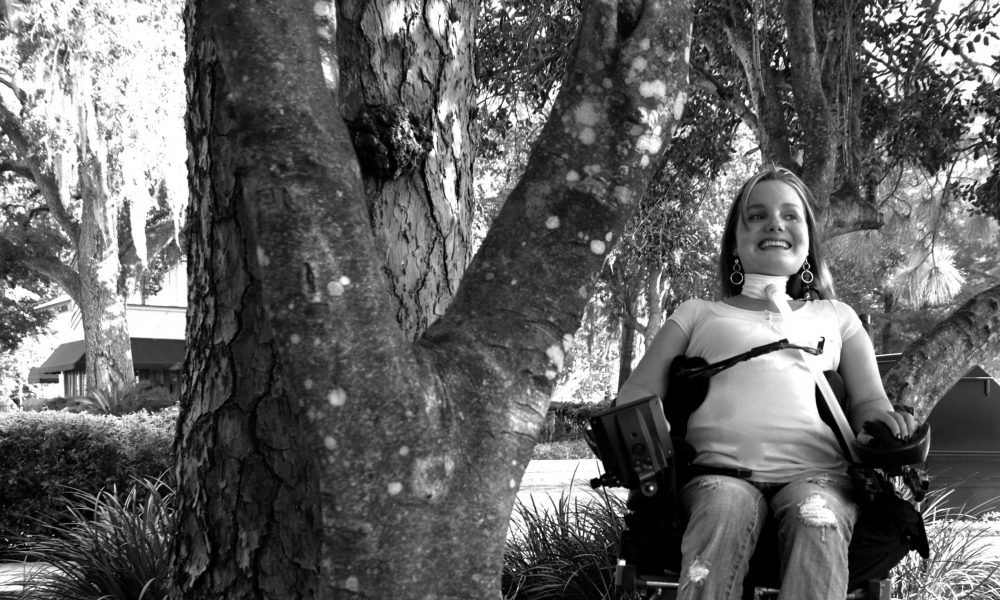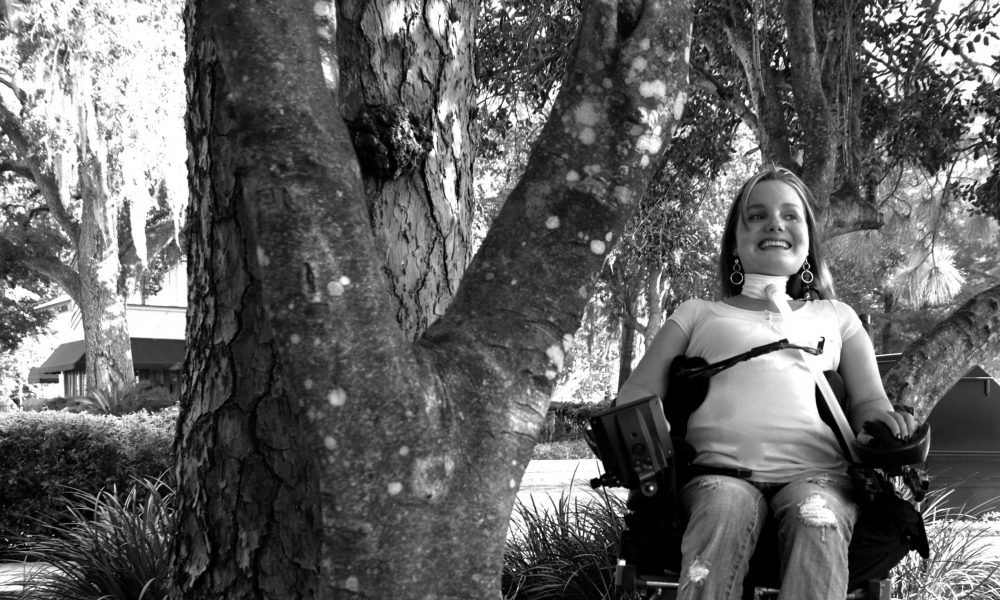 Today we'd like to introduce you to Ashley Moore.
Ashley, let's start with your story. We'd love to hear how you got started and how the journey has been so far.
My disability is where everything started. After a head-on collision caused me to sustain a spinal cord injury at the age of seven, I needed something that would give me a break from the difficulties that came with life as a quadriplegic, paralyzed from the neck down, and dependent on a ventilator. During my teenage years, I found an oasis from daily medical routines and the constant company of medical professionals in films and daydreams. Eventually, my imagination would develop its own storylines and characters.
Bored by several long stents of homeschooling in high school, I found myself journaling after completing homework. The entrees were not the typical thoughts one would assume to find in a teenager's diary. Instead, my words formed stories of my own design. Several instances of medical complications that occurred during sophomore, junior, and senior year, limited my ability to physically attend the public high school I began as a freshman. This meant I could not academically finish the accelerated classes, subjects that challenged my mind, I started the sophomore year. The narratives pouring out of my mind were a product of the daydreams I used to mentally separate myself from the long, cold days and nights spent in the hospital. I bravely decided to show a few short stories and poems to some friends and was surprised to find that they enjoyed the imagery and plotline of my creations. Even more confident, I shared my writing with my parents, the first people to mention the idea for me to pursue a career in writing.
Unable to find my place amongst the students during my first year at the University of Central Florida, I found a film program provided by a nearby private college for entertainment, Full Sail University. Not only was I blessed with the discovery of a group of like-minded, creative individuals who became my support system and circle of friends, I also found my passion for being part of the filmmaking process. I did not want to fully abandon my love for writing and was happy to find a Master's Degree program in Creative Writing provided by my college. My goal was to become a screenwriter and watch the character-driven storylines I loved creating come to life through the performances of talented actors I adore and unfold on camera.
Unfortunately, the film industry is not an easy business to break into, especially for a young woman unable to spontaneously move away from the family in Florida that supports her, just to pursue work in California. I was hit with this reality after having difficulty finding a writing job after graduating with my Master's degree and turned to close friends of the family for help. Growing up in Miami, my family and I were avid supporters and participants of a research organization called The Miami Project to Cure Paralysis. The management team of this wonderful foundation is like a second family to me and offered me a job in administration, which I gratefully took and relocated back to South Florida. This is where I would learn document creation and other administrative tasks. A few years later, I made the difficult decision to leave and further pursue writing in the publishing industry.
That was several years ago. In need of an income separate from the small income I make from a part-time, remote job for a popular magazine, I was forced to come up with a new plan to find more projects to work on. The idea for my small business came to me after being reminded by my dad of the times after college when I would offer my writing and editing services to friends and family. For the past seven years, I have been able to make some money on the side while putting my passion for creating and editing a vast range of written material like poetry, articles, essays, and short stories to good use. In the summer of this year, combining my small business idea with my enjoyment for creating websites, I actively began to form my service called Wild4Words, partly named after my favorite book and film, Into the Wild. Due to the short time since first having this idea for a small business, the website is still in the process of being built. However, I am eager to begin accepting offers and would love to share my email with your readers.
Has it been a smooth road?
Although the passion I have for writing gives me great determination, a career in writing, especially a field as narrow as screenwriting, is not the most practical path to choose. This is true for most artistically minded entrepreneurs like myself, whether that person has a physical disability, also like me, or not. After initially deciding to pursue a future as a writer, I have had to switch between accomplishing my goals in different industries. Like I said, my two main passions are writing and film, which made me originally envision my future in the entertainment industry. God just had different plans.
In a newsletter I subscribe to about breaking into the entertainment industry, I once read that "And more than almost any other industry, it is about who you know." My physical limitations make it difficult for me to network with a variety of people in a large range of places. On top of that, I am quite shy and have difficulty pushing myself to approach people who, by a small possibility, could get me closer to having my screenplays read by industry professionals.
Therefore, after college, I decided to make money in administration while coming up with a better plan to achieve the career goals I had set for myself. Of course, it is also necessary for me to shape my expectations around the limitations my disability causes, like my inability to relocate away from the assistance of my family, which led me to pursue a writing career in the publishing industry. After turning from a less creative-minded job in administration, I set out to find positions with companies like book and magazine publishers. Finding this world also difficult to find a place in without more than entry-level experience, I switched to more freelance writing jobs and positions for content creators. With a small, but progressive position with a popular magazine listed under "Job Experience," I feel more confident to pursue my new plans to create the small business, Wild4Words.
Thankfully, I do have a resume that reflects my drive to succeed and a portfolio of written material to prove my absolute confidence in becoming a storyteller using an array of mediums from lyrics to screenplays to short stories to scientific articles. Of course, my disability poses an obstacle regarding time availability and location, but I am constantly becoming more "creative" in my techniques around those obstacles, pun intended.
We'd love to hear more about your business.
Wild4Words is an upcoming, private small business where I offer services as a professional freelance writer and editor to companies and individuals in my area requiring assistance with producing written content, both creative and technical, or editing the written material they have already created.
Originally, the idea to offer my services to family and friends was sparked by an afternoon stroll along Coco Walk. I came across a couple of individuals sitting at a table on the side of the sidewalk offering to write poems for people to give to their loved ones for the upcoming holiday, Valentine's Day. I thought to myself, "I would love to do that for someone." People always tell me how much they hate the content writing parts of their jobs when I tell them that is the part I enjoy. Why not write it for them and get paid in the process?
Once I am finished building the website, I plan to use it to reach out to the public and offer my writing and editing by receiving project pitches, or requests, and accepting ones that I feel I can contribute to in the best way. I will be thoroughly analyzing each project pitch I receive to make sure it is within the legal guidelines of an employer. I would love to be paid per project for writing creative material such as poems, lyrics, short stories, screenplays, or any other fictional works of literature. I would also like to assist people with producing technical written material like scientific updates, product advertisements, content for a platform he or she may have, biographies, newsletters for businesses, and articles of nonfictional content. Furthermore, if someone already has a written piece of material they need someone trained in proper English writing, grammar, spelling, and semantics, to read and assess, I am eager to assist them for a price specific to the work.
Although I am professionally trained in screenwriting and technical writing, I have been blessed to sell two poems in the form of song lyrics to a company called HillTop Records and, even though nothing really came of it, this experience opened my eyes to the range of written material I could create for paying customers, so to speak. Screenwriting is my passion and I would love to write a script for someone who may need one. However, I also love to form written content in general, which can apply to many types of projects. My editing services can even include fact-checking, a substantial portion of my job responsibilities while working with The Miami Project to Cure Paralysis.
Once my website, www.wild4words.com, is complete, hopeful clients and future employers will have complete access to my resume, references, and portfolio, to decide if I am the right professional to enlist the help of. Until then, I invite anyone interested in my services to email me. Also, the social links affiliated with my growing small business are temporarily my social media sites and not specifically catered to Wild4Words yet. Either way, I need to remain open to my possible clients and employers, giving everyone a look at my social media platforms to get a feel for who I am, both as a writer and a person. The entire business platform and side of Wild4Words are still in the works and I am determined to finish as soon as possible with a vivid presentation of my detailed content writing and creative imagination. I am eager to begin writing or editing for individuals and companies in my area during the process of developing this vision for a small business of my own, Wild4Words.
You asked what sets me apart from other freelance writers. My short answer would be the gifts, passions, and skills brought about by living life amidst the struggles of my disability, the silver lining if you will. As people will read on the website, after sustaining a spinal cord injury at the age of seven, my perception of the world forever altered. The firsthand experience of how dynamic storytelling can be has given me the gift to write from imagination, turning creativity into my passion and skill. As a young woman who is often underestimated, I have something to prove and I will show my clients and future employers that a work ethic full of intense stamina is not one of the limitations my disability creates. As a storyteller, my love for writing as a form of art will bleed through the pages of my content.
Is our city a good place to do what you do?
I feel like there are two answers to that question and both are quite different. On one side, Miami is a large city full of opportunities and a wide range of businesses. However, with so many large businesses and corporations located in Miami, small businesses can often go unnoticed.
If I were asked to recommend a place or city appropriate for starting a small business, Miami would not be near the top of my list. Small businesses normally thrive in smaller cities with smaller populations, making it easier for businesses to promote themselves to the majority of the locals. Many large cities, like Portland, have campaigns to keep the city "weird." In other words, locals promote and continuously use the services of unique small businesses that are hard to find in other places to ensure their prosperity. When it comes to the food industry, Miami does a good job offering a wide variety of restaurants and cuisines, which often include smaller eatery businesses amongst the larger ones. However, if the same campaigns to keep the city "weird" from Portland were more vigorously pursued in Miami, the likelihood for small businesses and industries outside the food industry to thrive here would greatly increase.
I am hoping that the large population in the area I live close to in Miami will work in my favor and increase the odds of local individuals and companies contracting me assist in the creation of written material after coming across Wild4Words, a recent idea, and plan of mine. Hopefully, the professional form of a small business will attract clients and employers.
Contact Info:
Suggest a story: VoyageMIA is built on recommendations from the community; it's how we uncover hidden gems, so if you or someone you know deserves recognition please let us know here.