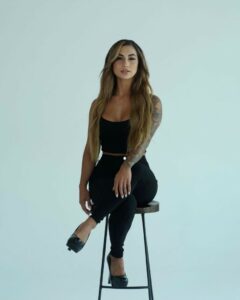 Today we'd like to introduce you to Araceli Velazquez. Them and their team share their story with us below:
Araceli herself is no stranger to struggle. "I came from a poor immigrant family that didn't really have much," she explains, "because of that, I had to fend for myself. I didn't have any family members or friends who had ever been wealthy, so I knew that it was up to me to break the curse." Araceli began working at the age of fourteen and steadily cultivated a life she was proud of. In her early twenties, however, things took a turn. Debt from a bad business decision, drinking, and a toxic relationship eventually led to a profound feeling of having lost her path. She soon discovered, however, that this was only the beginning of a much larger journey.
Araceli began by reading books and eventually found her way to bodybuilding. The supportive and motivating community that it fostered served as the perfect foundation for the new chapter of her life that she was creating. At that point, she began to take notice of the effect of her story on others, nothing, "I came to be where I am today by learning from my mistakes and my struggles. I realized that not many people were strong enough to do the same, or perhaps they didn't have the tools, resources, or community to get out of their situation. So I put myself in a position to help people shapeshift their life." Thus, Shapeshifter Academy was born.
We all face challenges, but looking back, would you describe it as a relatively smooth road?
It has definitely not been a smooth road for me. I feel as though some may have thought I was cursed. From the age of eight, I dealt with my family being involved with drugs. At 13, my father was incarcerated for selling and using drugs. At 14, I was managing being a three sport athlete, working a full-time job to support my family and two days a week going to visit my father, who was in jail. Sometimes they transported him around the country so we had to travel frequently. At the age of 19, I moved out of my mom's house because I felt it was a toxic environment to be in. I found myself in a toxic relationship for two years that left me questioning my self-worth, mental abuse. I was left 40,000 in debt and found myself rethinking my career until finally hitting my breakthrough.
Thanks – so what else should our readers know about Shapeshifter Academy?
Everything about Shapeshifter Academy, including the name, revolves around the power of personal transformation. Even the company logo, the mythical Griffin, is partially transformed, sporting the face of a fierce lion and the wings of a courageous eagle. But what does it actually look like to transform, or Shapeshift, your life? Shapeshifter Academy covers three key areas: personal development, business, and fitness.
The personal development course is all about finding your drive. Clients learn to dig deep within themselves and discover their true passions and motivations. Then, they learn how to take action and work toward the manifestation of those goals. "One of my favorite techniques to help clients is journaling," Araceli says, "I have made a manifestation journal to help people journal their thoughts, turn negative thoughts into positive ones, and rewire their subconscious mind in order to start believing in themselves. Journaling is a very powerful technique because it gets my clients to start to monitor what they're thinking. You cannot change something if you don't even know what the problem is." This is just one of the techniques that clients are taught to develop personal growth and begin "shape-shifting" their goals and mindsets.
Velazquez also offers a business course. Shapeshifter Academy strongly suggests beginning with personal development in order to discover what it is you want, but once you have done that, you may be ready to take the next step: turning those goals into a career. In the business course, Araceli coaches clients on branding, entrepreneurship, and how to begin making money online though E-commerce.
Shapeshifter Academy also offers many mini-courses as far as teaching people how to better their credit, grow their social media accounts, and much more. While those three areas are the current focus of Shapeshifter Academy, the brand is set to continue expanding. In-person seminars and a new motivational T-shirt line are just two of the exciting prospects on the horizon. Of the latter, Araceli says, "It has always been my passion to design, and I always wanted to start a motivational T-shirt line but never believed in myself. I only thought that would happen in my wildest dreams." As the founder of Shapeshifter, she ought to know that dreams are there for the taking!
The Shapeshifter ethos is truly summed up best in Araceli's final piece of advice: "Start before you're ready. All of my life, I have been so hard on myself. I never felt like I was good enough, no matter how many people praised me. I felt like I needed to have everything together. I felt like I needed to be at a certain place in my life to show up, but that's not true. If anything, it's the opposite. Start before you're ready. Figure things out as you go. The universe will provide the people, circumstances, and events that will realign themselves as you go. But this will not happen if you never get started. Xoxo shapeshifter"
There will never be a better time to Shapeshift your life, and with Shapeshifter Academy, you no longer have to go it alone, no matter where you are coming from or where it is you want to go.
What do you like best about our city? What do you like least?
Originally born and raised in Chicago, what I most like about Miami is that there is no snow! I also love to call this place the "City Of Dreams" I feel as though Miami has a very special place in my heart because there is so much opportunity here for expansion since everywhere you look, there are people of all walks of life who are entrepreneurs, it really just is a matter of applying yourself.
What I like least about this city is that there is a lot of inconsistent weather at times but so far I could say that is probably my biggest complaint considering the fact that there are so many things to love about it.
Pricing:
E-commerce Course $199
Personal Development Course $99
Credit Repair Course $49
Contact Info:
Suggest a Story:
 VoyageMIA is built on recommendations from the community; it's how we uncover hidden gems, so if you or someone you know deserves recognition please let us know 
here.