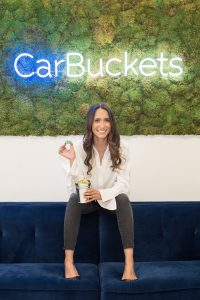 Today we'd like to introduce you to Alex Esteve.
Alex, can you briefly walk us through your story – how you started and how you got to where you are today.
I started working at my family's car dealership as young as six years old. As far back as I can remember, I wanted to go to work with my dad and one-day work in the automotive industry just like him. I have always loved the energy, the people, and the culture of working at a dealership.
After graduating from Babson College in 2007, I did a brief stint working in NYC as a fashion buyer for a luxury menswear brand. I quickly realized the culture of the fashion industry was not for me and I wanted to go back to the car dealership world. When I started working full-time at a Miami dealership in 2008, the economy crashed and the dealership I was working for went from selling 800 cars/month to 300. As the Marketing Director, it was my job to bring people in the door so the sales team could sell the cars. But with a shrinking marketing budget (and virtually no professional experience) there was only so much I could do. I was forced to be resourceful and creative, to try out new things. I learned very early in my career not to be afraid of failing. Failure is just part of the learning process and what's important is learning from your failures, picking yourself up and moving on quickly. In my first year on the job, I created the dealership's first website and created an internet department that would handle all the incoming leads from our dealership, in addition to the new internet vendors that were popping up around this new and growing ecosystem within automotive. I believe a big part of my success today is that I was in the right place at the right time. I started my career in automotive at the same time the internet was becoming a relevant source of business.
Part of my responsibility was to meet and select the vendors we would work with. Every vendor I met with over the course of those years never fully satisfied me as a dealer. There was always something missing. My biggest frustration had always been that they encourage dealers to be deceptive with users of those platforms, telling dealers to give prices they cannot honor, just as a way to get users through the door.
I am proud that the dealership I worked with never engaged in these deceptive practices, and yet they were still a top 15 Toyota dealership nationally, while also ranking #1 in customer satisfaction in the state year after year. I learned firsthand that the only way to be successful is to protect your reputation and not engage in these "dirty tricks" of the trade. I noticed that these vendors were only getting worse over the years. I realized that if I wanted things to change, I would have to change them myself.
With that in mind, in 2012, I decided to go to IE Business School in Madrid with the goal of creating a product that provided REAL value for car buyers AND car dealers—all while being honest, ethical, and transparent. If I could do that, I would get rid of all the pain points associated with buying a car, so car buyers can be happy with such an exciting purchase! While I was studying for my MBA at IE, I came up with the CarBuckets concept and came back to the US laser-focused to make CarBuckets a reality.
CarBuckets is a group buying platform for new cars. We group car buyers together by the brand of car they want to buy and then have dealers compete against each other for that group of buyers as a whole. By doing so, we are able to incentivize dealerships to cut prices, while helping them reach the volume numbers they need to qualify for additional manufacturer incentives, thereby giving CarBuckets users real, discounted prices. Our platform has completely removed the biggest pain points car buyers hate in the process, primarily the endless negotiating process with salespeople and the fake prices found on other automotive sites. We only work with dealers that have a history of high customer service scores and we make them all sign a legally binding Code of Conduct to ensure they are meeting our high levels of customer care and sales experience.
I'm happy to say that CarBuckets is growing and we've already started our national expansion. We've been able to prove our concept right here in South Florida, which also happens to be one of the most competitive automotive markets in the nation. Since launching in October 2018, our users are consistently getting on average 40% greater discounts with CarBuckets versus when they shop on another automotive website or on their own.
I am incredibly thankful for our growth. Our user registrations are growing by 1900% month-over-month for the first quarter in 2019. I'm happy to say that CarBuckets is growing and most importantly, our car buyers and dealers are happy.
Overall, has it been relatively smooth? If not, what were some of the struggles along the way?
There have been a number of challenges, which I like to think of like growing pains as they have each forced me to pivot, make my product stronger, and become a better leader. My biggest challenge in making my business success was trying to change one of the nation's largest industries: the automotive industry. It's also one of the longest-standing, male-dominated industries in the United States. Women in automotive are somewhat of an anomaly, and the numbers for Latinas in the industry are even worse. But you know what? I have thick skin and I don't really care. I'm used to being underestimated and being the underdog. None of that was going to deter me from fulfilling my dreams and creating REAL change in the automotive industry. When someone tells me they don't believe in me or my product it only makes me work 10 times harder. As a proud Latina, I was committed to breaking into this industry and breaking every rule along the way. Since launching CarBuckets, I've been able to do just that. Thanks to CarBuckets, dealers are now competing for car buyers instead of car buyers competing for dealer discounts. It's a true role reversal (and disruption) in the industry.
One of the earliest challenges I faced was underestimating how much it would cost to launch a consumer-facing web-app. I asked for too little money in my seed round and that caused a plethora of problems. With such little money, I could not afford to have anyone on the payroll—that's why early on, my software engineer was working as an independent contractor. He quit unexpectantly when we were one month from launching, after 2 years of development. It set us back significantly, but… because of it, it forced me to figure out the real amount it would cost to develop this product the right way – with a dedicated team of employees working full time, not a part-time consultant with no skin in the game. Shortly after we raised our second seed round, I was able to hire my Chief Technology Officer, a product engineer, a UI/UX designer, and a back-end engineer who built a much stronger and more agile platform. I was also able to hire my Chief Operating Officer who helps me with the day-to-day operations. The lesson here? When you are 1 person, all you have is an idea. It's not until you build a team of full-time employees that your idea has a shot of becoming a real company.
Please tell us about CarBuckets.
CarBuckets is my baby. The CarBuckets business model is truly unique to the automotive industry. We leverage the principle of Economies of Scale to get users the lowest possible price for their new car. No other automotive company does this which is why our Group Buying for Cars ® platform is patent-pending by the US Patent Office. We are the first company to bring the idea of "buying in bulk" to retail car buying. Dealers are not only able to give CarBuckets users lower prices since they are part of a group, but they can also do so because manufacturers give dealers large cash bonuses at the end of the month, if a dealer surpasses its sales objective. When dealers are bidding on a CarBucket, they are trying to not only win the car buyer's business, but they're also trying to qualify for their volume sales bonuses from the manufacturer.
I am so incredibly proud of my team and what CarBuckets stands for. Our core principles as a company are honesty and transparency – two things the automotive industry is not usually associated with. We are holding dealers accountable for their prices and their actions. We strive to make car buying fun again, after all, it's one of the biggest purchases people make. It needs to be fun! The only way to make it fun is to remove the anxiety associated with car buying, and only work with dealers who have a proven track record of treating customers right. There are many dealers who want to be on our platform, but their customer service scores (CSI) are not high enough to meet our own very high standards.
I also want to show millennials that the car industry as a whole is a great place to work. The automotive industry is struggling to attract and retain millennial workers. Millennials are all about customer experience, transparency, and empathy, which is becoming a huge issue in an industry that still very much uses an outdated approach to sell cars. CarBuckets aims to fix this problem. Our staff is made of entire millennials, and we're only growing. How did we do it? We have figured out a solution that appeals to both sides. It's a solution that is honest and transparent, free of price haggling while delivering real, qualified car buyers to our dealer partners. It's a win-win!
Contact Info:
Getting in touch: VoyageMIA is built on recommendations from the community; it's how we uncover hidden gems, so if you know someone who deserves recognition please let us know here.