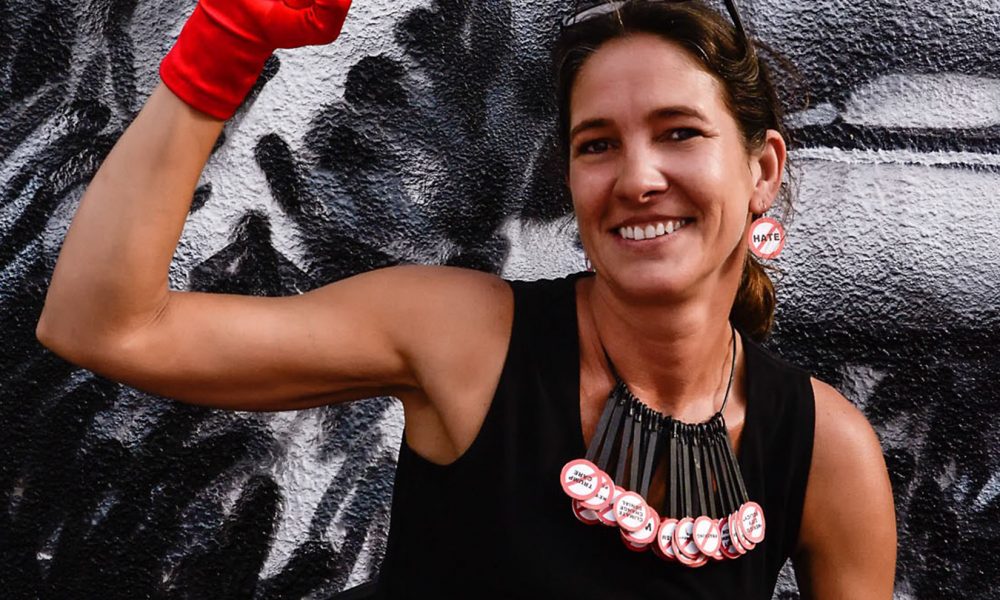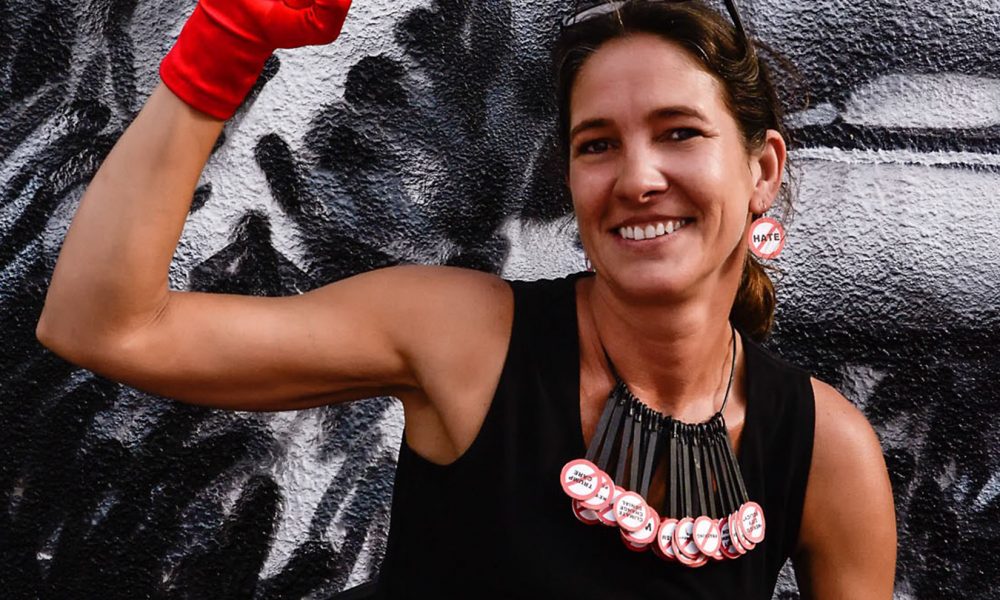 Today we'd like to introduce you to Alessandra Mondolfi.
Every artist has a unique story. Can you briefly walk us through yours?
Yikes… briefly? OK, I was born in Rochester, New York and raised in Caracas, Venezuela where I studied design at the Instituto de Diseño de Caracas. I moved back to the U.S.A. and attended the Massachusetts College of Art in Boston, Massachusetts where I graduated with a BFA in Photography and Sculpture in 1996.
I then moved to Barcelona, Spain for a year and upon returning I worked as the Technical Instructor to the Visual Arts Program at MIT for 7 years. While at MIT, I worked summer and winter breaks as an Art Handler/Installer for museums and private collections at institutions such as The DeCordova Museum and Sculpture Park, The Institute of Contemporary Art and The McMullen Museum of Art.
After that, I ran my own design/build company creating custom window displays, trade show booths, retail displays and fixtures, event components, sculptural branding pieces, theater sets/props/costumes, etc. This commercial work has been recognized by numerous magazines and such as the Improper Bostonian Magazine and Boston Home, several TV programs and in the book Very Small Shops. A few of the trade show booths received awards at The New York International Gift Fair (Best Design) and the Outdoor Retailer Show (Best ECO). I've also worked as a Production Designer for a couple of Independent films and an Art Director of a design focused cycling magazine.
I moved to Miami in 2015 and my most recent creative practice has shifted towards activism in response to the current political climate.
Please tell us about your art.
My work has always embodied the title "multi-disciplinary". It has spanned art, design and fabrication, across both the fine art and commercial worlds and has generally existed at an intersection of them. I have always been fascinated with process, new materials and bold use of colors. In my personal work, identity has been the key thematic and has ranged from altered photographs to elaborate large scale multimedia installations. This artwork has been exhibited both nationally and internationally and has received multiple grants and awards, most notably a Fulbright Grant to Barcelona, Spain. My latest body of sculptural work titled "Bloom" features assemblies of cast body parts, exploring themes of intimacy, vulnerability, perception, desire and transformation.
Transformation has also occurred in my creative practice. The latest expression of it has taken a political turn addressing both environmental and social issues – it's a visceral, reactionary and emotional response to the state of affairs in this country. While I have always been politically active, my involvement has previously been from behind the scenes. However, the current political climate has awoken an irrepressible need within me to take more drastic action – to step out of the shadows and into the streets. My aim has been to create simple, powerful and effective visuals to support the many social and environmental issues that concern me and, to do so in the public realm, be it the streets or social media platforms.
Up until this point, I have been a meticulous fabricator, taking the time to execute every detail with precision. Now, due to the speed in which things are changing, I've shifted to working rapidly and instinctively, using immediately-available, low tech and recycled materials.
This shift in my work manifested into the creation of "Props for Protest", which I have been deploying in artful group actions or as an individual, in numerous street marches, protests and rallies. They have received a significant amount of local, national and international coverage from media outlets such as The New York Times, CNN, Al Jazzera and The Rachel Maddow Show. Several of these props have been acquired for a traveling exhibition and have been achieved at the HistoryMiami Museum's collection.
Not feeling that these occasional street actions were enough, I began experimenting with more frequent ways to resist. In that pursuit, I've created "Protest Jewelry" that I wear in daily, I've performed "Walks of Protest", I've generated videos that I share on social media and I have been printing images of the props and wheat pasting them onto walls around Miami.
As the work has evolved, I've realized how my personal and political concerns have started to meld. What began as an act of political protest has become a personal inquiry into some really basic yet, profound concepts like love, courage, freedom, justice and truth.
My aim has been to create simple, powerful and effective visuals to support and bring awareness to the many social and environmental issues that concern me. To perform actions which will translate into images that support these causes. I believe that now, more than ever, when we are constantly bombarded with information and our attention spans are minimal, the power of image to broadcast our message is critical.
I also feel that at the marches, protests and rallies, the actions bring people together to make a visual statement. They foster connections among the participants who frequently do not know each other. In these divisive times it is crucial to foster solidarity, dialogue and community in order to make progress on the very real threats that our planet and country are facing. Marching together forms powerful and meaningful bonds among people as well as generates a sense of empowerment.
Lastly, the act of making has always allowed me to work through my own thoughts and issues. It is a space for introspection, questioning and processing. It is my personal therapy, my coping mechanism, what keeps me somewhat "sane".
Given everything that is going on in the world today, do you think the role of artists has changed? How do local, national or international events and issues affect your art?
The role of artist is a huge subject but in the context of protest art, no, I don't believe that the role of artists has changed. Historically, artists have always been on the forefront of social movements and generated the visuals of the resistance. What has changed is technology and the platforms to disseminate the work. The internet and social media have provided the opportunity to reach many more people in a new and immediate way. Materials and tools such as battery operated LED lights and EL wire, high luminosity projectors, drones, etc. have given creatives new ways to express themselves in a way that I find fascinating and inspiring. The old tried and true tactics of posters, pamphlets and postcards have had a powerful resurgence by being able to be share files online so that anyone can print and deploy. That holds true to templates and how-to tutorials for actions that can be replicated across the world. There is an enormous amount of "Creative Resistance" work being produced to give "We The People" a voice and be seen in a way that I think, is unprecedented!
As I mentioned before, I have been deeply affected by local, national and international events and issues. While the work that I am doing focusses on the actions of the current administration, those controversies have global consequences. My concerns about the direction we are heading into as a nation have forced me to react and given that my strongest asset is my creativity, I feel that it is the most constructive way for me to dissent.
I would have never in a million years predicted that I would be putting myself out there the way I am. I have worked really hard my entire life to be invisible, my happy place has always been behind the scenes. This work is way beyond my comfort zone but, I truly believe that it is important. I am proud to add my grain of salt to what I see as a powerful uprising of the people.
Just recently I have begun to be questioned about this work. Asked to write, explain, analyze, put into context, evaluate and justify it. I find it difficult to verbalize as I have not really had the time to stop and question it. I think many people are in the same situation. While there have always been artists dealing with political issues it has been mostly within the confines of gallery/museum world but, certainly some on the outside. There is an acknowledgment that this resurgence of "art activism" or "protest art" is different. Institutions, academics, curators and critics are all trying to define it and answer the initial question you posed. Time will tell.
How or where can people see your work? How can people support your work?
Currently you can view some of my props at the HistoryMiami Museum's exhibition "Avenues of Expression: Street Traditions in Miami" which is up until January 13th, 2019.
I also have a video piece at a group show at the Arts Warehouse in Delray Beach titled "SOCIAL CODE" which will be on view until September 28th with an opening reception on September 7th from 6-9pm.
As far as supporting my work, get involved! Call, text, write, organize, speak up, take a stand, invest and shop morally, start living an environmentally sustainable life, donate, volunteer and VOTE BLUE! Primaries in Florida are August 28th and the midterm elections this year are pivotal. And, I strongly suggest you vote by mail!
I am also always looking for people to participate in my actions or to collaborate with in creating new work. If you are a property owner that has either exterior or interior walls and would be willing to allow me to install a wheat paste please, please, please contact me.
You can follow my work on Instagram at https://www.instagram.com/alessandramondolfi/ and if you like what you see, please consider sharing the content.
And of course, cash is king but checks, money transfers, PayPal, Venmo, cryptocurrency are all accepted! LOL
Contact Info:
Image Credit:
Headshot: Jim Eisele
Image 3.- IMPEACHMENT – Group Shot: Monica McGivern
Image 5.- DEMOCRACY – Group Shot: Jerry Rabinowitz
Getting in touch: VoyageMIA is built on recommendations from the community; it's how we uncover hidden gems, so if you know someone who deserves recognition please let us know here.