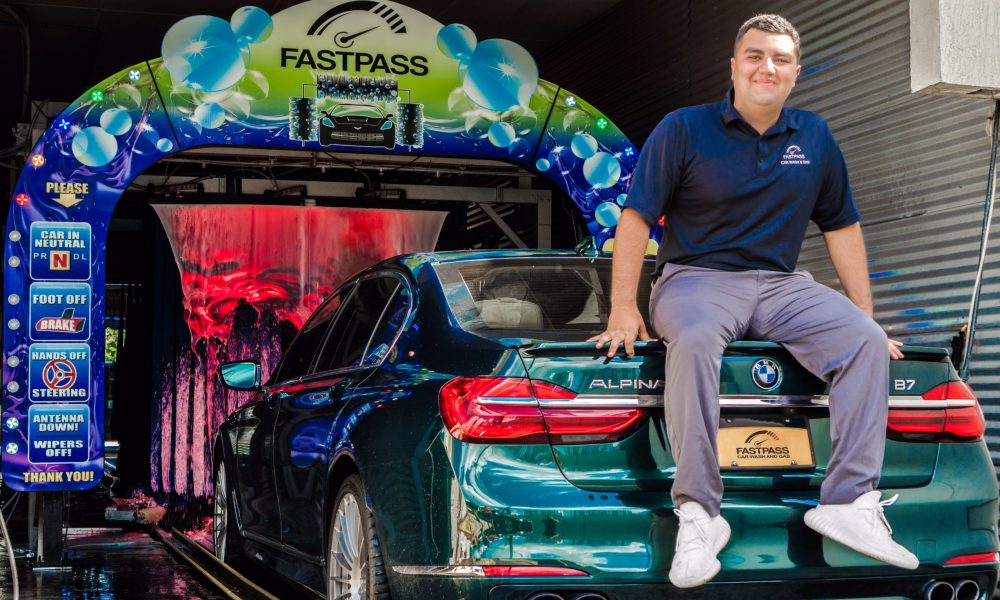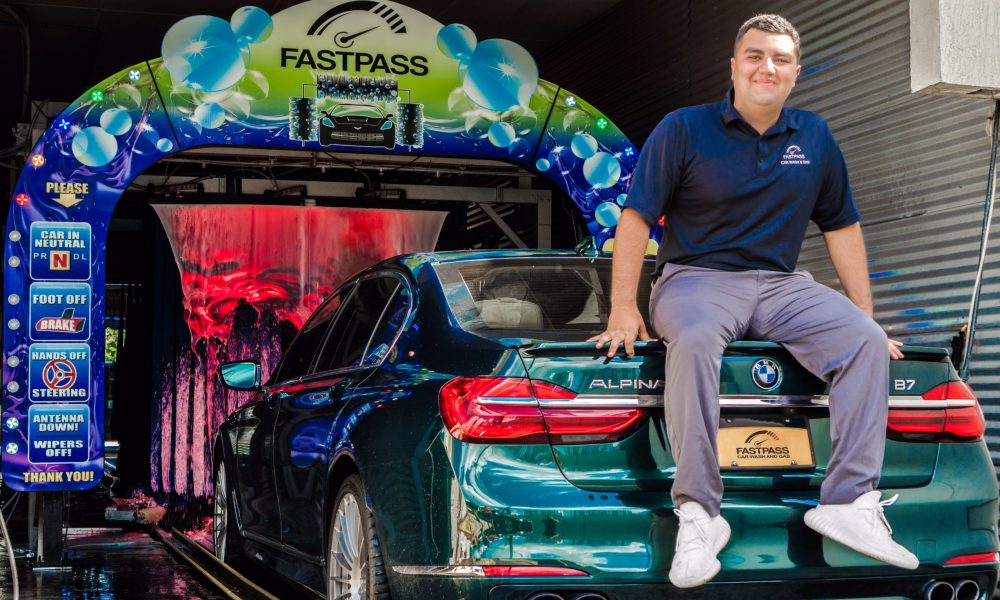 Today we'd like to introduce you to Adam Musa.
Adam, before we jump into specific questions about the business, why don't you give us some details about you and your story.
I am a 20 years old junior at the University of Miami, currently a Double Major in Real Estate & Legal Studies. I am also the owner of FASTPASS Car Wash & Gas at 1840 Alton Rd in Miami Beach. I was raised in the gas station/car. wash business as my father and grandfather have been in this industry for over 30 years. This opportunity presented itself when I was able to strike a deal to lease this Miami Beach location at 19 years old. Since taking over, I've cleaned up the site and remodeled it completely. The car wash is now open 7 am – 10 pm and soon will be open 24/7. The gas station and convenience store are now open 24 hours to better serve this community. My team and I have completely remodeled the convenience store – previously the store was primarily occupied by an organic food and juice bar. We worked over multiple nights to change the entire floor plan of the store to make it 'convenient' for our clientele. What I most appreciate is that the majority of the help given to me in transforming this location came from my fellow students at UMiami. The first college student to join my team was the director of marketing, Marcus Patalano. I met Marcus while living on the same freshman dormitory floor and quickly realized the shared interest for entrepreneurship. we had. When I received the opportunity to create FASTPASS, Marcus was who I first reached out to help me build it from the ground up. He started by creating a website for FASTPASS and began advertising our services through direct mailers and social media campaigns.
Also on our floor was my current college roommate and fraternity brother, Benjamin Vinarski. Recently, Ben was the chair of our annual Sigma Alpha Epsilon Paddy Murphy fundraiser, where the fraternity brothers come together to raise money for Nicklaus Children's Hospital. In working together, we held a ten day fundraiser at the car wash where all monies from memberships sold went directly towards the fundraiser as well as $4 per wash sold. To help promote this, five fraternity brothers and I worked at the wash each day, talking to customers about the fundraiser as well as our wash options. The team effort and merging of my school & work environments led us to raise $7,000 at the car wash, towards a total of $60,000 as a fraternity. The success we had then gave me a lot of faith and inspiration towards working with other college students past the fundraiser. Since then, I've hired and worked with several more students, including a photographer, public relations manager, and media director. I take pride in my team, as it can be really hard for students to get jobs in Miami that pay well and teach important skills at a young age. I think it's great we can give students these opportunities and help them pay for their educational experience. The University of Miami has allowed me to meet so many knowledgeable and diverse people who's different perspectives help me grow. I hope and envision that I'm able to hire multiple students for full time work out of college as we start expanding into multiple South Florida locations.
Has it been a smooth road?
I like to look at all the bumps in the road as learning opportunities that help me grow. There has never been a successful entrepreneur without learning experiences. The most important thing is to learn from the struggles and turn them into something positive. I think the biggest struggle I faced was finding the right team that sees my vision and path to grow. Most think of a gas station and/or car wash based job as one that has limited growth potential. Because of that, it is harder to find people that are excited and motivated about working for our team. My main focus has been on getting my team to see past this first location and look towards the growth potential we have as one. I hope and envision growth for each of my team members, with added responsibilities and benefits as we expand our business. Getting everyone to see and believe that in the early stages was tough, but luckily, we have a great team now and we are working together towards growth.
Tell us more about the business.
Our most important aspect of the business – and what I take pride most in, is the creation of our FASTPASS Unlimited Wash program. Members pay $24.99 per month to wash their cars as often as they'd like. In the past, Miami Beach residents were used to paying high prices of $35 per one-time wash at other nearby washes with a ~45 minute wait time. Now they can pay less than the price of a single wash, for the whole month's worth of car washes. We currently have about 1,200 members signed up for this program. Our members' feedback show appreciation for not needing to worry about Miami's unpredictable precipitation. When it rains, most members come back the next or even same day to wash again.
 The convenience store is known for our two largest specials – $.89 for any size cup of Green Mountain Coffee and. $1.99 for 2 Nathan's Famous Hot Dogs. What makes these specials unique is that our cost on the products is actually more expensive – so we are losing money per sale. The purpose, however, is to offer customers a better experience when stopping by – especially for those washing their cars.
How do you think the industry will change over the next decade?
Most definitely I find that the car wash industry is changing very quickly. In the past, car washes heavily relied on labor and the "full service" model, which typically means customers leaving their cars for 20-25 minutes to be taken care of. At hand car washes, that time increases to even 30-45 minutes. The problem and reason for the decline of this model is the time aspect. Customers are getting busier, the volume is increasing, and the world is becoming more automated. This has resulted in the growing shift of full service to express car washes. The express model focuses on exterior car washes that can have the customer in and out in under 5 minutes, without having to get out of their car or speak to anybody. To offer customers a service for the inside of their cars, most washes who have space offers free vacuum lanes, which allow customers to pull in and self-vacuum their car before heading towards the wash tunnel. Because our location is limited in space, we offer 1 express lane which allows customers to be greeted by an automated pay-station machine, where they can choose their exterior wash or unlimited package, pay with credit/cash, and drive their car into the wash tunnel.
Our other lane is the interior/exterior lane, where we offer vacuuming services at an added cost. In looking at our sales data, it's evident that most customers prefer the express lane, as they are in and out much faster as opposed to waiting for vacuuming services. Recently, a university classmate and I came up with an idea to help balance the need for vacuuming and desire to use the express lane, where we now offer all unlimited wash members a free high powered handheld vacuum. The handheld vacuum plugs into your car's charging port just like a phone charger would, and has about the same suction power as most on-site vacuums offer. I am yet to see this be implemented at any other car wash, but feel that will others will quickly follow. as customers seem to prefer our handheld vacuums as opposed to the free vacuum lanes other car washes offer. The handheld option allows them to keep the vacuum in their car and use it whether it be on the beach, at home, or on a job. They then use their unlimited membership for the outside of their car, as they can be in and out in 5 minutes while using their handheld vacuum whenever and wherever they please. Again, our biggest priority is offering a great service that saves customer's time, and I feel the changes we've made are doing just that.
Pricing:
Unlimited Exterior Car Washes starting at $24.99/month
Contact Info:
Address: 1840 Alton Road, Miami Beach FL 33139
Website: fastpasscarwashandgas.com
Phone: 3055341132
Email: adam@americapetroleumllc.com
Suggest a story: VoyageMIA is built on recommendations from the community; it's how we uncover hidden gems, so if you or someone you know deserves recognition please let us know here.