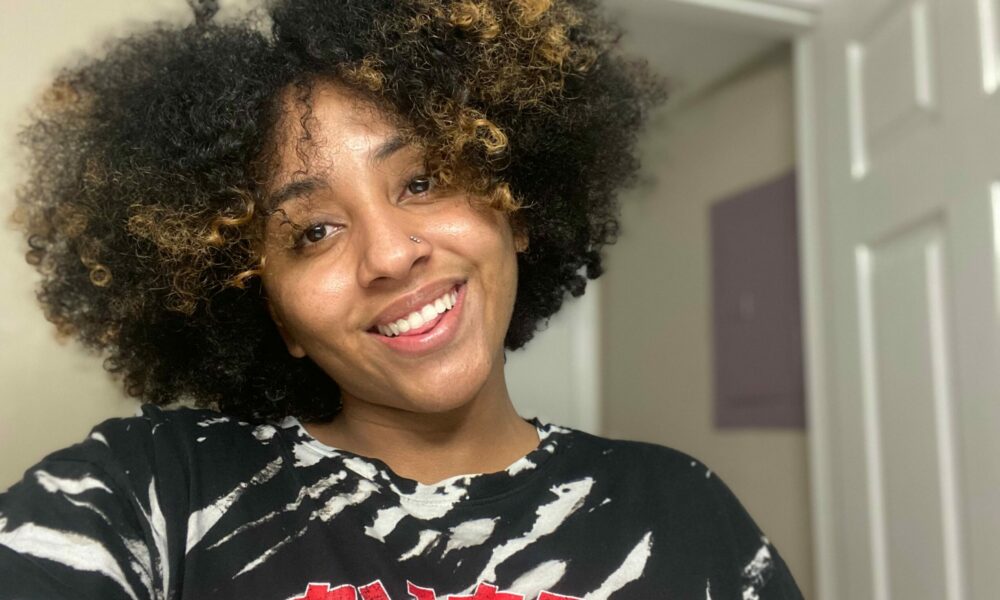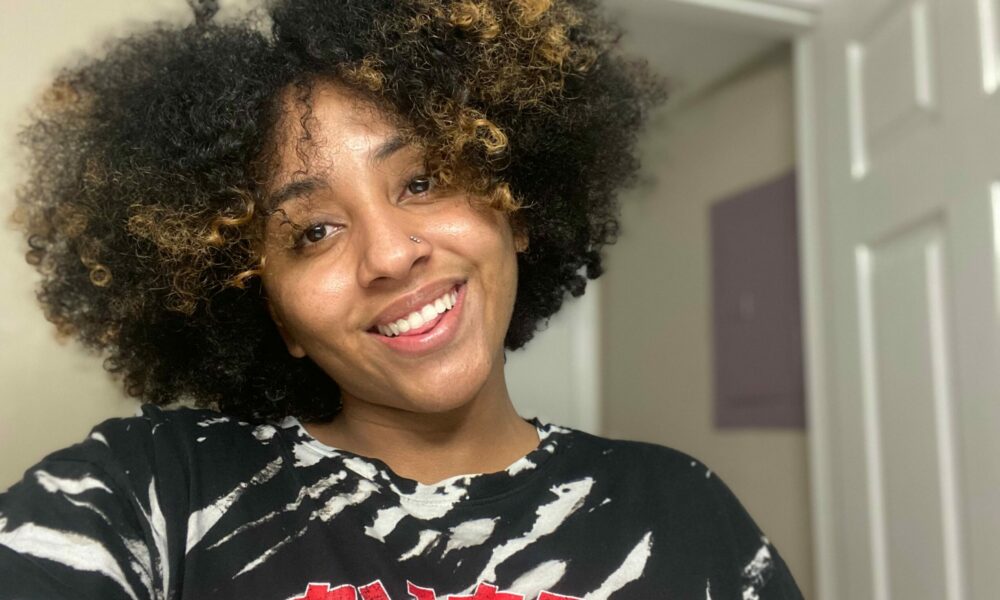 Today we'd like to introduce you to Anna Champagne.
Anna, we appreciate you taking the time to share your story with us today. Where does your story begin?
Once COVID hit and I had to stay home from work, I didn't want to feel like I had nothing going for myself. Even though I didn't have to wake up early and go to work, staying home staring at the ceiling wasn't fulfilling nor pleasing. Looking around my room I decided that it was time to see some change — Godwilling. One of the main things I caught myself doing often was my hair. Anyone who knows me knows that I will procrastinate on doing my hair and when I say procrastinate I mean PROCRASTINATE. I hated doing my hair. I'm thankful for the hair God gave me but Lord was it a lot to do! Having thick natural curly hair is every girls dream… until you have to do it. I commend every natural hair sister who wakes up every morning, conditions and styles their hair to the T because as far as I go, you'll be lucky if I even make an attempt to put a comb through my hair within the week. Nonetheless, as I layed in my bed wasting time and skill, I decided I wanted to be more proactive in taking care of my overall self-including my hair. I wasn't sure how and I wasn't sure with what but I was going to make it happen. During those empty hours, I dedicated myself into intentional research. What did I want for my hair as someone who barely took care of it? I knew there had to be other people out there who had thick hair or who had natural hair and just didn't want to deal with it. I spent hours looking into different natural herbs, butters, and oils and wrote down everything I felt would give me the look I desired. I even sent out a survey asking other individuals what they desired in a natural hair product and at the price point they felt would be most reasonable.
After time spent on research, I decided it was time to put a formula together. Based off of my research, I worked with what I had, picked out some random ingredients and mixed them together. Somehow, it came out perfect! It was creamy, it was light, it made my hair feel moisturized, it was simple yet classy. It was uniquely mine and I wanted to share it with the world. After trying to figure out how I wanted to create this product, how I was going to present it, or how I was even going to release it, I finally did it. It took years, money I didn't have, tears I could no longer shed, and support systems that only God could provide me with but it got done. Starting off as a thought in a clouded space, Splash of Champagne was inspired by a need to express love within myself. My natural hair is beautiful and deserves the upmost care as my curls are set free and ready to take on the world. This is all about natural products that don't include any harmful ingredients as the crown we wear must be placed upon the most natural of heads. I am a natural queen crowned in my curls and blessed to share my crown with you.
Alright, so let's dig a little deeper into the story – has it been an easy path overall and if not, what were the challenges you've had to overcome?
It has been nowhere near a smooth road but I was a God-led one and that's all that matters. This was something that I envisioned coming out in 2020 but didn't until 2021. We were in the beginning of a pandemic, working from home, with low to no income coming in while bills were still piling high. I had no experience launching, yet alone managing a business. As a new entrepreneur with no experience, I had to learn as I went. I didn't know how I was going to pay for the vision I had. I wanted my bottles to be a certain shape and look a certain way but that all cost money. As a sole provider for myself and my mother, I didn't see how this was going to work out. Manufacturers were asking me for thousands of dollars, the ingredient themselves weren't the cheapest and most of them had to be ordered online. I had to get new supplies to make the product and I had absolutely no idea what to do. Eventually, I got discouraged but knew I couldn't give up. I had to see it through. Where there's a will, there's a way and there was a way every time. It became me against myself at the end of the day. Me pushing myself to pull through and make it happen. This product had to come out and that's exactly what happened!
As you know, we're big fans of you and your work. For our readers who might not be as familiar what can you tell them about what you do?
As of right now, I am a preschool teacher. I work with a lovely bunch of 2-3 years old and they keep me on my feet. I've always had a passion for children and I know that I always will. On the side of teaching, I do YouTube and I help individuals and families restore their financial freedom through the power of credit. I guess you can say that I'm known for whatever challenge I'm presented with. You need help with hair-care, I got you. Need some assistance with raising your credit score? I got you. Need help with marketing your business, making flyers, or starting a YouTube? I got you! Need a babysitter? I will love to help you find one. One thing for sure, I can say that I am proud that I haven't limited myself to just one thing. If I could help anyone in an area they are trying to learn more about, I'm all in. Knowledge isn't power, the application of knowledge is where the power lies. Therefore, what I know, you know and what you know, I'd love to know as well. I'd like to say that what sets myself apart from others is that I'm not doing this for me. Yes, I made my product because I had no self-discipline when it came to my hair but I also know that there's someone out there who truly wants to do better for themselves and may not know where to start. If anything I do can help someone become a better version of themself and help them to love the spirit within them, then I know I've answered the calling that God set out for me.
Can you talk to us about how you think about risk?
I believe that life in itself is a risk we are a part of everyday. I don't think people give themselves enough credit in accomplishing the task of getting through another day. I think risk-taking is something that is already a part of us and just needs to be set free. We were made to challenge ourselves to that we can grow into who we're really meant to be. I wouldn't say starting this business was a major risk but getting myself to step out of my comfort zone and allowing myself to do so was the risk. It meant changing a routine that I've been in for most of my adult life and it meant breaking generational curses. If anyone knows what that feels like then they also know why it's one of the biggest risks you can take. I love who I've become and I know I'm going to love who I'm going to become even more. The more I shed this old skin, the greater and risk and I get more excited about it each and every day.
Contact Info:
Suggest a Story:
 VoyageMIA is built on recommendations from the community; it's how we uncover hidden gems, so if you or someone you know deserves recognition please let us know 
here.