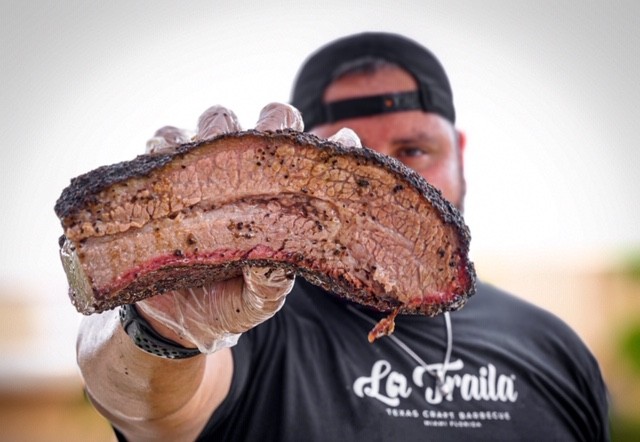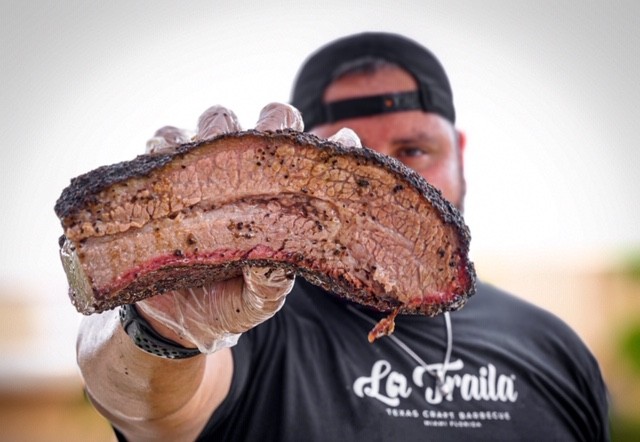 Hi Mel, can you start by introducing yourself? We'd love to learn more about how you got to where you are today?
I have over 20 years of experience as a Barbecue Pit Master. Started in Elgin, Texas. I learned the basics from an old school breed of pit masters. but it wasn't until after I helped my pops build our first 250-gallon offset smoker in 1995, that I was able to hone in on my barbecue smoking skills. My smoking methods are a traditional oak wood burner. Today folks call it "craft barbecue", since my pits are unassisted relying solely on my touch and wood as the only heat source. Fast forward to 2017 I relocate to Miami. In retrospect, I think it was my own manifest destiny to come here and start this bbq concept. Just following my starts i guess.  Anyhow, after a year or so in Miami, I missed home bad and the only way I'd get over it was to cook food i'd normally enjoy from home. Crazy enough I bought pellet smoker and stored it on the balcony of my high-rise apartment in downtown Miami. I guess sometimes you gotta do what you gotta do. Anyway, after a few cooks, then several more, it led to me driving a 20ft 1000-gallon smoker across the south to Miami.  24 hrs later, I'm in Miami with no place to store this monster. Thankfully, a friend whom I'm greatly indebted too, helped me store it in his backyard. Mind you, this was in March of 2020. Here I am thinking it'd be smooth sailing, not knowing we were staring at a complete shutdown due to a global pandemic. After a few months of planning and buying equipment to get started, I received a message telling me that a friend might be interested in partnering up and expanding upon the bbq idea, obviously that friend was Isiah. He and I are definitely on a mission and looking back, it was the best decision we could have made.

Can you talk to us a bit about the challenges and lessons you've learned along the way. Looking back would you say it's been easy or smooth in retrospect?
Easy? Not really, but it could have been a lot worse. I had a ton of support. My dad is my #1 supporter and to him, I owe a lot. Ultimately, I couldn't have done this without my Miami family. My partner Isaiah, who shares my vision and drive, the Rivero's (all of them) who are such great people and still continue to support me, last but not least, the homie Josh who allowed me to cram his yard with a 25ft barbecue smoker. Let me just say, 2020 has been a complete roller coaster. Highest of highs and lowest of lows. I've made a lot of sacrifices that I'm still not happy about, but such is life. If I've ever learned anything, is that difficult choices always have to be made!
The other part of that is, I wish I had paid more attention to the weather in Miami during the summer. It's pretty wet and not ideal for an outdoor cooker. So far the rain and moisture has been my biggest challenges. Where i'm from, it's pretty dry and rain is hardly a factor. Let's just say, Miami has taught me new skills to manage the rain and i'm grateful now that I know how to sufficiently handle a wet day.
As you know, we're big fans of you and your work. For our readers who might not be as familiar what can you tell them about what you do?
I smoke Craft Barbecue. It's taking a low and slow approach to smoking my food without any heat assisted ovens. It's so nuanced and not one day is never the same, especially when you have to take into consideration the weather, time before service, heat, type of meat, etc. I love everything about barbecue. Some days can be a real beater, but there isn't a day that I don't put all of my efforts into making the best food I can make. Barbecue is my labor of love.

What were you like growing up?
Growing up I was sports kid. That's about all I ever liked to do. Anything sports related, that was me. But cooking was always something that fascinated me, especially BBQ. Growing up watching all the pit guys, you wanted to be like them. Everyone always had a ton of respect for them and they always seemed to be having a great time cooking.
Contact Info:
Image Credits
Andrea Grieco @Mixeats Chelsea Bowman @blueprint_pro
Suggest a Story:
 VoyageMIA is built on recommendations from the community; it's how we uncover hidden gems, so if you or someone you know deserves recognition please let us know 
here.