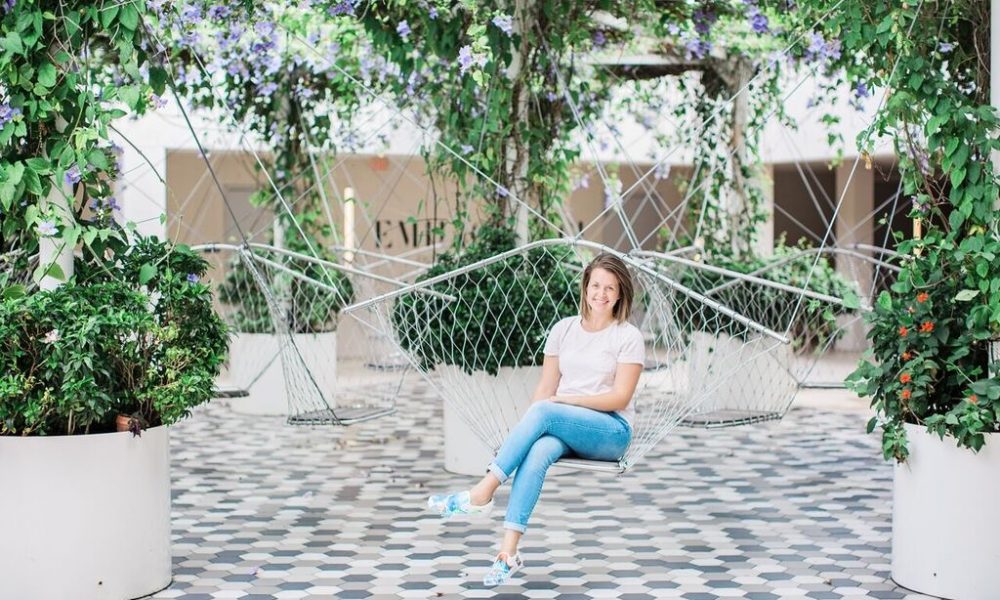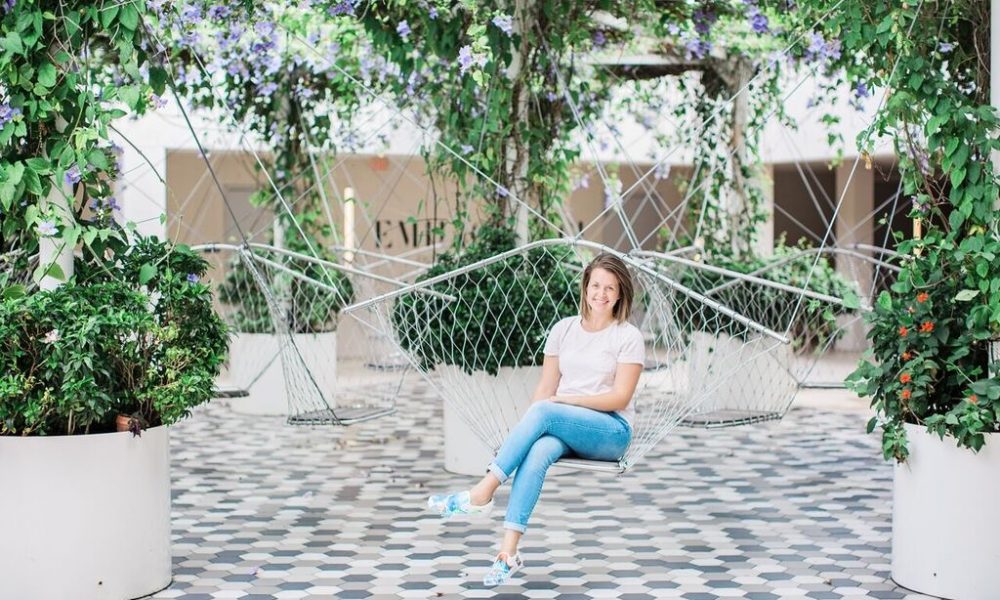 Today we'd like to introduce you to Emily Medaglia.
Emily, let's start with your story. We'd love to hear how you got started and how the journey has been so far.
My journey starts in 2015. I was a young and bright-eyed 23 year old with two years of elementary school teaching under my belt. I was at a crossroads. For most of my young adult life, I was in conflict between two identities: Continuing my track of being a respectable daughter for my Cuban-Puerto Rican parents and study something "safe"  or..living out my fullest potential and living my most authentic life studying to be a graphic designer. I chose the path of being the respectable daughter. I worked hard on that for many years; top honors in high school, top honors throughout college, and I held several leadership roles in several organizations and school clubs. I strived to really impress and please my parents. Impressing my parents also meant staying local for college. Luckily, I received funding for my studies and chose the better route for my education in the long run. I attended the Honor's College at Miami Dade College and then transferred to Florida State University for my undergrad in Elementary Education. It was a great time and I don't regret it at all. After graduating FSU, I returned home relying on the promises that "future opportunities," would take me out of Miami in the near future. I still haven't left Miami to this day but I don't regret it. Everything has a divine timing. Throughout the years, I was able to move on from constantly impressing my parents and feeling the need to always perform even if I didn't have an interest in it. I would soon learn that no matter what road you take, eventually, you'll figure out whether you were aligned or not. Sometimes, that realization comes with a life-changing event.
In 2015, my mom was diagnosed with Amyotrophic Lateral Sclerosis, also known as ALS. It's a horrible disease that causes neurodegenerative paralysis over the span of anywhere from 2-5 years. Some beat out the "odds" and live longer than 5 years. There is no cure to date. My mom is the backbone of our family so this diagnosis rocked our world. I left the classroom to help my family transition into this new reality. That's when I started a really bad habit: I allowed myself to disconnect from me. I made it okay to stop caring about my needs and wants and passions and focus on my family. For one year, I gave myself permission to not care about me. We all face adversity and challenges but this does not mean that we come last. Our choices will always lead us to where we are meant to go and this was a huge learning lesson for me. I thought I was doing the right thing, which I undoubtedly was, but after one year, I had kind of lost myself in the diagnosis, the transition for my mom and family, the grief, the depression, the coping mechanisms. I don't doubt or regret the time I took for my family, but wish I would've set some boundaries for myself. I was broke and stressed out after the year was over.
Through the darkness though came some light. I really started focusing on my inner peace throughout my year out of work. I began to meditate when horrible thoughts of death would permeate into my conscious before bed. It worked really well. I began to journal and write everything down. I began to read again and went back to school for two semesters to begin my journey of becoming a Dietitian. During this time, I realized that teaching was only ONE of my passions. After my mom was diagnosed, she decided to quit all her bad health habits and begin a new path of healthy eating and natural healing. I went the same route and haven't looked back. Since 2015, I've completed several rounds of Whole30 (30-day elimination diet) and have truly learned the concept of nutrition, food, and health. It has changed my life.
I realized that I could still teach people but I could do it outside the four walls of a public-school classroom. I could practice all of my passions simultaneously; health, nutrition, food, and education… this was the start of my newest identity. It would take nearly three years for me to figure this out.
After my one year of being my mom's caregiver, I went back to a full-time job as an Operations Coordinator at a school and left after one year (keep in mind this was a bad habit, quitting because I never really had the heart to do it in the first place). I wasn't enjoying this job as I was under constant stress due to the nature of the job and then found out I was pregnant after only three months into the job. After I had the baby and returning to work postpartum for a few months, my heart would break every time I left to work before Michelangelo woke up and came home to breastfeed and put him to sleep. I wasn't spending nearly enough time with him. We were paying for someone else to take care of him. My husband and I decided that I would quit my job and care for the babe full-time for about a year.
During this year, shit got tough. We had already experienced the burden of one income two years prior to when my mom was first diagnosed so we were prepared and making more income than before which allowed us to be flexible. But what was tough was my journey, mentality, and my awareness of self. Throughout my (almost) year of being off from work taught me sooooo many things. I was a new mom learning to see herself in a new, updated way. I was the same but totally different. If you're a mom, you know what I'm talking about. I learned to budget my money and truly hold myself accountable for my own finances. I read "The Art of Money" by Bari Tessler who looks at money through a spiritual approach and it changed my daily life. I learned lots about myself, my demons, my bad habits and all the things that created "lack" in my life rather than abundance. I also learned that it's not that I HATE working but that I need to do something that inspires and challenges me. After a few months of inner-work and caring for the baby, I started working as a Brand Ambassador for various food and beverage companies. I fell in LOVE with this work. I could teach, visit different places in South Florida, meet new people, work in a team of other badasses, practice my creativity during promotions and work on talking to people about health and nutrition. It was a dream come true.
Then, a huge idea came to me. It was Con Amor Marketing. I wanted to provide work to other mama's that need help securing a job that was flexible and paid well without having to work an unfulfilling full-time, salary job. I could help them find jobs by working with healthy food and beverage brands that were looking to do promotions and field marketing in South Florida and across the country. The thing is, I've never had a business or known much about starting a business so the idea was born in June and I've been growing and working on it since. It's been a bumpy and scary ride but I've put myself out there, joined a mama empowerment network, The Mpire Co., that has truly inspired me to continue working on my business and am taking daily steps to become the CEOMama I am meant to be!
Currently, I'm working with a Kombucha company, Big Easy Bucha, as a Brand Ambassador while I grow my business and will be getting another steady job while I build Con Amor Marketing. In a perfect world, I would stay home and work on the business but bills and a growing toddler are the realities; he needs to start going to a school while I make income for my family and help my super supportive husband, Enrique.
This journey has been long and trying. I've had ups and downs. My family has had their ups and downs but through it all, we've managed to stick it out and grow as individuals. We still have a long way to go but we're getting there one step at a time. My son, family and I are healthy and my mom is still kicking ass on Earth so we are always grateful! If anything, this journey has taught my family and I to appreciate each other and learn to communicate effectively! I share what I feel in the moment and make sure to always listen to my intuition and take care of myself!
We're always bombarded by how great it is to pursue your passion, etc. – but we've spoken with enough people to know that it's not always easy. Overall, would you say things have been easy for you?
At some point, reality will smack you in the face. Everyone experiences different types of challenges and struggles. Some struggles are more surface-based than others. Whether you've experienced being fired from a job, breaking up with a partner, grieving from a loved one that has passed, coping with a sick parent, having a baby, or something else, life does not stop. It does not wait for you to forgive, apologize, or move on. It just keeps going and your time on Earth is unknown. So, when we're faced with a struggle, take the time you need to grieve and one day you'll wake up not feeling so shitty. On that day, get up and do something nice for yourself. On the days that you feel are impossible to accomplish anything, rest. But make sure you are always working on yourself and listening to your inner-wisdom. There will be hard days, and there will be easy days. We put the definition on what is "hard" and what is "easy" and at the end of the day, don't we always come out on the other side? Even if it was "hard" and we "failed" we learn from it and keep it moving.
After a series of serious challenges, we are faced with a new reality and a new set of eyes on life – it will never be the same. After my mom was diagnosed with ALS, my world and views were very different. After I gave birth to Michelangelo, my world and life were different yet again. But through the challenges, we must pick ourselves up, gather the broken pieces, forgive ourselves, love ourselves and begin to crawl toward the light at the end of the tunnel. And life gets more and more beautiful as you realize how fleeting and amazing it all is at the same time. Take advantage of your time in this very moment and live your most authentic life!
During my times of adversity, I look within myself and look towards the Universe. I meditate, journal, pray and speak with the Universe. I spend lots of time in nature when I need healing like the ocean. I look to others who've been through similar experiences. And most importantly, I lean on my husband. He has been there from the day my mom was diagnosed and hasn't wavered. I also listen to myself and my intuition, it has never led me astray.
Whether your journey is starting on two strong, motivated feet or maybe you're starting again after a long, difficult journey listen to yourself, to your inner self. Where is she leading you to? Where is the nudge taking you? Go do the things that inspire you, that scare you a bit, that make you want to jump for joy or hug someone. Live a life that is authentic and true to YOU. Hang out with people that inspire you and learn from those who have already walked the path you have your eyes set on. Sleep well, eat well, meditate/destress, and move your body – these are simple yet powerful steps in creating a joyful, healthy life.
You can and will accomplish anything you want with consistent action, loving support and so much grace for yourself.
So, as you know, we're impressed with Con Amor Marketing – tell our readers more, for example, what you're most proud of as a company and what sets you apart from others.
Con Amor Marketing is an experiential and live field marketing company. We increase offline and online visibility for healthy food & beverage brands and products through in-store demonstrations, event demonstrations, and promotions. We do all the work for the brands and take the stress from field marketing and make it easy. We handle all the communication, logistics and scheduling of our Brand Ambassadors that are highly trained and motivated.
I am proud to say that Con Amor Marketing will provide meaningful work to parents, caregivers, veterans and students that may have extenuating circumstances and are unable to maintain a full-time job but have the drive, experience and passion in teaching others about healthy food & beverage brands in the market.
Con Amor Marketing connects food & beverage brands to their target market, empowers others with meaningful work and supports events and community leaders through vendor and sponsor opportunities.
If you're interested in learning more please feel free to message us on our social or email us so we can have a conversation! We also upload high-quality videos & interviews every week on YouTube & IGTV! Check us out 🙂
Do you think there are structural or other barriers impeding the emergence of more female leaders?
I believe most females are constrained from their own lack of beliefs and self-confidence. I still struggle with this on an (almost) daily basis.
We put others first, always. It doesn't matter how we feel, we go above and beyond for others. Actually, as I write this, my baby is napping. Right now, I really should be washing my hair and shaving but I really want to finish this interview before the deadline. When we need to do something for ourselves, we need to make sure we follow through or we're perpetuating the habits and beliefs that others always come before us! While working full-time, I would put my projects and deadlines aside to help a coworker with their stuff. That is a no-no for me now. I'm really learning to say no and setting boundaries that I'm comfortable with. For example, instead of meeting in person and wasting time, I request that we have an initial video or phone call to see if there's a good match. If they aren't serious, they won't set up a meeting. So, keep it moving!
Women doubt their abilities. This is a society thing. For centuries, women were considered the second sex. Men were always first. When they were hunters, men were seen as heroes and our providers, which was fair. They were literally risking their daily lives to feed their family and tribe. But now, when a man goes to work, he ain't risking much. Women risk just as much now and sometimes more if they also fall in to the primary caregiver for their children. Nevertheless, many women doubt their "provider" roles if they work full-time and will continue to do all the things while her partner or a male of equal stature does less and makes more money. We must push past this by setting boundaries, speaking up and sharing our ideas during meetings or interviews or asking our partners to help out more! Negotiate that salary, split the chores with your partner, and take some ownership, ladies!
We care a lot about our outward appearance. This has to stop or slow down! Yes, being a female leader requires a type of work ethic but stop worrying about how you look in the process. Do what feels right and take action in doing your work. When we focus too much on the outward appearances we don't get much done. The more authentic you are, the more people will pay attention. The more we speak from our core and heart, the louder we will become as a collective. Serious work equals serious respect!
We have equal abilities to go after what we want. Enough said. Now, go after your vision and dreams! You are powerful beyond measure! Speak up and bring your own chair to the table.
Contact Info:
Image Credit:
Professional photos were taken by Sasha De Almagro (with women at the panel) @sasha.dealmagro
Picture of my sister, the baby and I was taken by Sharon @miniandmebysharon
Getting in touch: VoyageMIA is built on recommendations from the community; it's how we uncover hidden gems, so if you know someone who deserves recognition please let us know here.