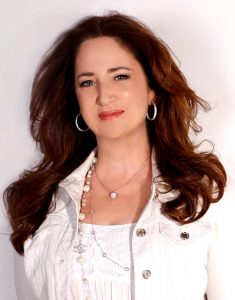 Today we'd like to introduce you to Anne Shoshana Deakter.
Thanks for sharing your story with us Anne Shoshana. So, let's start at the beginning and we can move on from there.
When I was thirty years old, I realized that there was more to life than the all-consuming pursuit of acquiring "things." Often, it takes a wake-up call for most of us to make serious changes in our lives. We typically go through life refusing to see, self-medicating, or keeping so busy that we can't think or feel. My wake-up call was the early death of my beloved father and becoming a divorced single mom.
I was married for thirteen years and felt like I was going nowhere personally, professionally, spiritually, and emotionally. During that time, my father came for a visit and literally dropped dead in my house. I found him cold and blue on the bedroom floor. I had to tell my mom and then make arrangements to ship his body home. It was a nightmare. I felt adrift in my marriage and I didn't have a profession I loved to fall back on to fill the void.
I wasn't one of those people who always knew what they wanted to be. I had no idea what my purpose in life was. I had an inkling that I liked working with and teaching people, so I got my first degree in sociology. I tried to fill the gaping hole in my life with so many different things. I got my second degree in teaching and continued on to pursue extensive graduate work at Florida Atlantic University's Department of Educational Leadership and Research Methodology.
I kept myself so busy, "unconscious," that I didn't have to think about how miserable my life was. It got to a point where running away and avoiding reality was no longer an option. I could no longer numb my pain. Looking back, I'm tremendously grateful to a friend who suggested that I go to a transformational workshop where I ended up meeting a group of like-minded people on a quest to better their lives.
I learned so much about myself there, how to be self-reliant, care for others, and I became a better person in the process. I also happened to find my life's purpose. Over the next two years, I rose in the ranks at the workshop and became a leader, coach, and mentor. I loved it.
I'll never forget the day of my graduation from the workshop. A stranger, a woman I had never met before, approached me and said, "You know what's next for you?" and I'm thinking to myself, Yeah, sleep, and lots of it. The past two years had been very strenuous on all fronts.
She told me to check out Kabbalah. This started a 24-year journey of studying multiple spiritual disciplines in the hopes of finding the answers to life's most meaningful questions, I'm amazed when I look back and see where I started from and where I ended up. It's incredible to see how all the parts came together to create the fulfilled life I now live. In a million, trillion years, I never could have imagined my life turning out the way it did.
I am now remarried to a wonderful man, and together we had another son. The painful events of the past have definitely shaped and molded me into the person I am today. Did I enjoy the suffering that I went through? Heck no! But in hindsight, I can see that it had a purpose. It revealed to me my life's mission. It gave my life meaning and direction. Finally—what a great feeling!
I am now able to share my journey and help others make their lives better as a leadership educator, concierge life coach, inspirational speaker, and author. For the past twenty-four years, I have also been a student and teacher of the ancient, immutable UNIVERSAL WISDOM of the Old Testament, Mussar (Jewish self-help commentaries), and the Kabbalah (the ancient UNIVERSAL WISDOM that teaches you how to receive and manifest joy and fulfillment in all areas of your life). I use the term "UNIVERSAL WISDOM" to refer to the above sources.
I have created a program in which I fuse this ancient wisdom with my experience as a leadership educator. Using today's language, I provide user-friendly tools that make this complex Wisdom accessible, relatable, and easy to use and benefit from. Why? So, that you, too, can be a better person. (And also because my students and private clients have been nudging me to put everything we do together into a book!)
At this time, I must be very clear that this wisdom is for ALL of humanity to learn from. There is no hidden religious agenda. I am generically sharing the wisdom of modern humanism brought to life by our common matriarch and patriarch, Sarah and Abraham.
Great, so let's dig a little deeper into the story – has it been an easy path overall and if not, what were the challenges you've had to overcome?
As a life coach, the most common concern my clients share with me is that they don't have a clue as to what their life's purpose is, nor what their next steps should be. This appears to be a universal and demoralizing problem. So, why are you here? You are here to enjoy an incredible journey of awe-inspiring transformation and fulfillment, to earn it on your own and be the creator of your own life. You are destined to be full of joy and bliss. Endless pain and suffering with no resolution were never supposed to play any part in your destiny.
Yes, life contains a series of never-ending challenges—some easier, and some harder than others. The good news is that there are tools you can use during difficult times that can help to shorten the challenge process and infuse it with mercy.
But you really have to want to do the work if you want to see any improvement. You have to know what motivates you. And if you don't know what motivates you, I've always found the following suggestion beneficial. Just keep moving and doing, with the understanding that putting one foot in front of the other eventually gets you where you need to go: to your next level of enlightenment and innovation. This type of "doing" is drastically different than keeping busy as a way to remain numb.
This brings to mind an expression my mother used to say, and it drove me crazy: "Yours is not to question why. Yours is just to do or die." It's only today that I begin to understand the depth and wisdom of it. During challenging times, when you are feeling down and don't know what is next, and you're in the space between leaving the old and discovering the new, the best plan is to keep moving. If you come to a full stop, the energy of death, end, will permeate all that you do. In those moments, no matter how often you ask, "Why is this challenge happening?" you are probably not going to get the answer you want. The only thing that will keep you sane is the "doing." The doing is different for everyone, but whatever you do, make it positive and productive. For some, it's going to the gym, cooking, taking up a new hobby, accepting a job that's below your pay grade, volunteering, etc. Just know that one thing leads to another until everything comes together to create a fulfilled whole. No effort is lost or wasted.
So, ask yourself, do you really want your life to be great? Do you really want the world to be great? Do you really want to leave a bright legacy for future generations?
If you've answered yes to any of the above, that means you must do something about it. Living in a state of numb inertia is not going to fix the current negative, selfish, and "taking-focused" state of affairs.
I have come to realize that it's a rare person who can do this work alone. Most need support. I could never have gone through the many challenges that crossed my path without numerous mentors and friends by my side. These people were there to intervene when I was traveling down the wrong path when I was too blind to see. Pick and choose wisely your circle of influence. There are so many choices in life that feel that we can't make, but this is one choice we can make.
Please tell us about your work.
I am an author, life coach, influencer, inspirational speaker and spiritual mentor. I partner with and inspire individuals, families, couples, businesses, and communities, ready to grow from good to better, so they can walk into their destiny with ease and live a life of hope, purpose, and fulfillment.
I am known for speaking my truth, being authentic and genuinely caring about the wellbeing of my clients. I definitely dance to my own beat but am highly sensitive to the individual needs of each of my clients. Everyone is different and has a unique story, but everyone wants to be heard, acknowledged, appreciated and valued.
I specialize in teaching the Universal Truths that all of humanity share so that a common knowledge base/system is shared between people. This creates a shared language and understanding which reduces chaos, misunderstandings which lead to pain and suffering. Life is so much sweeter when a common "language" is shared.
This is seen most vividly when I coach young couples just starting out. By teaching them the same language of the Universal truths, you see them grow and transform into a unified force right in front of your very eyes. So cool !!! And so beneficial for the world and all future generations.
Were there people and/or experiences you had in your childhood that you feel laid the foundation for your success?
Absolutely!!! I grew up on a farm in an isolated part of Canada. I was a champion equestrian and I knew that hard work made better. Also, I was the oldest child of three and was expected to be a good role model and be responsible for taking care of the animals. My mother was also quite unusual for her time. She was a feminist(and still is, ha) and she showed me how to stay true to a course of actions and to never give up in what you believe. My father was a visionary and made every outing an adventure. He taught me how to reach high and enjoy life.
Contact Info:
Getting in touch: VoyageMIA is built on recommendations from the community; it's how we uncover hidden gems, so if you know someone who deserves recognition please let us know here.