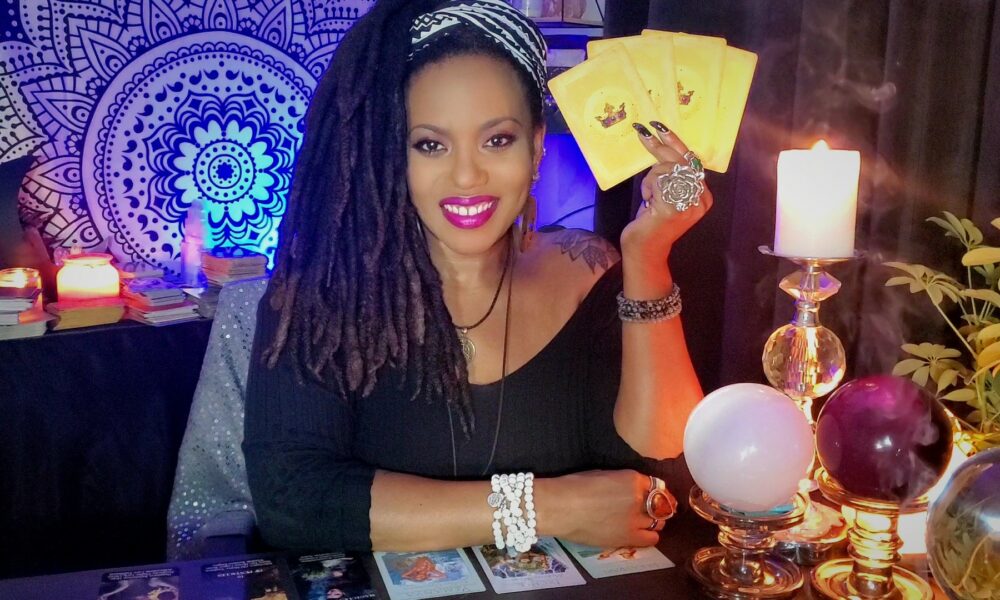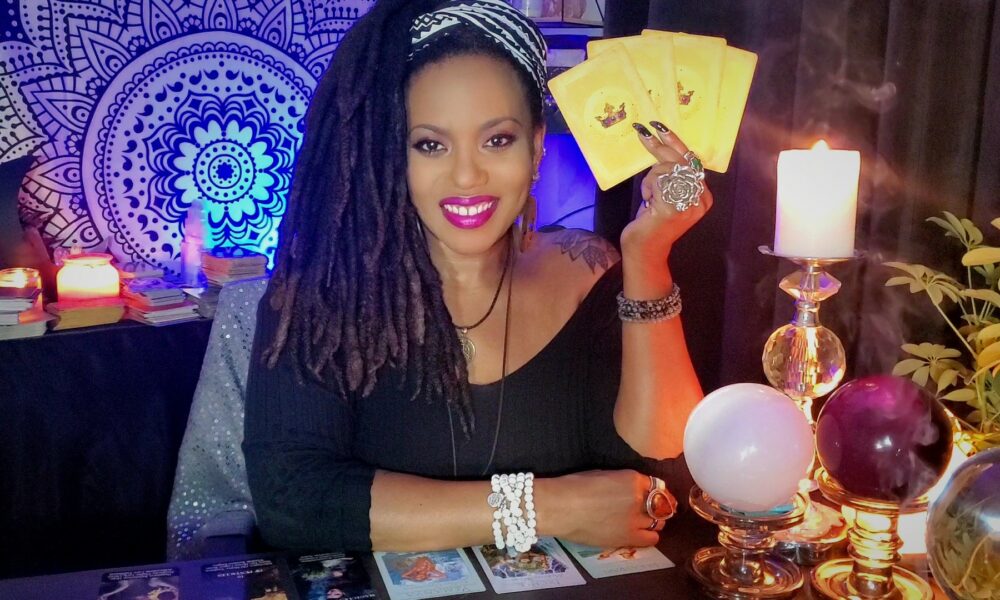 Today we'd like to introduce you to Trinette Haralson.
Alright, so thank you so much for sharing your story and insight with our readers. To kick things off, can you tell us a bit about how you got started?
After working as a Spanish and ESOL teacher for 17 years, I knew it was time to change directions. Spirituality has always played a fundamental role in my life and I wanted to share my healing gifts and soothing energy with others.
I was successful as a teacher because I was able to truly connect with my students and give them the encouragement and guidance they needed. This was wonderful, but I'm also a mystic and for years, I was afraid of how friends and family members would perceive my desire to share my spiritual experiences with the world.
I studied quietly for years to understand how to use my gifts through meditation, pranic healing (similar to reiki), sound frequencies, and the Tarot. At the time, I was only planning to use this knowledge for myself, my husband, my children, and anyone I knew who was interested and in need.
But in 2019, I had a vision of beginning In Her Dreams. The only things I knew for certain were the name of my practice and that I'd share my gifts and knowledge with others. For everything else, I took a leap of faith and trusted I'd know what to do when the time came.
In March of 2020, I began working remotely as a teacher due to Covid. I dedicated my free time to building my website and creating my YouTube channel. Until then, I had focused on developing my healing gifts, but it soon became clear that there was a lot to learn regarding technology, website design, and how to navigate social media apps.
I'm grateful for all I've learned so far and that I'm able to dedicate my time to working with clients and sharing energy with them through tarot readings, pranic healing techniques, and sound therapy. The name, In Her Dreams, is a continual reminder of my vision to help others in a meaningful and authentic way.
We all face challenges, but looking back would you describe it as a relatively smooth road?
The most challenging aspects of my journey as an entrepreneur have been learning to successfully use various software tools and apps while balancing time spent nurturing my family as a wife and mother, and also growing In Her Dreams. It's easy to "get lost" in my creative process and lose track of time, so I set aside time to do that.
This is often at night when everyone else is asleep and I'm able to spend a few hours focusing on organizing and posting content or learning how to improve my website. Structured time works well for these types of tasks, but from a spiritual/creative aspect, I work best when I'm organically inspired.
I allow ideas to flow to me – whenever the time is right. I use notebooks and a voice recording app to make a brief note of whatever inspired idea comes to me.
Whether I'm busy cleaning or spending time with my sons, I'm able to make a quick note of my idea and return to it later to develop it further. I find it's best to have structured time for certain tasks, but also to let my ideas flow naturally to avoid putting myself under unnecessary pressure and stress.
Taking this organic approach, lets me be at peace as a wife, mom, healer, and entrepreneur. It took time to figure out that this is how I work best, especially after working in a very structured, high-pressure work environment for nearly 20 years, but the payoff is reduced stress and a workflow that nurtures my creativity.
As you know, we're big fans of In Her Dreams Tarot and Healing. For our readers who might not be as familiar what can you tell them about the brand?
I work intuitively to heal, understand and inspire my clients to live their best life and achieve a state of personal peace. I offer a variety of services including tarot readings, healing sessions with sound therapy, and spiritual consultations. I've been doing this work to some degree since childhood because I've always had the heart to help others reconnect with their joy and understand themselves on a deeper level.
One of my greatest strengths is that I listen to my clients with no judgment – most people who seek healing through therapy or spiritual guidance already tend to be quite critical of themselves. When I connect energetically with my clients, I see and feel beyond stigmas and norms. My main goal during a session is to deliver the clarity, support, and guidance my client needs.
An important part of my calling is to work with people of all genders, races, ethnicities, and sexual orientations. Tarot readings and healing work sometimes involve talking about traumas about these very traits about us, and it's important that my potential clients understand that I welcome and respect all diversity.
One reason why I love doing what I do is that I'm a solution-based energy worker. During my 40 years, I've suffered some of the same types of trauma that many of my clients have experienced – including abandonment during childhood, abusive relationships, and severe anxiety. Going through these very tough experiences is something I'll never regret, because I'm naturally able to empathize with clients who have had similar experiences, and I'm able to offer insight that helps them feel truly understood and supported.
Because of my dedication to my own healing over the past 20 years, I'm able to offer more than spiritual insight. I offer tools, remedies, and methods to clients who are ready to transform their lives on their spiritual path. A few of those tools I offer include healing meditations that I create and share on my YouTube channel, as well as my line of energetically charged ritual blends (intention oils and bath salts).
I offer them on my website and create them by hand, specifically for each customer. Each blend is created with a specific intention, such as manifesting self-love, prosperity, freedom from ties to a toxic relationship, etc. With each blend, I include a channeled affirmation to assist my customers with their manifestation journey.
I love that I offer this because we all benefit from support and positive energy from others as we work toward our goals.
Networking and finding a mentor can have such a positive impact on one's life and career. Any advice?
I find that the support we truly need tends to appear when we need it the most.
I've done a lot of building and growing on my own without a mentor, and I'm grateful for the independence and lessons this has taught me. I quickly realized that there are some people who attempt to take advantage of brand new business owners' lack of knowledge and experience.
There's a package, course, or coach for every aspect of entrepreneurship. While some of these resources are worth their cost and are truly helpful, there are also some that capitalize on the fear that's so common when we begin a new business.
Sometimes a mentor is needed, but other times, patience and a willingness to make and learn from our mistakes are what serve us best. Also, there's such a wealth of information and resources that are offered for free; I would encourage new entrepreneurs to begin there.
There are two mentors that I've had the opportunity to learn from; we crossed paths before I started In Her Dreams and have remained in touch. Their help has been invaluable because they gave me insight that I truly needed at that time, and will never forget.
It's comforting to know that the difficulties I've experienced weren't so unique to me – it's what many of us go through when starting a business and learning how to share our gifts, skills, and unique ideas with others.
Pricing:
Tarot Reading $44.44
Spiritual Consultation $55.55
Healing Session with Sound Therapy $77.77
Ritual Blend Intention Oil $17.77 plus shipping
Ritual Blend Bath Salts $15.55 plus shipping
Contact Info:
Suggest a Story:
 VoyageMIA is built on recommendations from the community; it's how we uncover hidden gems, so if you or someone you know deserves recognition please let us know 
here.