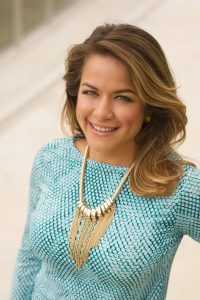 Hi Michelle, it's an honor to have you on the platform. Thanks for taking the time to share your story with us – to start maybe you can share some of your backstory with our readers?
I am a real estate agent here in the beautiful county of Broward, FL. I started this journey 11 years ago when I learned the importance of financial freedom and financial literacy. I learned the concept of financial freedom at a 3-day seminar called The Millionaire Mind Intensive. It was much more about abundance mindset than money itself but it really shifted everything for me that day. After learning about passive income and ways to attain it, I became fixated with the idea to learn the ins and outs of real estate. I started from the bottom and worked my way up by volunteering my time to a local established real estate agent and learn about the business.
Shortly after that, I decided to give it a try on my own and today, I am happy to say that I have thrived through the ups and downs of the market and also the unknown, which is basically what we are facing in today's market. I have a strong background in the investment side of real estate from my experience in acquiring several rental properties throughout the years and being able to become financially free before the age of 30 through my rental portfolio. Being able to achieve this with my husband taught me that with hard work, creativity, focus and perseverance, anything could be achieved. This really fed my desire to spend more time with people and help THEM achieve their financial goals. I have done more than 50 flips, I own with my husband several rental properties and have helped many many families buy and sell their homes. This has allowed me to really understand in a deep level the business from different perspectives and understand what is best for my client depending on what their end goals are.
To date, I have closed hundreds of deals from wholesales and flips to rentals and retail. I do it all! My competitive advantage in the market is my versatility to understand a deal from the start and being able to see the potential it has for my client in the best way possible. I am also a mighty negotiator, always achieving win-win-win situations in every transaction where my clients walk away happy and so do any additional party. Real estate is a passion I carry inside of me and I am blessed to be able to wake up every day and practice it.
I'm sure you wouldn't say it's been obstacle free, but so far would you say the journey have been a fairly smooth road?
One of the biggest struggles for me has been being a woman in a man's world. Specially when I embark on investment deals, it is assumed that good investors and decision-makers are usually men. I can feel it in their voice when they speak to me vs. when they speak to my husband that it takes a little bit longer for me to be considered in a serious way when getting deals done. Although it was a struggle at the beginning, I learned to embrace it and use it to my advantage. Today I feel there has been more acceptance of women in the real estate investment world and it makes me so proud to represent women in such an aggressive, shark-like environment. With our softness and magic, we bring our own essence to the business and we can influence situations to go our way (wink wink) men will never be able to duplicate that!
As a mom of two beautiful daughters, I think it is important as women to understand our strength and also our roles through a feminine energy and be able to transfer that confidence to the next generation of girls. Another struggle I face was right at the beginning of my journey when my mindset was not set to become financially free or to do things other's were not familiar with. When I decided to embark in the real estate journey, I was 23 years old and entrepreneurship was not seen like it is today (kinda of like a superpower). The norm was to try to get a high paying job. Most of my friend's plans were to study hard in college, find a good job and retire when they were 60. Hey, this was my plan as well! When I learned there were actual ways to become financially free in a few years, I became obsessed with the idea. I attended every seminar there was about mindset, investments and real estate. I would work two jobs and learned all I could over the weekend and free time while completing my bachelor's in business at FIU (which is what my dad wanted me to do). I did not go out much or make many friends. But I knew I was building something strong and that I had found my passion.
I learned about money, about abundance mindset and about taking my future into my own hands. It was a struggle because I wanted to go out with my friends, enjoy the college life and not work so hard. I wanted it to be simple and just go to college and follow the herd. But I had to follow my heart, and once this whole new world opened up to me, it was hard to ignore. Today I am glad I did follow my heard, and I get lots of calls from my friends and family asking me how to get started in real estate. Many are tired of working 9-5 for their boss and being stuck at work fulfilling another person's vision. Because of this, together with my husband, we created content where we share our journey and knowledge. We published our first book, Cashflowpreneur, a few years ago and also have a YouTube Channel for the Latin Community called Latino Prospero. We have lots of videos together with so much information on how to get started in real estate, how to buy or sell your home, and millionaire mind concepts to get your mind working in your favor.
Alright, so let's switch gears a bit and talk business. What should we know?
I am a real estate agent, and I love to help families in the area buy their dream home and sell their current house for top dollar in an easy and smooth way. I am known for making my clients extremely happy by having outstanding communication and handling the tough situations promptly and with care. All of my clients leave the closing table feeling fulfilled with a sense of accomplishment and most are still good friends of mine to this day. This is why I get referred to their friends and family time and time again. My competitive advantage in the market is my versatility to understand my client's needs from the start and being able to deliver what they need efficiently.
I am also a mighty negotiator, having learned from my experience in the investment world and always achieve win-win-win situations in every transaction where my clients walk away happy and so do any additional party. Real estate is a passion I carry inside of me and I am blessed to be able to wake up every day and practice it. I live right here in Broward in the beautiful city of Miramar and have lived here and in it's sister city of Pembroke Pines for the last 19 years, so I am very familiar with the area and surrounding cities. No one else will be able to accommodate client's needs like I can. I am hard-working and give always 100% of myself in every transaction.
Before we let you go, we've got to ask if you have any advice for those who are just starting out?
If you are interested getting started as a real estate investor, my advice is to learn as much as you can about. Really dedicate time to educate yourself and follow someone you admire. I wish when I started, there was so much amazing free information! Today so much has changed and what used to be secrets that only the wealthy knew is not published online for the world to see.
In additional to online learning, I would invest my time or money with one person I admire who is doing what I want to accomplish and shadow them until you feel ready to fly on your own. If you are in the market to buy or sell a homer the first time, I would advise to contact a real estate agent that you trust and sit down with them and tell them openly what your goal is. If you don't know a real estate agent, ask friends and family for a referral and interview 2 or 3 and see who you make a connection with. This person will be part of a huge milestone in your life and you want to make sure it is the right fit for you and your family.
Contact Info:
Image Credits
Photos By Kevin Luna Photography
Suggest a Story:
 VoyageMIA is built on recommendations from the community; it's how we uncover hidden gems, so if you or someone you know deserves recognition please let us know 
here.