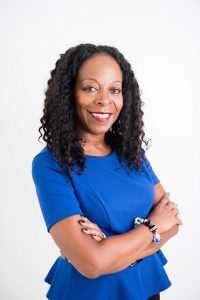 Hi Ashaki, we're thrilled to have a chance to learn your story today. So, before we get into specifics, maybe you can briefly walk us through how you got to where you are today?
I graduated at Hampton University with a degree in Business Management and later went on to get an MBA from Baruch College. But honestly, when I first graduated with my undergraduate degree, I didn't know which direction I was going to go. I loved money and numbers but ultimately didn't know where that would land me. I didn't have a job yet, so I returned to New York after graduating from college in Virginia. My mom's best friend worked at a bank and was the Executive Assistant for the CEO, so she connected me with a summer temp job.
That is where my love for banking came in because it gave me insight into all the different aspects, departments, and roles in the bank. I loved it, but my temporary job was coming to an end, so I didn't know what I was going to do. This is why I believe your work ethic and discipline can take you a long way. The CEO of the bank actually got me a job at another bank in a management training program. He believed in me and wanted the best for me. So he made a phone call and told me to go interview for the job. He had vouched for me and felt confident that if I wanted the job, it was mine. And the rest is history. In the 25 years that I have been in the industry, I have worked in various roles within the bank; operations, service, sales, etc. I truly care about people, always going above and beyond for my clients. My job is the perfect fit for me because my passion is helping people, which is the ultimate reason why I love my job and enjoy what I do.
Alright, so let's dig a little deeper into the story – has it been an easy path overall and if not, what were the challenges you've had to overcome?
Banking has changed over the years, especially from since when I first started. It's never been a smooth road, but it definitely has gotten more competitive. When I first moved to South Florida, I knew no one. I had family here, but as far as business contacts. I had zero. So I was on a mission to meet as many people as I could and get involved with as many networking events and as much community involvement that I could fill my calendar up with. Banking is about relationships, so it was critical for me to ingrain myself in the community that I would be developing business in. I was competing against bankers that were born and raised here. Fortunately, I worked for a company that fully supported me with this. I raised my hand for everything and volunteered for anything. My strategy worked, since moving here 17 years ago, I have met so many amazing people, sit on several Boards, and have contributed to a lot of causes that do so much good work here in South Florida. This involvement has also led to me being extremely successful in my own work, so it's really two-fold.
Great, so let's talk business. Can you tell our readers more about what you do and what you think sets you apart from others?
BankUnited, N.A., a wholly-owned subsidiary of BankUnited, Inc. is one of the largest independent depository institutions headquartered in Florida based on assets. BankUnited, N.A. serves businesses and consumers through conveniently located banking centers in Florida and in the New York metropolitan area. We are highly rated and ranked by Bauer Financial, American Banker and the Florida Business Journal. The keys things to remember about us is that we are financially sound and stable, are empowered to make decisions locally, which helps when it comes to pricing, rates, terms, etc. and our product and service offerings are highly competitive.
So when you are looking at banks, we all have similar products and services. But we don't have a one size fits all mentality; we offer a concierge-style service that goes beyond your expectations. We consider ourselves "Big enough to matter, and Small enough to care" That statement sums up everything about us. My focus is on consumer and small business client acquisition for deposits and lending. I spend the day coming up with financial solutions for my clients, whereby opening any kind of account for their personal or business needs. And I also assist them with financing for their small business. I concentrate on loans for equipment, inventory, real estate purchases, machinery, expansion, business vehicles, business acquisition, refinance of debt, working capital, etc.
Can you talk to us a bit about the role of luck?
I don't believe in luck. I think the saying goes "Luck is when preparation meets opportunity" I believe that luck is just a way of being able to attract, identify, and take advantage of the opportunities that come your way. You have to learn to be bold and break out of your comfort zone. Do the things that make you uncomfortable. People may talk about you, but opening yourself up to anything that comes your way is the first step to finding new opportunities. Work hard and stay humble, people will take notice and help accelerate your career. When first moving to Florida, I started working with a bank and within six months of being there, I was promoted. There had been people working there longer than I had been, possibly even more experienced than I was, but I had shown considerable value in that short time there. "Women lie, men lie, numbers don't." So I let my performance speak for itself and in the end that is what truly matters. How you show up again and again. That has nothing to do with luck.
I'm also a spiritual person, so I am always of the belief that things are meant to be whether we deem them good or bad. I can look over my life and look at certain situations where I thought, "how in the world did this happen?" And it ended up leading me to a path that I may not have otherwise taken if I was not forced or pushed to. In that same situation where I was promoted, the recession hit, and at the time, my bank began downsizing, laying people off, realigning positions, etc. I was in the unfortunate predicament of my position now being eliminated, but the positive was that I still had a job with the same salary. The caveat was that it was my old job before being promoted to the current one. So at the time, it was a hard pill to swallow, I had various options that I could have considered. But I chose to stay still and see what was in store for me next. It allowed my life to slow down in a good way. I had been working countless hours, wasn't sleeping, not eating correctly, not spending time with friends etc. It was the single woman, no kids, no pet syndrome. After the elimination of my position, I had more time on my hands and less responsibility and shortly afterward, I met my husband. So it all paid off in the end. Timing is everything and everything happens for a reason. If it's meant to happen, it will. So I've learned to be patient and trust the process in all that I do in life, be it business or personal.
 Contact Info:
Address: BankUnited, N.A. 12290 Biscayne Blvd North Miami, FL 33181
Email: abronsonmarcellus@bankunited.com
Website: www.bankunited.com
Suggest a story
: VoyageMIA is built on recommendations from the community; it's how we uncover hidden gems, so if you or someone you know deserves recognition please let us know
here
.