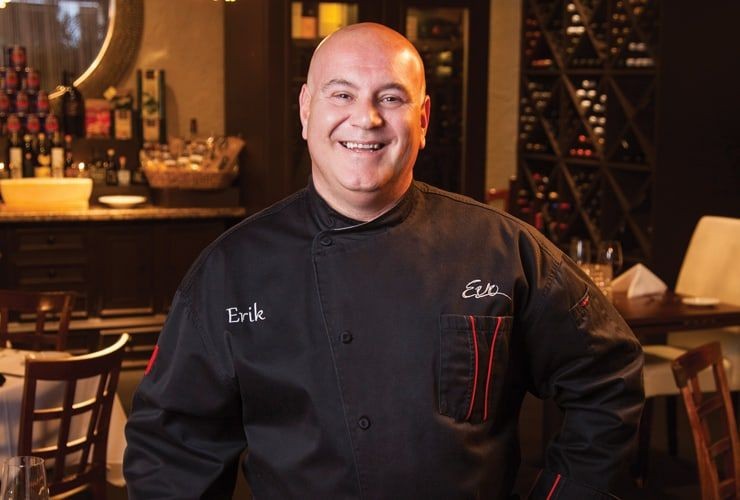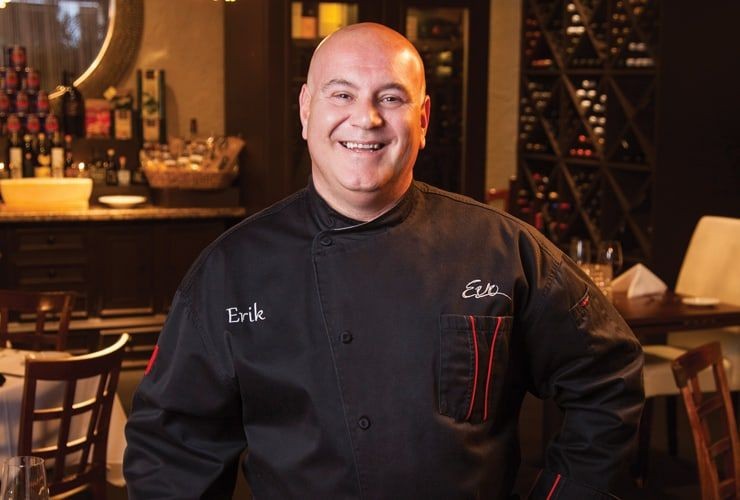 Today we'd like to introduce you to Erik Pettersen.
Hi Erik, we're thrilled to have a chance to learn your story today. So, before we get into specifics, maybe you can briefly walk us through how you got to where you are today?
I am the executive chef and owner of Evo Italian in Tequesta. I host a recurring weekly cooking segment on CBS12 (WPEC) in West Palm Beach called "What's For Dinner With Chef Erik?" and won an episode of the Food Network's "Guy's Grocery Games" in 2020. I grew up in Oyster Bay, Long Island, and my Italian heritage played a significant role in what would become my passion and career. As a fourth-generation Italian chef with over 30 years of culinary experience, I was exposed to Italian food preparation by my Sicilian grandmother, whom I would watch and help cook whenever I visited her. I learned the authentic, farm-to-table recipes passed on from generation to generation and the respect and attention to detail that each dish merited. She taught me the family secrets that still influence my cooking to this day. While working at a pizzeria as a teenager, this made me aware of my keen sense for quality that I saw in my own family's cooking, which led me to become more and more attuned to the nature of my true calling. With the knowledge of knowing how to cook, my mother constantly reminded me to explore this natural ability further. I climbed the ranks of some of the most well-respected and popular restaurants in New York, working as a sous chef in Manhattan restaurants for revered restaurateurs the Scotto brothers and renowned chef Brendan Walsh.
As the years passed, my dream took full shape, as I knew I wanted to go back to my roots and start showcasing my family's recipes. But my dream was put on hold when success came knocking and I was brought in as executive chef and working partner for Ciao Baby!, an upscale four-star restaurant in Commack, Long Island. The restaurant took off when I was only 29 years old and my sauces and recipes were being raved about in reviews from the New York Times and the New York Post. First-time customers became regulars, a line was out the door to get a table, and after the first six months in business, a second Ciao Baby! location broke ground in Massapequa. I was on my way to becoming one of the hottest chefs in New York until my mother in Florida called to tell me she had stage-four lung cancer. It took a while for this horrific news to set in, but when it did, I sold my share of the restaurant and moved south to Delray Beach. While living in Florida, I focused on being my mother's caretaker. In her final months, we would visit relatives together in Jupiter and Tequesta, and she would remark, "When I get better, we're going to sell the house in Delray, open a small place in Tequesta. You'll do the cooking and I'll handle the business." After my mother's passing, I lived out both of our dreams with the opening of Evo Italian on Saint Patrick's Day, March 17, 2007, in Tequesta. My chef jacket has the name Nancy scripted on the back, so I know my mother Nancy always has my back!
I'm sure you wouldn't say it's been obstacle free, but so far would you say the journey have been a fairly smooth road?
Restaurant ownership isn't as glorified as I thought. You spend 14 hour days on your feet and you'll miss holidays and other special occasions with family. Everyone wants to own a restaurant. It sounds cool and glamorous. Most people do not realize restaurants are a place where people gather to celebrate their milestones such as birthdays, anniversaries, Mother's Day, and Christmas Eve. Owning a restaurant means you ring in the new year in the restaurant and you mark getting a year older in the restaurant. In turn, the staff becomes a part of your family. My wife, stepson, and I spend each Christmas Eve, as well as the other holidays, in the restaurant working alongside the staff. Our special moments are celebrated with our Evo family.
I spend a lot of time on my feet. Being a chef is actually a very physically demanding profession. You need to be physically fit and have endurance. I always try to be aware of keeping myself physically and mentally healthy. I have recently dedicated myself to a new, consistent exercise regime and being in better shape is helping me at my restaurant.
I also do a lot of talking, whether it be giving television interviews or talking to my staff and diners. Just like a singer, I need to take care of my voice and give my vocal cords some TLC. When I feel it is getting hoarse, I know it's time to go on vocal rest leading up to a television appearance. I am also getting much more self-aware of when I need to step away and disconnect for a few days. Sometimes I enjoy a staycation or go to a nearby hotel to rejuvenate.
When opening a restaurant, you need at least 6–12 months of capital. You can never anticipate how the first years will be. Many factors play into this. You never know when you will need to replace the air conditioner. There is no way to anticipate when the profits will begin. In the meantime, the staff, rent, and utilities must be paid, as well as all the other fixed expenses you may not have expected, such as the fluctuation of the cost of goods. I opened in 2007. There was no way me or anyone else anticipated the economic turn that came in 2008. I had to adjust to ensure my and Evo's survival. Not too long ago, we had a minor flood at Evo one morning. We acted very quickly, brought in large fans, and were still able to serve dinner uninterrupted that very same night. You never know what hiccups and challenges will present themselves each day.
Being a restaurateur is all-consuming. I eat, sleep, and breathe my business. It is my life. I go to sleep planning the next day's specials, calculating the bills I need to pay, the orders that will be arriving, and trying to solve all the issues that arise throughout the evening.
Evo began with only 35 seats. The heat from the open kitchen flowed out into the dining room. The air conditioner could not keep up. I looked out into the dining room and NBA coach Chuck Daly and college basketball coach Rollie Massimino were wiping sweat from their foreheads while eating my food. That night, I went to bed worrying over how to get the dining room cool enough to keep the legends coming back.
I need to be a plumber, electrician, chef, janitor, and more. Inevitably, just like in a house, nothing lasts forever. You basically must be your own handyman. In the middle of service, if the internet goes down or something overflows, I must think fast and clean up the issue, keeping everything moving. By default, I became a "jack of all trades."
Owning a restaurant is like a marriage. It is your significant other and you need to treat it with just as much nurturing and attention. You must love what you do and value the treasure that it is. Every detail is important. The smallest thing like the glassware or the fold of the napkin or the sign on the front door are just as important as the dishes we create. Everything takes thought, consideration, and care just like a marriage.
Alright, so let's switch gears a bit and talk business. What should we know about your work?
When Evo opened in 2007, it consisted of one small room and had only eight tables and 35 seats. My very first customer was legendary ice hockey player Bobby Orr. Evo soon was the talk of the town, and I was once again building my reputation like I did back in New York. After two years, I added a bar area and expanded into a second room. By our fifth anniversary, Evo moved into its current location with 150 seats, a full bar, private dining room, lounge and outdoor patio area with a gazebo. Evo Italian, now 14 years in business, offers a contemporary interpretation of authentic Italian recipes. Evo, short for evolution, brings time-honored, old world traditions evolving full circle into fresh new beginnings with the freshest and highest quality ingredients.
Years ago, in the Italian village where my grandparents lived, there were no supermarkets to shop for food, so dinner came fresh from the farm to the table. Today, this is the philosophy I continue to practice, and I do not simply wish to just feed my guests but nourish the body and mind with culinary experiences that set a new standard in dining. At Evo Italian, I embrace this area's rich farming and fishing heritage and celebrate the remarkable seasonable bounty. The climate supplies me with a year-round steady stream of stunning ingredients from which I craft the menu. I source and handpick the finest products to incorporate into contemporary variations of my family's secret recipes and traditional treasures with a new twist and the warmth of the Italian way of living. Evo's beef, chicken, veal and pork are prime grade, all-natural and hormone-free, and fish is delivered every day from local fish purveyors. Imported Italian products play a major role in my unique approach to cooking. In partnership with my family in Italy, I have the ability to import only the finest D.O.P certified products, from San Marzano tomatoes to Sicilian and Tuscan first cold-pressed extra virgin olive oils, bufala mozzarella a pugliese, "rocca" Reggiano parmigiana, aged balsamic from Modena and the finest fresh and handmade dried pasta Italy has to offer. Evo Italian, my dream come true, is Palm Beach North's most elegant and upscale Italian cuisine dining experience and welcomes guests from all over the country, snowbirds, and regularly serves the Tequesta, Palm Beach Gardens, Jupiter, and Juno Beach areas. It was voted the Best Italian Restaurant in Palm Beach County by The Palm Beach Post.
Evo recently became the first Italian restaurant in South Florida to dry age meat in house. We have created an exclusive and patented process to offer dry aged steaks using a German engineered dry aging machine called the Dryager. Each cut of sustainable, certified prime angus beef is sourced from C.A.B. Prime Niman Ranch from Iowa and Nebraska. I personally handpick and inspect the cuts of meat, then age them in-house and later prepare them using yet another proprietary method.
It's such a labor of love. I am passionate about the process and I think I've come up with methods that make our dry aged steaks at Evo taste better than any other steak in the nation! I am working with the single most expert in the nation on meat production and distribution, Bart Castellano. He knows so much about dry aging and beef. His knowledge has helped Evo Italian create this amazing experience for our guests.
The concept of a steakhouse within an Italian restaurant has become such a unique and popular concept that I just ordered a second custom-built, dry-aging cabinet. Evo's dry aged steaks are available on the menu now and available to purchase raw to bring home and cook for yourself.
One of my proudest accomplishments to date was winning an episode of "Guy's Grocery Games" on Food Network in 2020. Just prior to the COVID-19 pandemic, I flew out to California to film the show. I competed against three other chefs in Flavortown. The theme of the episode was "One-Time Aisle Games." This means that each chef could not shop in the same aisle more than once, so we had to choose strategically in the first round. A panel of three celebrity chefs judged the competition and served as taste testers, offering constructive feedback after each round.
The first task was to prepare an international lunch with the added challenge of not exceeding seven pounds worth of ingredients. Picturing a midsummer afternoon in Positano on Italy's Amalfi Coast, I cooked a pan-seared butterfly lobster tail served over al dente Bucatini pasta in a seafood sauce containing chili paste capers and olives. Judge Rocco DiSpirito raved, "I think this a pretty spectacular example of a pasta dish. The pasta is cooked perfectly."
At Evo, I don't usually use frozen seafood. In South Florida, I have access to fresh-off-the-boat seafood. Boat captains bring their catches of the day straight to my kitchen, so I can serve ocean-to-table fare.
I strategically saved fresh ingredients like proteins and vegetables for the second round. The task at hand was a spicy dinner consisting of a protein, vegetable, and starch. With only 30 minutes on the clock, my opponents and I had to raid the remaining aisles and whip up a spicy dish including the "red light special" ingredient—hot red pepper jelly.
I prepared a blackened halibut with sautéed leeks, mushrooms, habaneros, and heirloom tomatoes tossed with deep fried gnocchi, Pecorino Romano, and the must-use jam giving the dish a set-your-mouth-on-fire spicy kick. Rocco praised me for not overcooking the fish.
After being declared the champion, host Guy Fieri had one final challenge for me—a shopping spree. Every aisle was fair game again, so the entire grocery store was back on limits. There were ten items on Guy's shopping list, each item worth $2,000 for a potential $20,000 in winnings. Before time ran out, I was able to collect six items in my basket for a grand total of $12,000 in winnings. I put this prize money towards my stepson's college tuition to Florida State University.
My winning check and a plate autographed by Guy Fieri are hanging on display at Evo. Come take a look!
I am also extremely proud to host a weekly cooking segment on CBS12 (WPEC) in West Palm Beach called "What's For Dinner With Chef Erik?" so my fans can learn how to cook some of my signature dishes and specials at home. I love teaching and sharing my passion for food.
Where do you see things going in the next 5-10 years?
After 2020, it became clear to me that the restaurant industry is going to have to be self-sustainable, meaning relying on locally sourced ingredients. I already did this at Evo and I believe every mom and pop is going to have regionally or locally sourced menus. You cannot rely on something coming from far away like California. I think more restaurants are going to adapt to this. It is a great way to support the local economy and local farmers and growers. It takes us back to the farm-to-table concept. This is the best way for restaurants to survive and I am grateful that Evo has already been doing this. All of our seafood is local. By local, I mean it's from Florida, Georgia, North Carolina, and South Carolina. So, it's regionally local. A fun fact is China is the #1 producer of garlic and mushrooms. Evo gets our garlic and mushrooms hyperlocal from Palm City, Florida.
Contact Info:
Suggest a Story:
 VoyageMIA is built on recommendations from the community; it's how we uncover hidden gems, so if you or someone you know deserves recognition please let us know 
here.