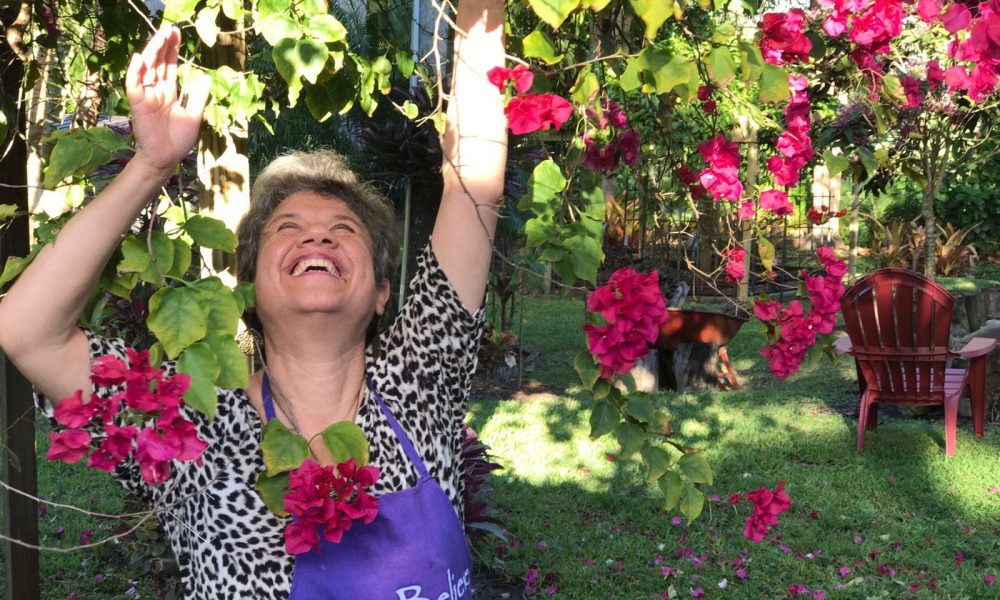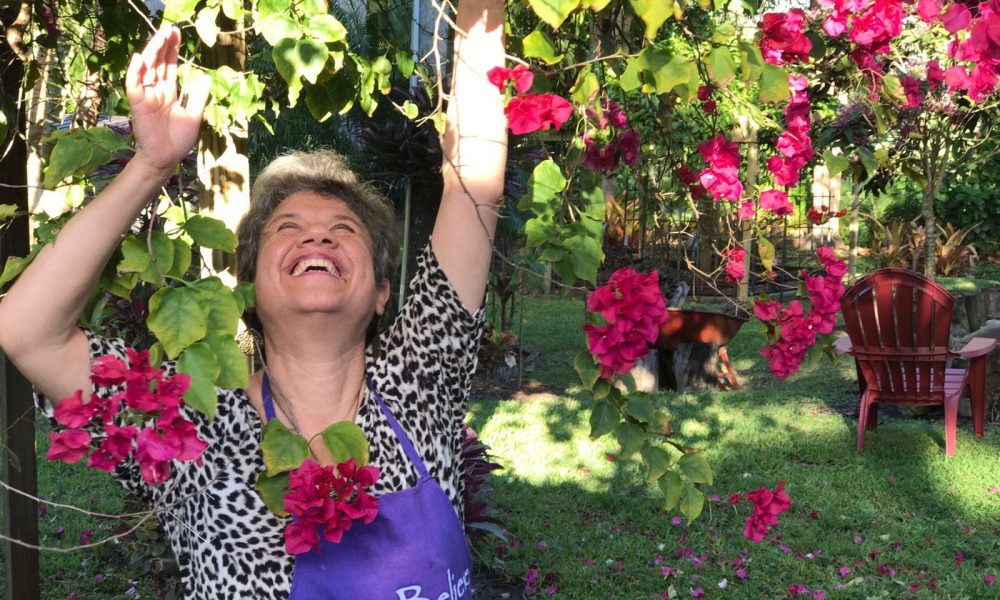 Today we'd like to introduce you to Sandra Albornoz.
Sandra, let's start with your story. We'd love to hear how you got started and how the journey has been so far.
I am a Colombian living in Miami, Florida, and mother of two beautiful children who have been my inspiration. I am a journalist by profession, and for more than a decade I've had the privilege of working in a flower company that has become my extended family. Additionally, I have dedicated myself to giving lectures in personal growth, specializing in Mandalas. Recently, I discovered my artistic vein, and my great new passion: fluid art. When I paint, I forget about my pain. It gives me so much joy and happiness, it has been a Blessing.
I was diagnosed with a practically unknown cancer called Pseudomyxoma Peritonei (PMP) in 2015 and my life changed drastically. I went from being a very active and productive woman to experiencing a series of very difficult situations, including extreme pain, an inability to digest food properly, or even have the simple freedom to move my body.
As many know, uncertainty is the reality that many of us with cancer face on a daily basis; but perhaps even more with this rare type of cancer: only 1 in 500,000 people are diagnosed with PMP and few doctors know about it, much less how to treat it.
I have done my best to deal with the five surgeries that have been performed at the University of Miami Hospital. I lost more than 7 organs, have 17 scars and lived with an ileostomy bag that my body rejected. I was exposed to chemotherapy at very high temperatures (HIPEC),  and my intestines were paralyzed for several months. Finally, while I was in recovery and feeling a little more hopeful, tests at the beginning of 2017 showed that the cancer metastasized, moving from the peritoneum to both lungs, resulting in my fourth and fifth robotic operations.
Even in a country so large, far from a lot of my loved ones, I have never truly been alone. I have felt the presence of God in every moment and a network of family and friends has taken care of me every step of the way.
When at last, I thought that everything was in the past, in December 2017 new nodules were found in my body. Doctors agree that it is imperative to start chemotherapy to potentially stop the continuous spread of cancer and if the nodules grow, I will have to repeat a high-risk surgery.
Given the circumstances, after exhaustive research, talking to doctors and experts, and listening to testimonies from people I have come to know, I have found a complementary medical treatment that is vital to my well-being.
I know that dealing with chemotherapy while my body is weak is a very high risk. That is why I want to get as strong as possible, and this treatment, which includes specialized tests, medicines and more than 40 different types of natural supplements, a specific and vegetarian diet, and an appropriate lifestyle, has been a challenge and a blessing. Only time will show where my life is heading, and because of this I try to embrace every moment. For now, my last scan showed that I am stable, and the tumors have not changed significantly.
Overall, has it been relatively smooth? If not, what were some of the struggles along the way?
Never in a million years did I think that I would end up with cancer. When I was first diagnosed I completely panicked; even more given the cancer found – Pseudomyxoma Peritonei – is very rare and difficult to treat. Only a select number of doctors around the world have the necessary expertise to treat it.
After researching as best as I could, I got in touch with my Oncologist and Surgeon, both from the University of Miami. They literally saved my life, by performing a high-risk surgery, that lasted more than 10 hours. Part of the surgery included a Hipec treatment, which in essence means high-temperature chemotherapy was put into my body to kill the leftover tumors.
After surviving that surgery, I had a very difficult year with a lot of pain. For months, I couldn't eat properly or walk. The pain medicine I was taking was highly addictive, not to mention the fact that I was highly sedated the majority of the time. Little by little, and with a lot of effort, I left the pain medicines behind, and my body started waking up.
When I was feeling a little bit better, the cancer metastasized. They found three tumors on my lungs that lead to my 4th and 5th surgeries. I had to return to the hospital and face fear and pain again. Still, to this day, I feel constant pain in some form. But the story doesn't end there. In 2017, the cancer metastasized yet again, this time in my intestines, and I had to take one of the most difficult decisions of my life: reject the chemo recommended by my doctors.
My life changed drastically. I had to learn how to eat smart and healthy, I am taking more than 40 natural supplements daily, amongst many other things.
People say that it is a miracle that I am still alive. First and foremost, it has been God guiding me every step of the way. The love and help from family and friends have been very important. Every day, I work on my physical, emotional and spiritual path. A positive attitude is key, being a guardian of my thoughts has become an ongoing task, stopping my mind when it starts bombarding me with negative thoughts has certainly been a challenge, but I am determined to live life the best I can, in service of others and offering love whenever I can.
This year, in spite of the pain, my goal is to create a community of patients, caregivers, and friends that are directly or indirectly exposed to cancer, in order to help each other and share valuable information. In the second half of the year I am going to invite everyone interested to attend a beautiful event that is going to be the first step to consolidate this project, my life project.
My main advice is: never give up, do the best you can while thanking God along the way for every experience, including the difficult moments.
Please tell us more about your work, what you are currently focused on and most proud of.
I am a journalist and social communicator by profession. I love interacting with groups of people, which led me to become a public speaker focusing on personal growth, covering topics such as Neuro-linguistic Programming, Emotional Intelligence, Meditation, and Mandalas.
I am also a fluid art and pointillism artist. My art has become my healing path. I enjoy expressing my creativity, and my pieces are created with intention highlighting the importance of integrity, unity, and diversity amongst others.
My life project is to create a community for patients, family caregivers and friends directly or indirectly related to all types of cancer, something I hope to prioritize this year. In my free time, I am also working on finishing my book which narrates my journey in a simple and artistic way.
What do you feel are the biggest barriers today to female leadership, in your industry or generally?The barriers for women in leadership positions have changed drastically since I began working 37 years ago. After many years of male domination in the professional setting, women now play a pivotal role in shaping our society and workplace. The problem is that few people are teaching women to voice their power. Nevertheless, more and more women are in leadership positions providing guidance to others with intelligence and passion.
Contact Info:
Getting in touch: VoyageMIA is built on recommendations from the community; it's how we uncover hidden gems, so if you know someone who deserves recognition please let us know here.