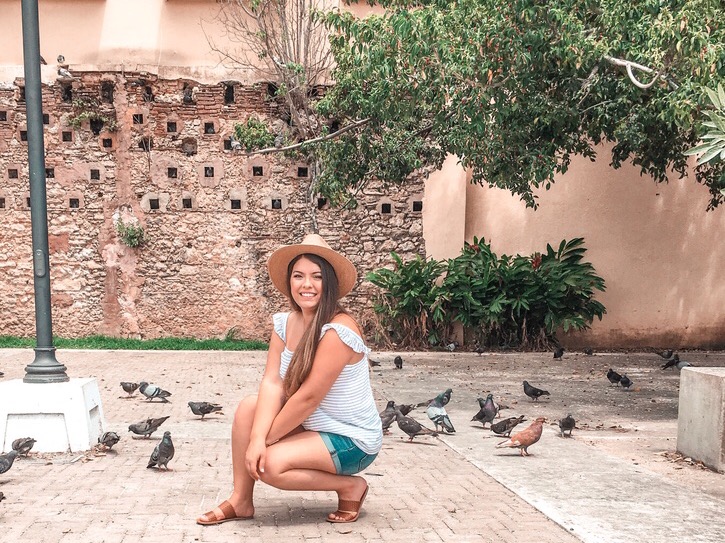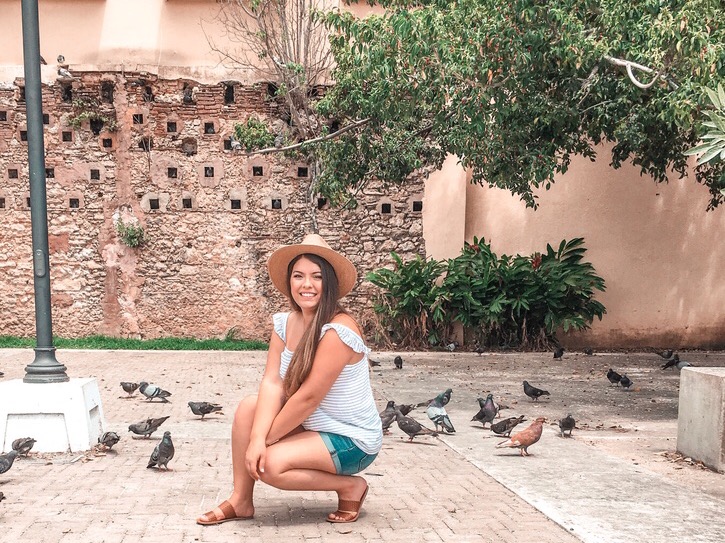 Today we'd like to introduce you to Christina Cuevas.
Christina, can you briefly walk us through your story – how you started and how you got to where you are today.
If ten years ago, I was asked where I would be today, I can assure you I wouldn't have answered that I would be married to a fellow Puerto Rican, living in South Florida, a recent graduate with her Master's degree in Strategic Communications and that I would finally muster up enough courage to begin a lifestyle blog. I have been on quite the journey these last few years and I couldn't be more grateful for the highs and the lows, each of which has shaped me to who I am today. I've switched career goals, I've moved across the country, I've stepped out of my comfort zone, and I've learned a lot about myself along the way. I thank the Lord each and every day for my life, my story, and for His constant faithfulness.
For as long as I can remember, I was determined to be a lawyer (thank you, Elle Woods). The law had always fascinated me, and I had a passion for justice. In college, I graduated with high honors and majored in Political Science with a focus on Pre-Law and a minor in Psychology. After college, I was accepted into a law school in Chicago and could not have been more excited to finally be a law student! As I lived in a suburb of Chicago, I commuted by train every day for a year. That year, I studied harder than I had ever studied before, and I was challenged in ways I had never been challenged in before. It was a year full of intense learning, immense dedication, sleepless nights, endless studying, lots of laughs with new friends, and an equal amount of stress-induced tears. It was also during that first year of law school that I realized something… I didn't want to be a lawyer. I came to understand that I didn't have a true passion for the study of law and that realization broke me.
After leaving law school I felt totally lost and utterly confused. I remember wrestling with thoughts like these, "With my educational background, volunteer history at the legal clinic, and a summer spent as a legal intern, how could I not know that law isn't my calling?" "What are my parents going to think?" "I don't want to be a law school dropout. How will I ever explain this?" and "What am I going to do now?" Looking back, I realize that I had made 'becoming a lawyer' a large part of my identity. I didn't know what to do or who to be outside of that aspiration. It definitely took me some time to recognize and trust in the truth that my worth is found in the Lord and not in my studies or career goals. I can honestly say now that everything worked out for the best. God had a better plan for my life. Not long after I left law school, I met my husband. Had I still been in law school, chances are we would have never met. We were engaged just five months after we started dating, and a year later we tied the knot!
With my husband's encouragement, I went back to school and enrolled in an online program so that I could continue working full-time. I chose to study Communications because I appreciate building positive relationships with others, creating content for social media, and I thoroughly enjoy writing. We recently moved down to South Florida and that's when I decided that I was going to step out of my comfort zone and cross off a bucket list goal by starting my own blog called The Savvy Maven Blog. I have had a lot of fun learning how to create my own website, coming up with relatable content, and connecting with other women. I truly desire for my blog and other social media pages to be one of community, diversity, and encouragement. What I hope for more than anything is to continue connecting with other women who love fashion, beauty, food, and just lifestyle content in general. This blog has provided me with the opportunity to build relationships and true connections with women of all walks of life. Blogging has been such a wonderful experience and I'm excited to see how myself and this blog evolve in the upcoming years!
We're always bombarded by how great it is to pursue your passion, etc. – but we've spoken with enough people to know that it's not always easy. Overall, would you say things have been easy for you?
As I mentioned previously, I have definitely dealt with some major struggles on my journey to becoming a communications specialist/newbie lifestyle blogger. I am a firm believer, though, that we must go through difficult situations in order to challenge ourselves to overcome the obstacles in our way and learn from them, to test our fortitude and to build character, and to gain insight and wisdom. For women who are just starting out on their journey, my advice to you is to never give up, even when you feel like you've failed or that you've lost your way (as I felt after law school didn't work out). Don't let fear weigh you down or allow for doubt to cloud your vision. There is a meaningful quote I would like to reference by Roy Bennett, "There are five important things for living a successful and fulfilling life: never stop dreaming, never stop believing, never give up, never stop trying, and never stop learning." I would add that for me personally, my relationship with the Lord would actually be number one on that list. Without my faith, I'm not sure how different my life would look today.
So let's switch gears a bit and go into The Savvy Maven story. Tell us more about it.
Currently, I am in the beginning stages of my job search. With the cross-country move from Illinois to Florida while being a full-time student in pursuit of my Master's degree, I am so grateful to have been able to take a few months off, take a little break from the corporate world and recharge. I'm hopeful I will be able to find a position where I am able to utilize the knowledge, skills, and abilities I was able to refine throughout my communication courses. In the meantime, I'm making moves and working on making my dream of becoming a lifestyle blogger a reality! I put a lot of time into my blog and my Instagram page in particular. From editing my photos and writing captions, to making sure I have the links to what I am wearing and responding to each comment and DM, I aim to create quality content and engage with my follower friends.
I am most proud of taking a leap of faith to create a blog and revive my Instagram account. There's a lot that goes on behind the scenes and I have spent many, many hours on YouTube and Google learning how to set up a blog, what host to use, customizing my website, learning how to use the Lightroom app and applying presets, etc. This all takes time and dedication, so I'm delighted to be figuring things out on my own (and with my husband's help too if I'm really stumped). I hope that what sets me apart from others is how genuinely excited I am to meet new people and find a commonality to connect over. Creating a space for women where we can talk about real-life highs and lows, share our faith, provide beauty tips and tricks, dream through travel guides, share clearance finds, and just encourage one another is my ultimate dream!
Who do you look up to? How have they inspired you?
There are a number of women who have inspired me throughout my life. Of course, my mom is one of those women. She moved to the U.S. from Puerto Rico when she was just seven years old, not knowing much English. I admire her story and how she overcame linguistic and cultural adversity from childhood. When she grew up, my mom became the first female in her immediate family to graduate college, which I absolutely looked up to as I was growing up. My mom is very empathetic towards others and she has a heart for helping people, so it's no surprise that she became a nurse. However, obtaining her nursing license wasn't an easy feat. It took her several tries, many tears and hours of determined studying, the encouragement of my dad, and much resolve before she passed the nursing exam. She really taught me the significance of perseverance and that it's important to pick yourself up and try again after failing because giving up on your goals is not an option.
Janet Parshall is another woman who has inspired me. She is a respected radio talk show host, author, and speaker. Her radio show on Moody Radio, In the Market with Janet Parshall, is one that challenges listeners to analyze the news headlines of the day and prominent issues being debated in our own country and across the globe. Her program is focused on looking at these events and stories from a Biblical perspective. The guests that she has on-air do not all think the same way on the topic at hand and that's part of why I enjoy her show. It's a great demonstration of individuals coming together from different backgrounds and experiences, each shaping their unique worldview, and having a civilized discussion. In a world where there is so much negativity and hurt, it's a breath of fresh air to be able to listen to a program where views aren't bashed but instead, there is respectful discourse. As a history buff, I understand the importance of civil discourse, the very core of American democracy. As a woman, I value being heard, even when others don't necessarily agree with me and vice versa. I admire Janet's success in the world of broadcasting and communications, her passion and advocacy for public policy pertaining to families, and her steadfast faith in the Lord.
Contact Info:
Getting in touch: VoyageMIA is built on recommendations from the community; it's how we uncover hidden gems, so if you know someone who deserves recognition please let us know here.