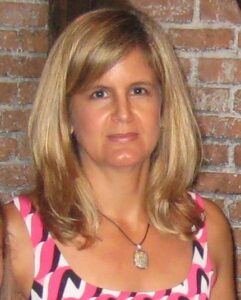 Today we'd like to introduce you to Marta Blanco.
Hi Marta, please kick things off for us with an introduction to yourself and your story.
In 2003, I was a stay-at-home mom of two little girls, 16 months apart. Sofia was four and Gabi three years old. That Fall, Sofia started Pre-K4 at St. Thomas the Apostle and Gabi was in Pre-K3 at Pinecrest Presbyterian. Besides the never-ending duties as a mom and wife, I also did freelance work in advertising/marketing. In other words, I was busy but very happy. And while I thought I knew what people meant when they'd say that your life can change in an instant, I never really knew what that meant until December of that year. That's when Sofia was hospitalized after ten days with an enlarged lymph node in her left groin, a low-grade fever that wouldn't go down without Tylenol or Motrin, no appetite, constant fatigue and no change even after taking two different antibiotics. By the time Sofia went into the hospital, she barely had the energy to stay awake and was having difficulty breathing. Within days she'd be on a respirator, then a heart-lung machine and so close to death that the doctors and nurses could barely look us in the eye and if they did, all you'd see was pity.
Sofia was so sick, yet the doctors at two different hospitals couldn't put a finger on what exactly was happening to her. You see, cancer is the ultimate imitator. Its symptoms are very similar to those of other more benign illnesses. And in fact, the majority of the time, these symptoms don't result in a cancer diagnosis but when they do, it's effects are devastating. Like in our case as Sofia was diagnosed with Anaplastic Large Cell Non-Hodgkin's Lymphoma with small cell variant. Sofia began receiving chemotherapy while on ECMO (extracorporal membrane oxygenation = a heart/lung machine), which hadn't been done before and fortunately, within days, Sofia's lungs began to clear up and by Christmas Day for the first time in ten days the doctors used the word "optimistic." Sofia was taken off ECMO that weekend and by New Year's Day, had the respirator removed. On that first weekend of 2004, after 14 days of being in a drug-induced coma, I was finally able to hold Sofia in my arms and try to explain to her what had happened and how we would be facing the future together.
Sofia had a year-long protocol (POG9315) which included a six-week induction phase which basically took place in the hospital, followed by the maintenance phase, which was 15 cycles of chemo (every three weeks). Because after induction Sofia was considered in remission (no evidence of disease – NED) she was able to start maintenance. Her protocol included Vincristine, Adriamycin, Methotrexate via Intrathecal, 6-MP and high doses of steroids.
Sofia would go in for blood work every week and on the third week if her numbers were good (platelets, RBC, WBC) she'd get IV chemo in the infusion room. Which meant we weren't admitted to the hospital as considered an outpatient procedure but we'd end up there from 8 am till at least 5-6 pm. The week of chemo also meant a week of oral meds at home (steroids, 6MP, etc.) which involved a strict & complicated dosing schedule (couldn't give one too close to the other, some before food, some x hours after food, etc.) Also, because she was little and couldn't swallow the pills, I had to crush them, mix them with a bit of water and a flavoring syrup (as they tasted awful) and then use a syringe to have her take it.
As ya'll can see neither my life nor Sofia's or Gabi's or our family's was ever the same. Everything we did revolved around Sofia's chemo treatments, how she was feeling, etc. I consider her sister Gabi a survivor too. From a very early age Gabi worried about Sofia and hated not being with her. On the days we'd be gone for chemo she'd stay with my mom and she'd tell me Gabi would come home from school and wander around the house like a lost puppy and she wouldn't be herself again until Sofia walked in the door at the end of the day. Only then did her eyes sparkle again. Gabi also rarely complained about the fact we were limited as to where we could go as Sofia was immunosuppressed or where we'd go out to eat, etc. And although she was always much more active than Sofia, if Sofia wasn't feeling well she'd lay down beside her and watch movies with her. It's also funny how when she first saw her at the hospital after not being able to see her for three weeks and after everything, Sofia had gone through and how she looked Gabi never once flinched. She saw Sofia for far more than her physical being and I find that pretty remarkable for a child that was only three and half years old.
Eight months into treatment Sofia had her first bout with heart failure. Because she responded so well to treatment and her function began to improve without major intervention we were all hoping it was viral. In fact through the years our major concern was always a recurrence. In December 2004, Sofia finished her treatment and started regular scheduled follow-ups with oncologists and PET/CTs with less and less frequency as the years went by. She also had cardiology follow-ups and overtime was weaned of all cardio meds except for one.
We considered ourselves lucky in that for almost eight years, Sofia lived a fairly normal life. She went back to school for first grade, loved learning and was an excellent student. She loved to read, to travel, spending time with family and friends. And she made wonderful friends (some of which are here today) and had a great relationship with her sister, Gabi. In fact, they shared everything from their friends to their love of learning and their love of animals, especially horses and horseback riding.
Ultimately though, the damage to her heart wasn't from a virus but from the same chemo that saved her life. It killed the cancer cells that had gotten into her heart but in doing so caused scar tissue which over time hardened, damaging her heart beyond repair. In late March 2012, about two weeks after her 13th birthday, Sofia went into heart failure again and while everything was done to try to get her stable enough for a heart transplant, it was not meant to be and Sofia died on April 3, 2012.
Sofia was a pretty, confident yet reserved young lady who was wise beyond her years, extremely smart and actually quite funny. She had the prettiest, most expressive eyes. With just one look, you could tell what she was thinking and feeling. I think I miss the sound of her voice and her laughter the most!!
Can you talk to us a bit about the challenges and lessons you've learned along the way. Looking back would you say it's been easy or smooth in retrospect?
Living without Sofia is definitely not easy for me, my husband or Gabi but we go on not just because she would have wanted it but because life is a precious gift and we have to live it to the fullest, making sure to make a difference whenever and wherever we can. That's why Sofia's Hope means so much to me.
It gives me a way to give back for all we received while Sofia was sick and all the years in between. And if I can help any child forget if even for an instant that he or she is sick or if I can help prevent a family from going though what my family has, then it's all been worth it.
Appreciate you sharing that. What should we know about Sofia's Hope?
Sofia's Hope has a three-fold mission to first increase childhood cancer awareness, second develop programs/activities at local hospitals for kids going through treatment and third fund childhood cancer research. Sofia's Hope is dedicated to the almost 17,000 children diagnosed each year with cancer and committed to fighting childhood cancer with HOPE!
The crisis has affected us all in different ways. How has it affected you and any important lessons or epiphanies you can share with us?
Think the biggest lesson learned is that no matter what is going on in your life, good or bad, the world keeps on going whether we want it to or not and we have to decide whether we want to keep living or giving up. For many reasons but mostly because of my daughter, Gabi, I knew I had to find a way to continue living. I am lucky life before Sofia's death taught me a lot about resilience, strength, courage, and hope as these things are what have made life after April 3, 2012 not only possible but, most importantly, fun, filled with love and productive. Doesn't mean I don't have tough days because I do it just means I always remember it's temporary and it'll pass. I give myself the space to have those moments as they make the others so much more meaningful.
If this question is related to the COVID crisis, I can say, after all we've been through, that while not easy it hasn't been devastating. We spent a year wearing masks to protect Sofia so wearing them now is nothing new and we're a part of the lucky ones who weren't affected financially by the virus. Our lives while sheltered and limited weren't drastically changed. Where we felt it the most was at Sofia's Hope with our patient and family programs. However, there we had the grit and resilience to pivot quickly from in-person to virtual, even expanding programming. We did more with less and were nimble enough to remain focused on our mission to help childhood cancer families of today and tomorrow through research support.
Pricing:
$50 Grocery gift card for a family in need
$100 Zoo Miami Adopt-an-Animal crate with family membership
$125 Newly diagnosed family kit
$250 Therapeutic Horseback Riding
$500 Pediatric Cardio-Oncology Research
Contact Info:
Suggest a Story:
 VoyageMIA is built on recommendations from the community; it's how we uncover hidden gems, so if you or someone you know deserves recognition please let us know 
here.