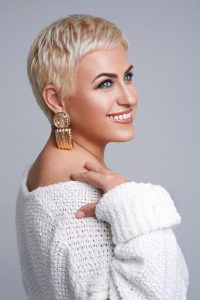 Today we'd like to introduce you to Collette Dunhill.
Collette, we'd love to hear your story and how you got to where you are today both personally and as an artist.
When people ask what do I do, I always answer "I am an artist!". I live with art every day. On some days I work with models or ordinary women; on other days I draw pictures. It is difficult for me to call it my work and even harder to call it a hobby – art is the style of my life; art is me!
For as long as I can remember, I always loved to draw. Maybe I started to draw even before I could remember myself. Mom told me that they constantly had to wash the walls from my "art," and then they decided not to wash anything and leave everything as it is. So they kind of gave me permission to draw on the walls of our house. 🙂
I remember that from my early childhood I loved to see beauty everywhere. This is probably my essence – from past till now I love the harmony of outer beauty with the soul. And no one will be able to convince me that it is not important.
I do not agree that the main thing is to have a good heart only.  I know how deep down worried those who are not taking care of their' beauty. All of these things probably led me to the way I am walking now. But if you look closer, then probably you will see that the desire to create beauty also came to me along with my origin. 🙂 I was born and raised in a small but very beautiful country, on the shores of the Baltic Sea, in Lithuania. Where are the most beautiful sunsets? Where you can walk through a small Old town, and you can be inspired by his "little greatness." Where forests every season bloom in incredible colors. It's all in my soul, and every time I try to find an answer to why I've taken this way, I realize that it couldn't have happened otherwise.
We'd love to hear more about your art. What do you do and why and what do you hope others will take away from your work?
I work as a makeup artist. I am an Artist who shares emotions in every work. My mission is very responsible and very appreciative. The responsibilities are in the fact that every woman who comes to me or every model who is going to conquer the world,  passes her expectations into my hands. I can not let them down; I must feel every moment, every thought and bring it to the outer beauty. That's why I call make-upers as Artists. We not only do makeup; we create emotions and share the message. My gratitude in my work when the client shares joy and satisfaction. We always get the feedback very quickly. It really inspires me, and  I am very pleased to work with fashion projects, commercials, models that want to create a high-quality portfolio. But I also won't refuse to work with the girls who just want a beautiful make-up for themselves. I really like it when you make Femme Fatale from an ordinary woman.
Have things improved for artists? What should cities do to empower artists?
Today's era is very interesting. Almost everyone became a stylist, everyone knows how to take pictures, and the Internet is full of makeup artists. That is not bad at all; I'm glad that people have become so advanced. But at the same time, a lot of fake people and specialists scare me. Very scary when people uglify other people. 🙁 There are so many options that it's very difficult to make a good quality choice. These blue eyebrows (permanent makeup), plastic eyelashes, duck lips. I'm not against tattooing or silicone, but I really want to ask you all: Ladies, do not spoil your beauty – pick the right specialists.
My heart brakes every time when girls become "specialists" just waking up in the morning and decided to become so. This is crazy. Girls, go learn it at school and live for a while with it and then everything will be perfect. No one has become a doctor just because they wanted to. So if you want to be in the beauty industry, you have to study and if you respect this profession – take exams and get the license. Then you will learn to respect yourself and others
Miami is a very special city. I fell in love as soon as I came here, and now I love it for already 2 years. But still, I really miss fashion events over here. This is a very tourist place and at the same time I enjoy the development of the city, thinking that this is only a matter of time when Miami becomes fashionable. In the meantime, we who works in Miami will do everything possible to ensure that the art here is being high quality and the beauty industry will reach a high level. I love Miami so much and I think that Miami will love me back 🙂
Do you have any events or exhibitions coming up? Where would one go to see more of your work? How can people support you and your artwork?
Oh. Well, I will tell you the truth right away, I am not an Instagram make-up artist. Like all creative artists, I sometimes forget that you need to show yourself as much as possible 🙂 Therefore, you can check out my Instagram @muaicona and Facebook @Collette Dunhill makeup artist page. There you can see my works, and sometimes I share my paintings too. Of course, I respect privacy. Some clients do not like advertising or attention, so I never post my work without their confirmation. And if you want to work with me, you can always find my phone number on my page and contact me. 🙂
Contact Info:
Address: 335 S Biscayne Blvd. ONE MIAMI
33131 Miami, FloridaPH:305 504 9010
Phone: 305 504 9010
Email: collette@muasyndicate.com
Instagram: MUAikona
Facebook: Collette Dunhill Makeup artist
Image Credit:
My Feme Fatales
Getting in touch: VoyageMIA is built on recommendations from the community; it's how we uncover hidden gems, so if you know someone who deserves recognition, please let us know here.