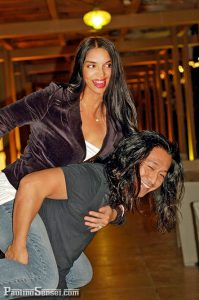 Today we'd like to introduce you to Paulino Sensei.
Paulino, please kick things off for us by telling us about yourself and your journey so far.
I am a lifelong practitioner and teacher of martial arts, published contemporary artist/photographer, and ASCAP musician who hails from Italian and Korean ancestry.
As a proud American, I gave the best of myself in active-duty military service. Prior to my honorable discharge from active-duty service as a decorated Air Force veteran, I was diagnosed with PTSD (Post Traumatic Stress Disorder). It was in that moment that I made it my mission to make my dreams and goals come true no matter the price.
A year after my honorable discharge from service, I was scouted by the legendary SAG/AFTRA agent, Dott Burns in Tampa, FL. Under Dott's tutelage, she booked my work in print, TV, film, and the music industry as a session musician, stunt model, actor, break dancer, and photographer.
Since 2000 I have worked with A-list actors, celebrities, and major brands such as Kawasaki, Harley Davidson, Ducati, Disney Animation Studios, Kodak, Universal Studios, Derrick Jeter, Chow Yun-Fat, and Johnny Depp to name a few.
I believe in always giving my best to utilize my multi-dimensional experience, knowledge base, and skill set to creatively problem solve and deliver professional excellence to my clients to maximize their interest and business. Ultimately, my vision is to help others to live a creative, healthy, and successful life and bring change to the world. I am based out of Tampa, FL and able to travel out to any location in the world.
Artist Statement: "In my work, I look to transcend time to illuminate the complex thread of mankind. Exploring the opposing elements and the idea of beauty and light, I believe one must embrace the dark truths that are as much part of our lives as the innate pull towards hope. Light and dark, order and chaos, the cerebral and the instinctive – each requires the other in order for harmony to ebb and flow."
Can you give our readers some background on your art?
I believe an artist is an instrument through which the universe reveals itself. I've spent a lifetime working on my skill set of drawing, sculpting, and painting. When I was active-duty military, I had a best friend of mine who was combat camera operator who introduced me to Adobe Photoshop and the form and function of video and still camera. He was aware of my art background, so he felt the introduction to this new platform would enable me to do more with my creativity and imagination.
My work consists of portraiture, fashion, fitness, glamour, lifestyle photography, mixed-media art, photo-art, and sculpting. I started B&W film photography long before digital cameras were available. Once I got a digital DSLR, I was able to do more without the limitations of film and working in the darkroom to develop B&W negatives.
What we can't express runs our life. Like many artists and creatives of all disciplines, we all have the need to express, compel, and bring to life a vision for the world to see. After being diagnosed with PTSD (Post Traumatic Stress Disorder), it was out of absolute necessity to utilize the arts, music, and performance art to help battle the war inside. I wasn't going to fall prey and allow PTSD to ruin my life and become static like many broken veterans.
I am inspired by beauty, talent, music, and films. When I started creating a series of photo-art and mixed-media pieces, I was able to incorporate a number of things I loved as a theme for every piece I was designing and creating. The rest was up to me to put in the effort and build a body of work worthy to share with the world.
One of my biggest inspirations happens to be a very special person who became my muse. I had a chance meeting with 90s supermodel, Shana Zadrick. I credit her for opening the door for my art and photography on a larger scale. In 2007, I launched my first official website, PAGalleria.com. And in January 2018, I launched PaulinoSensei.com to promote my own personal brand of art, photography, and health and wellness training.
At the end of the day, we all want to know and feel that we are loved and cared for since I believe the most terrible poverty is the feeling of loneliness and being unloved. And that is what I wanted to create a sense of fondness, release, and resolve in my work. Just like a master chef who prepares the finest meal because it was made with love, that same passion, and personal excellence is what I apply in my creations.
What would you recommend to an artist new to the city, or to art, in terms of meeting and connecting with other artists and creatives?
Simply reach out. I launched my official website the beginning of this year after being unplugged from social media for nearly a decade. So, I basically had to start from ground zero and build since nobody knew me except for people in the entertainment industry. I started my Instagram account in August of this year, and thus far, it has been the best platform since I've had the most growth and instant feedback on my work.
Granted, I don't spread myself thin with people since I'm all about quality and not quantity. And I don't surround myself with unhappy, unlucky, and unsuccessful people, simply because you become who you hang around or are influenced by. Some people may see this as an elitist mentality, but as a lifelong practitioner and teacher of martial arts, veteran, and someone who made many of my dreams come true, I know firsthand that you can't soar if you are not free and clear of what you want, what price you'll pay, and the discipline of seed, time, and harvest to see your plan of action come to life. Providence favors the bold.
What's the best way for someone to check out your work and provide support?
PaulinoSensei.com is my official website and I have links to all my social media and my store.
Here are the links:
PaulinoSensei.com
instagram.com/paulinosensei/
facebook.com/PaulinoSensei/
youtube.com/paulinosensei
redbubble.com/people/pagalleria
modelmayhem.com/PaulinoPagalleria
I love to share with people, and especially if it will enrich, inspire, and improve their lives. I would be grateful if you would take a moment and review my work. If my work strikes a resounding chord in you, please share with others. If you really love the work, I have an online store available with a number of products with art and photography designs. Also, I am available for commercial work and private commissions anywhere in the world in lieu of specialized personal/self-defense training. Also, I am open to collaborate with established talent and influencers. Please contact me for all inquires.
Contact Info:

Image Credit:
All art, photo-art, mixed-media art, sculpture, and photography shot and created by Paulino Sensei.
Getting in touch: VoyageMIA is built on recommendations from the community; it's how we uncover hidden gems, so if you know someone who deserves recognition please let us know here.