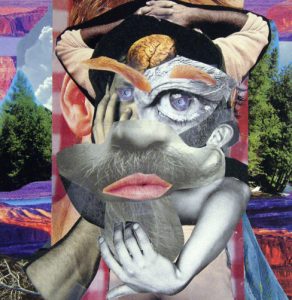 Today we'd like to introduce you to Ken Anbender.
Ken, please kick things off for us by telling us about yourself and your journey so far.
My interest has always been where imagery meets how people are put together. A Ph.D. in Clinical Psychology and a 40+ year as a trainer and developer of people was never separate from Artwork — painting vans, murals, canvas, and so on. The big attractor was what could not be photographed and had more to do with dreams and how our minds work — what has the eerie sense of familiarity yet there was no reason why it should. What resonated deeply with us or inspired us, yet there was no reason why it should. Dreams have their own logic. So does creativity. So does our ability to parse completely new worlds and environments.
A long illness shifted me from painting to collage for more than a decade. That allowed a big visual and emotional impact without much energy required. The breakthrough came in getting well and returning to painting with the collages acting as "drawings or sketches" for the paintings. Retirement from working with people opened the door to what I determined to do 50 years earlier when I took an extraordinary History of Art class in college followed by two summers in European museums, and that was to see what would happen if I painted every day for six months. This past year has led to 50 paintings, and the enjoyment of creating "other worlds" that somehow resonate for us.
Can you give our readers some background on your art?
My art takes surrealism into the 21st century — what is super-real yet otherworldly, what is beautiful yet weird without any conflict between the two.
I collage and paint Alien Sex, Other Worlds, Abstracts that aren't quite Abstract, Invented Monkeys, riffs on Genetic Modification, and Places that have a real Sense of Place yet do not exist.
My fascination is with images that "resonate" with people, where you can tell what is happening in an alien scene and have a deep relationship and compassion for the entities, yet know you have never met anything like them.
I like collage especially because it turns garbage into gold (discarded books and images turned into new and striking worlds of art). It is another form of recycling. I like collage because it becomes a springboard for painting that has more texture and detail than I would ever draw as a sketch.
I call my website and company Eye Music (www.eye-music.com) and explore what is music for the eyes. Music touches us yet we don't know why. Visual music does as well. It reveals something about what moves us in life.
I like to create "worlds." There is no why about it. And I'd like people to enjoy them and come to question what lets them appreciate things they have never seen or thought and have a ready relationship with those worlds.
There are no "shoulds" about my artwork. I'd like viewers to appreciate what they bring uniquely to parsing something new.
How do you think about success, as an artist, and what do quality do you feel is most helpful?
I consider any time that I am deeply moved and surprised by the art that gets created (as if something works through me vs. "I did it"), I consider that a success. It is like channeling something that wants to come to be that adds to the breadth and depth of life.
Essential to success as an artist is evolving your ability to create and not getting stale. Much of the rest is luck and happenstance. You can take care of the first part.
What's the best way for someone to check out your work and provide support?
The best place is my website: www.eye-music.com (don't forget the "-").
If there is something, you see there that you want to live with, write to me (kanbender@eye-music.com) and we can work something out.
I am currently working on selling a national treasure music archive to ensure its future and will return to exhibiting art when that job is taken care of. Painting continues unabated.
At some point, I'd like to have a joint show at the Coral Springs Art Museum with my sister, Artist Janet Gold.
Contact Info:
Website: www.eye-music.com
Phone: 7349969293
Email: kanbender@eye-music.com
Instagram: #eyemusicart
Facebook: @eyemusicart,

Alien Sex #18 — Plant-Based. Collage. 13" x 9"

The Chicken Inspector's Recurrent Dream. Collage. 11" x 14"

Our Lady of Mass Destruction. Acrylic Paint on Canvas. 30" x 40"
The Prolonged Puberty. Collage. 8" x 10"


Spider Monkey. Acrylic Paint on Canvas. 30" x 40"

The Sin of Advertising. Collage. 8" x 10"


The Trinity II. Acrylic Paint on Canvas. 24" x 30"
Image Credit:
Ken Anbender
Getting in touch: VoyageMIA is built on recommendations from the community; it's how we uncover hidden gems, so if you know someone who deserves recognition please let us know here.