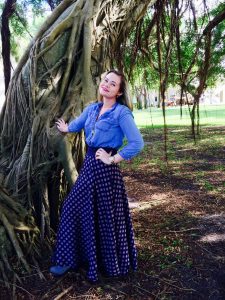 Today we'd like to introduce you to Kaylene Dahl.
Kaylene, please kick things off for us by telling us about yourself and your journey so far.
Singing has always been something that I was interested in from a very young age. My mom frequents the story of me singing along to an "Ocean Spray" commercial long before I could formulate whole sentences. I think it was around middle school that I started getting solos and the like in choir and thought "Hey, maybe I'm OK at this whole singing thing…" Going on to high school I was heavily involved musical theater productions, choir, and the like.
I originally decided to study nursing in college. It wasn't until I was sitting in my commencement ceremony about to receive my AA degree that I heard the speaker say something to the tune of "always follow your passion" (too cliché, I know) that I decided I wanted to pursue music in the collegiate setting. I emailed a professor at FAU that night about continuing my studies in music.
Studying college in music actually came very naturally to me and luckily, I found myself excelling in my studies. I love being a student, if I could be a professional student, I would absolutely be one. The most challenging part came with the at times crippling self-doubt I started to experience as a performer and singer. I had never experienced anything like that prior to my studies, so it was new for me. Throughout my undergraduate and into my graduate studies, the anxiety eased as I become surer of my skills as a singer and artist. Since my studies I have been teaching and performing in the area, with performances here and there out of state.
My true passion is teaching. I have always seen myself more as a teacher than a performer. While it's completely necessary to have performance experience to give a sense of conviction to your students, I have always found myself more intrigued with the idea of helping students find their voice and tackling challenges surrounding it.
Can you give our readers some background on your art?
My "art" consists primarily of me singing. While I am classically trained and that's what I tend to sing mostly, I like to sing and teach different genres as well (musical theater, jazz, pop) in order to keep me malleable and flexible as a singer and teacher. I think that's so important. I think one of the best traits any artist can have is flexibility. While of course it is necessary to have a specific focus, I think if you can branch out to other avenues within your specific medium you can open yourself to more creative freedom and just be able to market yourself more efficiently.
I am a big believer in "opera for everyone". This is a saying that is popping up more and more throughout opera companies and the like. Opera is an art form that tends to draw in more of a mature crowd, I would love to see more young people take an interest in it. I would hope that being a generally young singer, I could assist with that. There are companies that are starting to feature opera in bars, restaurants, etc. and I think that this is such a great start to increasing opera exposure to people who may not otherwise be open to it. I would love for people to know that opera has so many facets to it besides beautiful music and grandiose costuming. It's sexy, it has drama and heartbreak and elation, it has complex characters that people can see qualities of themselves in. Even if I don't end up a professional opera singer, I will continue to advocate for the beauty and longevity of the art. Plus "Riconosci in questo amplesso" from Le Nozze di Figaro is perfect, go check it out.
What would you recommend to an artist new to the city, or to art, in terms of meeting and connecting with other artists and creatives?
I find that a bit funny because in my specific field of art I have always been surrounded with such wonderful, extroverted people. Singers are so emotional, so driven by their "vibes" if you will. I have always felt so supported and lifted by my fellow artists.
However, I would say that performance anxiety can be an incredibly lonely feeling and that is something that I have experienced many times. Even if your art form doesn't require performing per say, self-doubt about your art can really leave you feeling as if you are the only person that is experiencing that, and that is super hard. I would say support each other to the best of your ability. Go to that art opening, a friend's show at a restaurant, a local play. The more you can see friends and colleagues putting themselves out there and enjoying it, the more you will believe that you have something unique and special to offer. I would also say that the more conversations you can have with others about overcoming self-doubt can help you. Be open about your struggles. Every facet about you is what makes you the artist that you are, embrace them. Without them your art could cease in authenticity, which nobody wants.
What's the best way for someone to check out your work and provide support?
On my website, I list any local performances that I will be participating in so that is honestly the easiest way to find any upcoming performances that I have. People can also check out my recordings that I have there to maybe hear, and hopefully enjoy a song that they haven't before. I also teach private voice and piano lessons, Stephen Sondheim once said "Art is a form of teaching", I believe that the statement works vice versa as well. Once upon a time, a music teacher helped a formidable musician who then decided to make music and the creation of it her full-time gig, I could only hope to be so lucky to do the same. More information on my lessons and teaching can also be found on my website.
I think the biggest support I could ask for is for people to find a local opera company in their area and go see a show. To experience a live opera is better than any recording I could recommend. In the South Florida area, we have been blessed with the Florida Grand Opera and the Palm Beach Opera, both put on wonderful productions at very fair price points for the talent you are enjoying. Social media is of course a wonderful marketing tool for local opera companies, follow opera companies and see if they have local events coming up. I went to an opera trivia night (I won first place. I have an unfair advantage I know, I know) in collaboration with the Palm Beach Opera and it was great. I was so incredibly happy to see young and old people alike enjoying and learning about opera.
Contact Info:
Getting in touch: VoyageMIA is built on recommendations from the community; it's how we uncover hidden gems, so if you know someone who deserves recognition please let us know here.