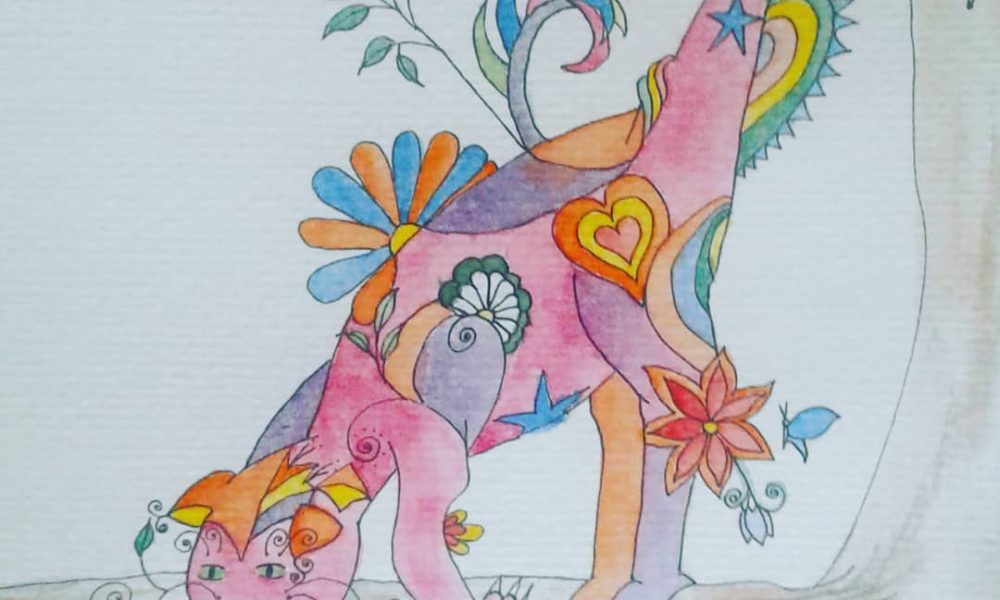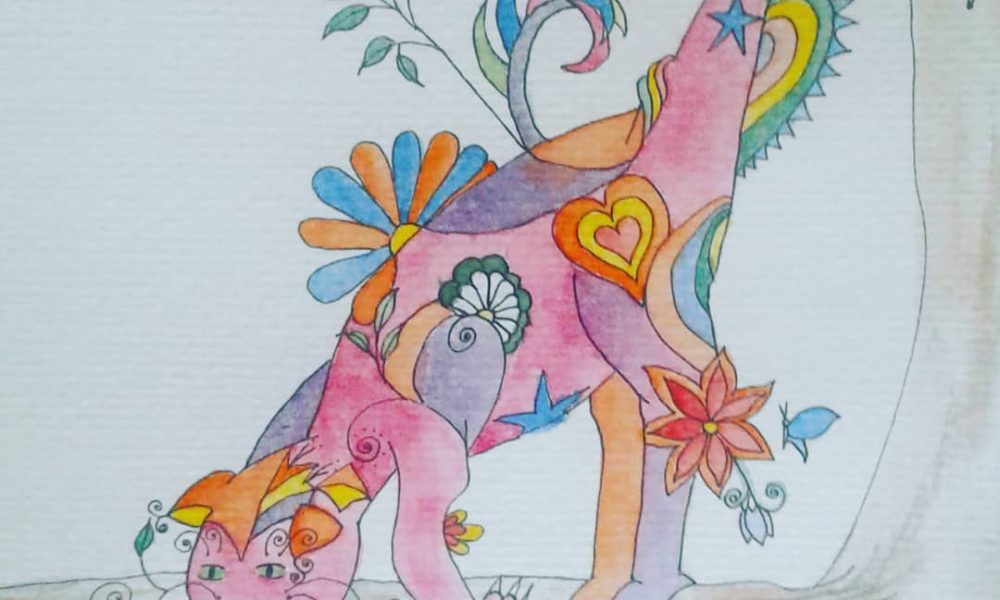 Today we'd like to introduce you to Jennifer Veilleux.
Jennifer, please kick things off for us by telling us about yourself and your journey so far.
Born into a family of artists and musicians, art and music are in my blood and in my earliest memories. While I explored the arts at home and in school growing up in Connecticut, I made work only sporadically while I spent almost 25 years traveling the world and pursuing my education and career in the sciences. Bypassing college for travel in my late teens and early twenties, I backpacked through Europe, Australia, and Central America before focusing on my studies. I found that my love of nature and world travel could be translated into education and eventually a career, and began living abroad for long periods in order to create compelling research projects pursuing higher education and working on limited-term projects. For a collective five years, I lived outside of my home country in African, Asia, Europe, and Australia. I believe that this global exposure helped shape my personality, understanding of my place in humanity, and my aesthetic. In between pursuing degrees and traveling, I worked periodically for the US government, international organizations, grassroots, the Yankton Sioux Tribe, private consulting, and a slew of jobs like waitressing, bartending, teaching piano, and bus driving to pay the bills or afford the next plane ticket.
In 2012, while completing my Ph.D. in geography, I returned to my love of photography as a way to humanize my research, and as an essential piece of self-expression. I found that the images I created of river communities in my research portrayed something beyond scientific documentation or subjects of interest. Subsequently, the body of work I created moved beyond inclusion in my dissertation or journal publications and further became the foundation for a portfolio called Portraits of Change. There are four distinct indigenous communities photographed from the Mekong, Nile, Mara, and Missouri rivers featured in this collection. Between 2013-2018, the photographs have appeared in Limnology and Oceanography, Humans and Nature, Lensculture, and the Smithsonian as well as in several publications for Florida International University and Oregon State University, among other places.
Once I returned to the east coast and settled in Miami, I took action to bring the photographs and derivations of the photographs forward to the public eye. My interest is to create platforms for the narratives of the people in my work to reach a larger audience. Where development and tradition meet is where the work I create lives, that intersection challenges notions of indigenous stereotypes, savior status of economic development projects, the critical role of traditional knowledge and ways of being in the success of sustainable modernity. I hope that my work meets the gaze of the viewer with gentle fierceness and patient immediacy. Part of the Portraits of Change collection was included in a digital exhibition at Midoma Gallery in Manhattan, NY and in a solo show at the Curtiss Mansion in Miami Springs. I further integrated these photographs into hand-painted works that I exhibited in Miami Beach, Pembroke Pines, and Fort Lauderdale galleries show, as well as on the web. This work was featured in an article the Sun Sentinel in 2017.
Following some intense life challenges in the spring of 2017, I returned to painting as a form of therapy and transformed part of my apartment into a working studio. At the time, I lived on Arch Creek in North Miami and took the name for my studio. To my delight, I found that beautiful memories from years wandering the world emerged through the colors, patterns, and textures of my art. I lose myself in my work, and I make time to paint almost daily. I approach art like a form of prayer and meditation. I find, in the process of making artwork, a familiar feeling of home no matter where I am when I create. In fact, when I focus on the process of making art, I step through a portal to live in my pure self; I experience tireless physical energy, feel confidence in execution, and my sense of time is suspended. The materials I use speak to me of how to use them and help me express what I am feeling. Light and shadow conspire together to help me find just the right moment, angle, brushstroke. When I sit in my studio, I enter into the process with a loose sense of a plan. Instead, I rely on intuition and flow of expression that comes from somewhere outside of myself. In essence, I feel that I make space so that the work creates itself and I can allow this only when I am completely willing, committed, quiet. The time it takes me to create something may be one hour, or it may be months. There is a feeling like an exhale when I know a work is complete. Later, when I return to look and look again, I am pleasantly surprised at the geometries, symmetries, patterns, colors, or expressions that appear to me to form naturally. Sometimes, I wonder at the creation, not feeling that it is of me, but rather just birthed through me.
In 2018, Arch Creek Studios expanded to include and represent women artists who benefit from a cooperative platform. Most of my work to date has been created in Miami, Florida, although I made work before moving here and I bring supplies with me whenever I travel. Currently, I am contracting on the Yankton Sioux Reservation in South Dakota and brought my supplies and my cats (who must have some critical role in all of this) with me. I am excited to see what this environment impresses behind my eyes and guides through my hands onto new canvas.
Can you give our readers some background on your art?
I use multiple outlets for my artistic expression, and each has a particular feeling and calls for a specific mindset and approach. My portfolio is a collection of portrait and landscape photography, painted photographs, alcohol ink abstracts and surreal compositions, and watercolor illustrations.
My photography portfolio is made up of images from different cultures created mostly during research fieldwork. I embed in communities where I work on water security issues, and often the subjects of my work are indigenous communities living along rivers where development is changing or has changed their access, or impacted the water's quality and/or quantity resulting in impacts on community rights, identity, tradition, and culture. While the topic of my research is often somber and serious, the portraits I create frame dignity and tell a story of traditional lifeways. In this way, I believe that I co-create my work with my subject. I may share with them a series of images, and they tell me which they feel most represents them. The photographs take on a level of intimacy and relevance to tell individual stories of a snapshot in time or add up to a collective narrative of an ongoing situation. I include landscape images with these portraits to give the viewer contextual sense of place so that the individuals are not viewed simply hanging in a void between two worlds, but firmly placed within a setting.
Using my photography, I create painted photographs by printing my black and white work on canvas and using acrylic inks and paint, as well as gold leaf, to highlight aspects of my experience with the subject. This technique of tinting and painting photographs is an old tradition from the time of the origins of photography has appeared only in black and white. Photographers sometimes dyed or tinted their work to bring life to the composition. People would pay artists to tint or paint their black and white portraits to give a lifelike feel to the otherwise otherworldly feel of black and white. I have been approached more than once by people from the Caribbean telling me how this photography tinting was done up until recently; how one man's father in Cuba made his living through the art. My contemporary take on the technique deviates from the tradition in that I am not seeking to make lifelike color enhancements per se, but instead I paint the person and/or the environment the way that I experienced the moment My expression can range from a visual representation of an energetic impression to elements of the subject's political, economic, or traditional life. Each portrait tells it's own intricate story beyond the eyes staring back at the viewer.
From using acrylic inks, I stumbled upon alcohol inks. This medium allows for unpredictable expression, vibrant colors, and incredible versatility. I employ these inks in abstract and surreal painting, impressionist landscapes, fantastical flowers, and whatever emerges from the ink. The colors do not blend as much as a stack on one another, creating unusual combinations. Further, what the inks are applied to alters how they look. I use a variety of platforms when I want different work that includes paper, canvas, acetate, vinyl, metal, wood, glass, and ceramic. The majority of my current work is alcohol ink based, and I share the paintings with a sense of joy, fun, mystery, and beauty. Much of my influence with the inks come from imagined nature or dreams. The fluidity of the medium enhances the ephemeral feel. People see their own imagined dreams inside the pieces and tell me full stories about what they feel when they look at the work. I enjoy these exchanges immensely. I also use my paintings as designs for fabric for pillows, scarves, and clothing as well as stationary. My paintings are held in collections in over 15 states in the US, as well as in Sweden, Brazil, Puerto Rico, Mexico, and Tanzania.
Finally, my work in watercolor centers on creating children's illustrations. Merveilleux Menagerie began in 2013 as a collection of watercolor animals executed realistically from my photo archives or fantastically from my imagination for friend's babies and kids. I believe every child should own a piece of art to inspire their own creativity and imagination. Ultimately, I found that adults also love the creatures I bring to life through the brush and pen and my watercolors live across the United States and Mexico as well.
What responsibility, if any, do you think artists have to use their art to help alleviate problems faced by others? Has your art been affected by issues you've concerned about?
I don't believe that today's challenges differ greatly from what humanity has faced collectively historically or that artists are doing anything differently now than they have always done. Artists play a critical role in channeling the Divine into the tangible and visible – to challenge the modern push with pause and reflection of what is essential truth, what is just, what is essential to our spirits. The spiritual nature of art is, in itself, a challenge to the material and temporal reality we face and buy into. Artists give ourselves over and accept a role to show beauty and horror. Through our work, we ask our collective society to think and feel instead of just react, quantify, or seek control. The process of creating and presenting art is best when it is done without ego because of this sacred ethos.
Local, national, and international events pervade my work because I insert myself in all of those spaces to observe, collaborate, and integrate. The purpose of my photography and painted photography work is born out of the hope that I can platform and amplify issues of resistance by marginalized communities I work with who uphold traditional culture and identity against capitalistic short-sightedness and exploitation of our planet. This is why I see this work as co-created – the image may come through my eye, but the voice comes through their mouths, and the spirit comes from something bigger than any of us.
As far as my work in the inks, I believe that the colors and subjects link to an eternal spirit, transcending the now and reminding of connection to the Divine. I experience this fifth dimension, if you will, in the process. Feedback from my audience echoes a feeling of transport in experience to somewhere in memory or time outside of time. While this may sound like a deviation from the literal challenges of our time in global events that include climate change, genocides and mass migrations, human trafficking, the rise of authoritarians, the poverty and suffering that capitalism champions…and many more things I cannot begin to include, I rather point to a response to all of that madness through art. I feel I can take a role that returns the mind of my viewers to another truth that also pervades our being – one that is eternally there to plug into and recharge and inspire for solutions and reprieve.
What's the best way for someone to check out your work and provide support?
People can view my work currently online in several places.
On Instagram: for paintings and illustrations @archcreekstudios and for photography @portraitsofchange.
On Facebook: for paintings and illustrations visit Arch Creek Studios @archcreekstudios and for my photography visit Jennifer Veilleux Photography @jenniferveilleuxphotos.
I have separate websites for my photography collection (www.jenniferveilleux.com) and my paintings collection (www.archcreekstudios.com) both of which are undergoing an overhaul this spring.
If readers are interested to support or purchase my work, they can contact me directly by emailing archcreekstudios@gmail.com or contacting me through any of the above platforms. I am happy to ship anywhere in the continental USA (or further by specific arrangement).
Contact Info:
Getting in touch: VoyageMIA is built on recommendations from the community; it's how we uncover hidden gems, so if you know someone who deserves recognition, please let us know here.