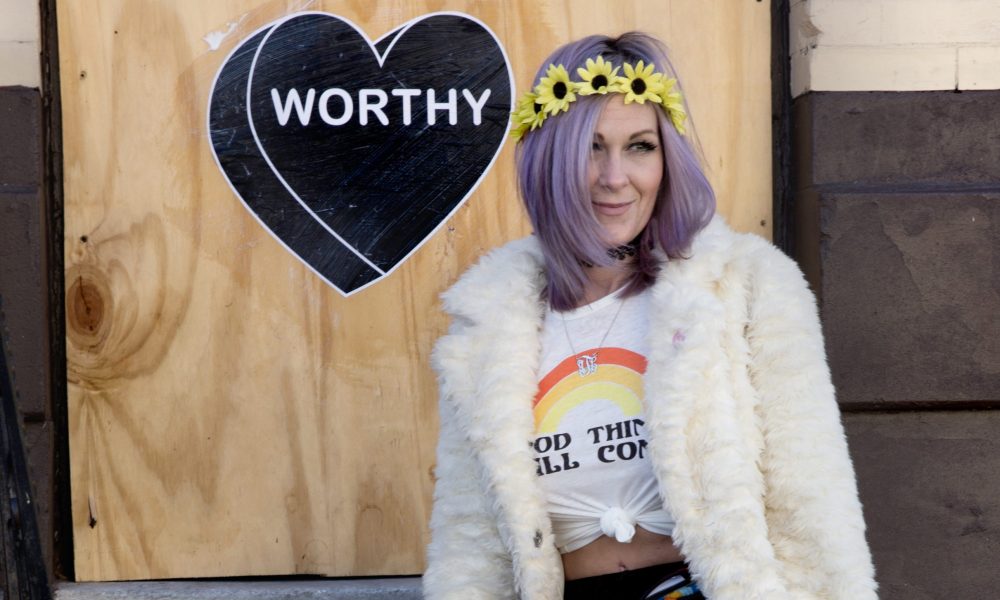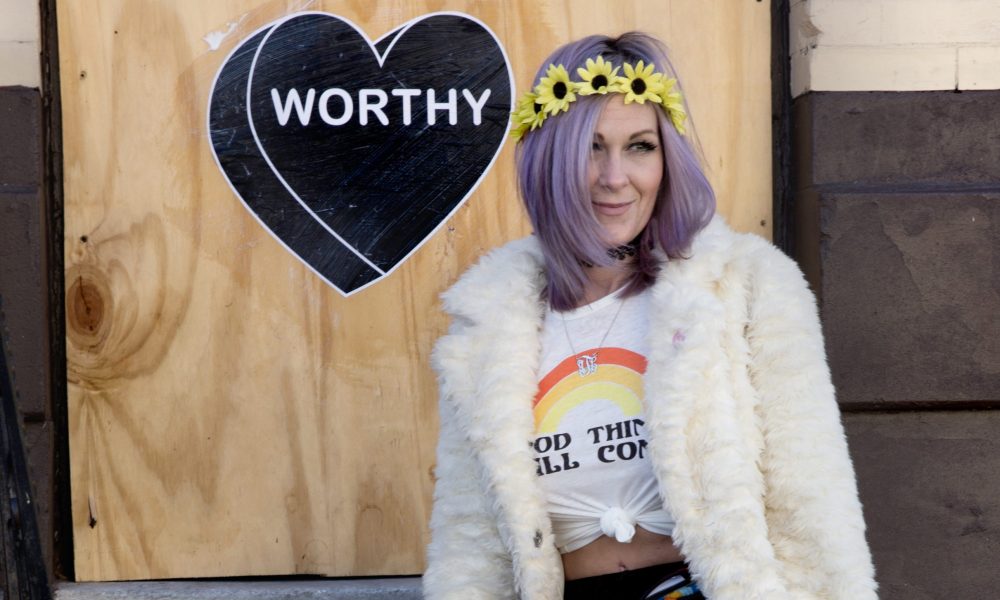 Today we'd like to introduce you to Amberella.
Amberella, please kick things off for us by telling us about yourself and your journey so far.
I'm a street artist based out of Philadelphia. I've been in the streets with my art since 2009. I feel in love with being able to express what I was feeling at any given moment by just walking out into the city and placing the work out into the world. I have a BFA in Photography from The University of the Arts, have been showing mixed media work since 1999, was a prop and wardrobe stylist over the years, and for a few years had a gallery and boutique called Amberella. BUT- for now I'm in the streets, all over the country.
Can you give our readers some background on your art?
I have two bodies of work right now that are particularly popular. Both of which are pasted up publicly. One called #Goth Hearts which are black and white quick to read hearts that have phrases that are feeling and emotion related to love and relationships. The hearts stem from my feelings from diaries and notes and everyday feels. They are raw and vulnerable. for example, some hearts reading "U BLEW IT", "STAY", "UR ALL I NEED", "GO AWAY", "UR LOSING ME". Things that turn out to be quite universal. As I hit the streets as my own escape and therapy the hearts quickly struck an unexpected cord with many. It's been really special to hear people's experiences with the hearts and provide an unexpected platform for people to have a moment with their feelings.
The second body of work are the #Power Hearts. These originated as self-love hearts for myself. I was coming out of an emotionally abusive relationship and had started therapy and needed the extra boost. I started putting hearts near places I frequented daily. For example,' KEEP GOING' and "YOU GOT THIS" hearts are on the outside of my coffee shop. These hearts have also proven to really speak to many people. They are motivational, uplifting reminders that anyone could use at one time or another. A few of my other reminders are "YOU ARE NOT ALONE", "YOU ARE LOVED", and WORTHY.
All of my work is very selfish and stems from a place of me trying to work through life and turn my art into my therapy but it in turn keeps seeming to become so selfless once it hits the streets. It becomes anyone and everyone else's. I love that. I always had the desire to help others through my art and it happened organically.
What responsibility, if any, do you think artists have to use their art to help alleviate problems faced by others? Has your art been affected by issues you've concerned about?
I'm not sure if it's necessarily changed but it may just be more obvious now a days to notice when an artist is using their work to be involved with current events and social justices. I think that an artist has a special opportunity to be a voice and I take that opportunity and responsibility very seriously.
I am so lucky to have a platform where I can share my opinion about any given issue or even just bring an issue to the table to encourage people to engage and discuss. This of course is a double edged sword… being in a position where people are watching and judging you is incredibly hard. It's already hard enough to be publicly vulnerable but then to hear everyone's response can be difficult as well. However, I do use my art for issues that it suits and in any way that I can help raise awareness or support to an issue that I stand beside. I'm willing to stand up for what I believe in and not be liked for it.
What's the best way for someone to check out your work and provide support?
You can find more work all over the country… Miami, Atlanta, Baltimore, Nashville, Los Angelos, Philadelphia, Chicago, Portland, Brooklyn and more.
I'm always taking commissions so just email if interested. I have prints, pins, and special limited-edition merchandise on my website. Find some apparel with Urban Outfitters and look for collaborations with some of my other favorite brands throughout the country.
Contact Info:
Image Credit:
"WORTHY" image of Artist: Jordan Stein
"CANT STOP WONT STOP" image of Artist: Jesse Clayton
Getting in touch: VoyageMIA is built on recommendations from the community; it's how we uncover hidden gems, so if you know someone who deserves recognition please let us know here.