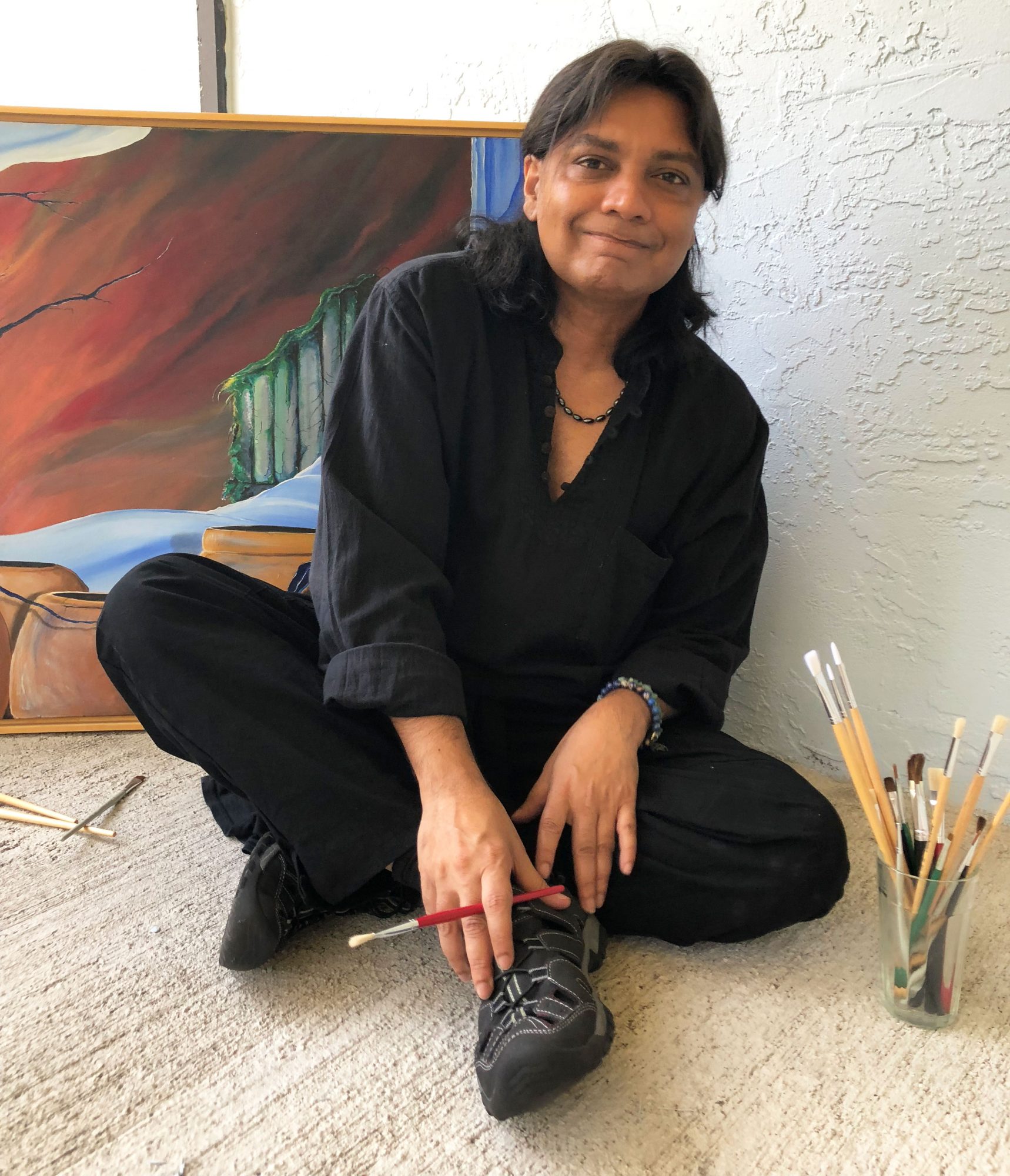 Today we'd like to introduce you to Adnan Duane Razack.
Adnan Duane, please kick things off for us by telling us about yourself and your journey so far.
As a child, mesmerized by some of my time in England and to be followed by my time in Trinidad, the contrast alone had a great deal of influence on my psyche.
England has unmistakable and distinct history to it and has given birth to what I think is the best city in the world, London. I recall homes with black doors and marvelous gardens, old hauntingly beautiful buildings that gave me ideas of vampires and ghosts and then the streets filled with women in the rage of the day, the mini. Their stylish looks and pale lipsticks, the high heeled platform boots and flip hair styles…yes, my child hood influences.
Then Trinidad, the island of my birth, the green rainforest, and the grey clouds masking the emerald green mountains that faded away in their seemingly dooming invasion. The heavy tropical rains making violent yet peaceful sounds on the galvanized roof, and the smell of nature rising to give empowering birth to dreams of a beautiful planet. My art work is so often a reflection of these influences. Then my late teen years and 20's through the 30's in New York City, the ugliest beautiful city there is in so many ways. The speed and fashion, the revolution of rebellion and the openness of lifestyles. Truly wonderful and another influence in my work, my illustrations in fashion and my painting to reflect my visions and reflections all at once.
My parents gave me discipline but seemed to have iced it with freedom of thought and lifestyle. My sister gave me unity and intellectual conversation and then allowed me to feel comfortable in accepting myself. All this makes me the creative chaos I am. Painting, Illustrating, fashion, make up, styling, advertising, design all become my world and, well still is, now that I live insanely superficial yet abstractly deep world of South Beach and well, South Florida.
Can you give our readers some background on your art?
I have always been creative, though it tends to flow in binges and then seems to go into slumber until the next binge. I paint my visions, dreams and influences, a sort of fantasy merged with elements of reality. I create unusual portraits, not realistic depictions but rather my interpretation of where and how I see the model I am painting. As I am putting together a group of artists that will be featured on www.wmrarts.com. I am strong believer in teams. We are here to work together and support each other.
I create illustrations that satisfy and at times even overwhelm my clients, some are about fashion and make up, style and glamour others are about feelings and reflection, editorial or books…and well, whatever seems to be the desire once I make a connection of good vibes with the client. www.adnanrazack.com
Fashion…I design and assist, advise and help innovate and of course only if I connect with the client in a way that feels like a beautiful sense of bliss and fun. Such is one of the things I do now as Simi Dahl (PIECE BY PV) dives passionately into a strong and powerful design philosophy creating innovating unusually empowering one of kind pieces while saving the planet and avoiding waste. A state of consciousness, as her Senior Design Director, I feel a close connection too!
Along with team of brilliant people, we are about to launch an agency, perhaps more like a movement, quietly, but powerful sending creative messages out into the cyber world, under the name www.coll3tives.com Creative. Collective. Consciousness. Look out for that! As a Creative Director I am involved in a company the reaches Americas caregivers, another because I feel close too as I was one for 10 years, caring for my mother. www.caregiver.com And I teach, a truly inspiring generation of people in the fields of Advertising, Graphics, Web and Visual art at DCEH Miami International University of Art and Design. And yes, I absolutely love it! And yes, it keeps me young. LOL!
What responsibility, if any, do you think artists have to use their art to help alleviate problems faced by others? Has your art been affected by issues you've concerned about?
This is certainly a pertinent question. So much has changed indeed. Do galleries sell art like they did in the 80's or before? Do artist have great agents that push their artist forward anymore? I really do not know. I have been in a few galleries and recently approached one that said they take 60%…I almost collapsed. I am still trying to discover the new way. However, there is Instagram, yes that marvelous world of social media and how many likes we get. And the web, our personal websites headed by our domain names. The world has changed, no surprise, it always does. I just must decipher what strategy to take. And I guess that is the fun about it.
Technology has caused us to alter the manner in which we do things. So, has the increase in population. Art is more around us now than maybe ever before. And in South Florida dare I say, it is in many ways a meca for art in this time frame. Every way we turn there is something creative to look at. It is exciting and at times intimidating. Graffiti has taken a profound stance in our culture and I love that. Tattoo artist are now wonderfully respected and that to too is fantastic. I have had 3 people use my work as images on their bodies for tattoos and this is more than an honor!
I think as artists we must be free to do what we seek to do, some are poetical, some political and some are peaceful and abstract and some live in a world that depicts another time or place, but it is all good…we live in an era that so many things seem occur at the same time and that is exciting. I am amazed and disgusted at the same time and that too is interesting. RIGHT? LOL!
We are visionaries in our own way and each of us has something to say…some with force and others quietly. All stands to reason. I think with all the digital stuff we see, and I too am part of that, we have regained a sort of renewed respect for work done by hand. We do not lose something to get something much anymore, instead we seem to wonderfully keep them all going at the same time!
What's the best way for someone to check out your work and provide support?
For some time, I have been involved in the serious and emotional challenge of caring for my mother who had Alzheimer's. This is a toll I wish on no one. So, for those years I was off the chart so to speak. In many ways this is a sort of rebirth time for me… I have had art shows in New York, private arenas in era when such shows seemed the way to go. Shown in South Florida and in Trinidad over the course of several years…and now It may indeed be time to start the ball rolling again.
My work can be seen online for now at: www.wmrarts.com, this a site that I have and still am establishing with a group of artists, Catjia Rehkamp known as documentary girl on Instagram and I run the site. She is the only photographer on the site. It is a new site and will be ever evolving, life consciousness I would say. LOL! There is also www.adnanrazack.com this is more my commercial site, featuring my fashion and glamour illustrations and other commercial illustrative work.
I am in Instagram as adnanduanerazack. I would like to do some group shows with all the artists on the WMRARTS site. Catjia, Nancy Handler, Carlos Granela and Joey Joy, joyofjoey, on Instagram. and I are very much looking around at doing such…
Contact Info:

Image Credit:
The 2 pieces, titled : NEGREVA and AZDOARAKA are done in collaboration with Joey (Joy) McComas who also featured on www.wmrats.com
Getting in touch: VoyageMIA is built on recommendations from the community; it's how we uncover hidden gems, so if you know someone who deserves recognition please let us know here.