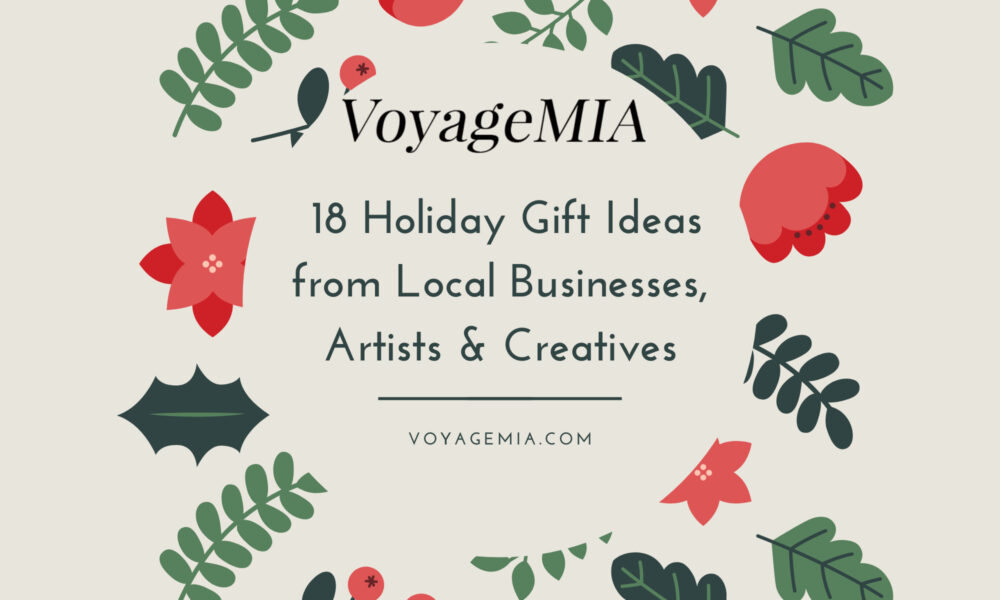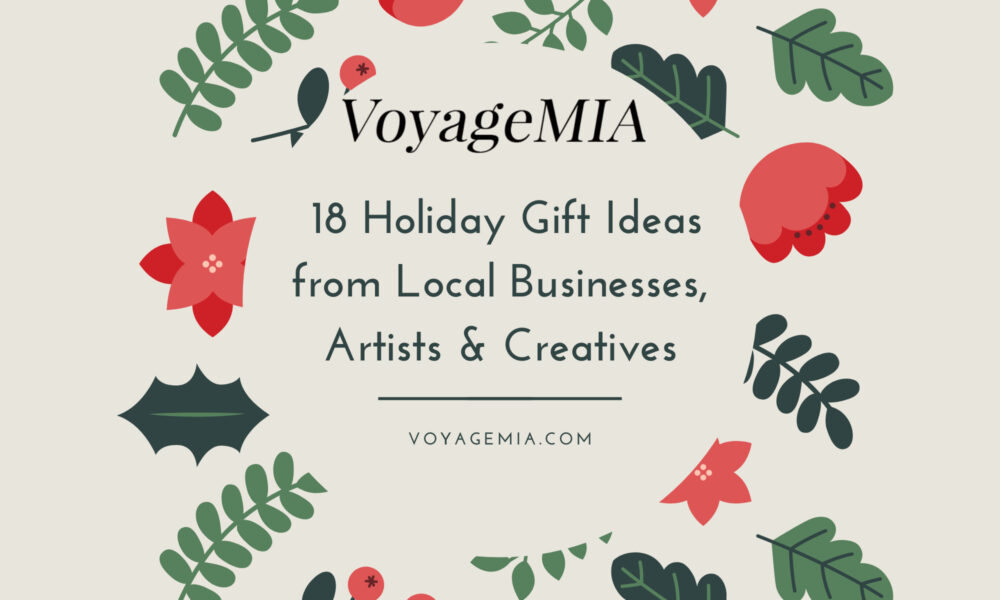 Discover truly unique gift ideas that will leave your friends and family smiling all season through our Holiday Gift Guide below.
This year it's more important than ever to think about where you'll be spending your holiday gift budget. Small businesses have faced an unprecedented year of challenges, but by rallying around our local artists, creators and small businesses owners we can help them thrive despite the circumstances.
We asked members of our community, folks we've featured before and our content partners and subscribers to tell us about the products and services they are offering that are ideal for gifting this holiday season. Content partners help us in so many ways from sponsoring our mission, spreading the word about the work we do and collaborating with us on content like this.
We hope you enjoy the options highlighted below and we hope you'll reach out with suggestions for additions.
The future of skincare is fresh. Fresh ingredients with no harsh preservatives or fillers, just pure botanical and vitamin-based formulas made by an MD weekly. Founded by an Esthetician, Skin at Peace knows how to pack all the essential ingredients into simple to use products that take less than 2 minutes a day to use. Fresh, simple, clean.
Our signature "Self-Care Sunday" box has all the things to have a perfect self-care day. If you need to unwind after a long day uses the Calm Sky handmade soap. Before you go to sleep or when you wake up, spend 5 minutes writing in the 5-minute gratitude journal. We have the perfect candle to help you relax and have your home smell amazing. Lastly, enjoy the benefits of raw sea moss from St.Lucia that can be turned into sea moss gel. This box is the perfect gift for yourself or friends and family. This gift is a mini spa/relaxation in a box.
Christmas Dessert Box! It is the perfect gift for those who have a sweet tooth! The box can be customized with any dessert to your liking. The pictured box includes: Coquito (by Miami Coquito) (4 different flavors to choose from and can be made for those under 21 without alcohol), a jar of dessert (by Oh My Flan) it can be any dessert featured on the menu, hot cocoa with marshmallows, a candy cane, a wooden spoon and it will include a card with your personal message. I offer to deliver and/or pick up! They will be sold for $30!
Credits: Jazmin Rodriguez (owner of Oh My Flan)
Life goes by quickly, and every sweet moment should be captured for a lifetime. That is what I love the most about my job as a lifestyle photographer, and this holiday season, I am encouraging others to gift their loved ones with gift certificates for a photo shoot of their choice! I hope this encourages others to stop and capture their life in all of its authenticity and beauty as it is right now, to then have a tangible gift that they will always be able to look back on fondly.
Credits: Photo by Jennifer Hudak
We are a small business that has discreet and cute self-defense items. We have disguised items like lighter pepper sprays, key knives, comb knives, & more! As well as aesthetically pleasing self-defense keychains.
I am Elidea a contemporary Italian artist based in Miami. I love to realize personal portraits starting from a photo, I can realize your custom collage on paper with the decoration of acrylic paint and golden/silver or bronze leaf. "Every time a client entrusts me with a photo of himself or a member of his family, it is as if he gives me part of his intimacy. In this world where everything runs so fast, I like the idea of stopping everything and dwelling on a single glance, a moment of peace where to enhance the intensity of a face."
Everyone needs the perfect t-shirt to complement an everyday, laid-back look. The ideal top for so many occasions, this lightweight cotton tee will keep you comfy and looking smart. This product is made especially for you as soon as you place an order, which is why it takes us a bit longer to deliver it to you. Making products on demand instead of in bulk helps reduce overproduction, so thank you for making thoughtful purchasing decisions!
Credits: Isabel Amigon – SOLOLI
Mulatas Kollection affordable Line of great cosmetic lipglosses that are long-lasting, matte & bold gear gifts that come with handwritten messages for women.
@mulataskollection
Credits: Kkvptured
A Paradoxical Life: Where Did We Come From? is an intriguing read for all readers that wish to embark on a journey of inquiry and mystery. Diondre Mompoint shares this book to open the discussion and ideas for where we may have come from. The origin of life has always been a question of his, while for others, it may not always come to mind. This book will open the minds of your friends and family, as well as allowing them to be free-thinkers when it comes to controversial topics. Embark on his journey to reveal profound ideas on the origin of life.
Credits: The Book Smuggler's Den
This is the seasonal Merry Berry Sea Moss Gel! Sea Moss is a superfood that gives the body 92 trace minerals of the 102 the human body needs. It helps detox, boost the immune system, digestion, known and unknown inflammation, boost energy, and help with sleep just to name a few.
Credits: Tiffany Hamilton
Handcrafted woven necklaces, My pieces are unique, lightweight, and versatile! You can wear them with any outfit. I usually work with cotton thread to which I weave natural stones, wood, glass, metal, etc. My style is mostly bohemian and hippie. Many times I combine leather and chains to make different and more dynamic models. The best part is that the price is really great for a handmade unique piece of jewelry. Definitely a beautiful Christmas gift, Check my catalog on my Instagram page
JSIME COLLECTIVE's Springtime T-shirt is the first installment of the fashion label's new capsule, "My Dark Renaissance". Beautifully designed in Miami and handcrafted in Portugal, this luxury garment will complement any outfit.
Do you have a small business owner on your holiday shopping list this year? If I had to guess, I bet they're on Instagram (and wishing there was a way to market their business effectively on social media in less time). Enter: my content planning webinar! This 1-hour webinar will teach you how I plan content effectively for myself and my clients.
Credits: Jama Finney Brand Photography
Caregiving doesn't pause for the holidays. For some, the happiest time of the year can be filled with frustration, guilt, and fear. We don't want to be a downer, or a burden, so as Caregivers we will hide away with our feelings. In "Welcome to Caregiving", I share my crazy yet very relatable stories about all the "other duties as assigned" (like being the Kitchen Table Pharmacist) to help soften the caregiving journey. It's a gift that can help Caregivers feel seen and understood – a little token that says, "Hey, I got you, I know you're going through it," Because it's all about love…
This beautiful prayer journal is for all praying wives out there who are ready to intercede for their husbands in all areas of life. This prayer journal covers the following areas of focus, to name a few: His Heart Relationships, His Insecurities, His Courage, His Work and His Faithfulness, etc. This journal makes an excellent gift for every occasion: anniversaries, birthdays, or a Just-Because gift. This Prayer Journal is an un-dated journal. It includes: a paperback cover, full-color interior pages Perfect Binding 6″ x 9 in." in size created with love.
Lost Laundry is a great gift for family or friends this holiday season for those interested in streetwear with unique designs and super high-quality fabric. This Lost in the sound bar hoodie is a Premium French Terry Cotton, metal tipped tonal draw-cord with LL logo on the front pouch pocket and neon sound bar on the back and an un-lined hood, makes this hoodie a great gift for a friend, family, or even themselves.
Have you been searching for a program to help you develop broader exposure for your brand? FemCity is a women's networking community. We have been featured in Glamour, GMA, Entrepreneur, Cosmopolitan, Women/Entrepreneur, MSN Money and more. We host Member-Only local events, online programming, live virtual classes, provide access to our experts, accountability programs, and a community forum. Members are also featured in our online directory to find the ongoing support they need to propel them forward, all in a safe space embraced by diversity + inclusion for all women.
My book is one idea that will open up the minds of those gifted individuals. Reading is still very important in our technological age!
Monthly Budget Planner and Organizer The Monthly Bill Planner and Organizer provides a fantastic way to organize your bills and plan for your expenses. Perfect for anyone who needs to track their income and expenses month to month, week to week. Businesses, entrepreneurs and individuals will benefit from this simplistic & reliable layout. Managing your money has never been easier, it's perfect for business, personal finance, bookkeeping and budgeting.
A journal gratitude book. It's a book inspired by the idea of living in appreciation. It is a 52 week unique prompts to help you being grateful in your everyday life. An amazing gift for everyone ❤️ To live in a grateful state.
https://www.amazon.com/Grateful-Cultivate-daily-practice-appreciation/dp/B09PW8L86G/ref=sr_1_1?crid=1B5QB0B7DRTSS&keywords=grateful+edda&qid=1642449135&sprefix=grateful+edda%2Caps%2C139&sr=8-1