Some art is provocative, some is deep, some art is fun, some is pretty. Some art is all of the above and some is none. In our interviews with artists, one thing we've learned is that there is never a single statement or generalization that can be made about "art" or "artists." We've highlighted artwork from some of the artists we've had the honor of interviewing – we hope you'll check out their work, follow the ones you connect with and perhaps support them through purchases and spreading the word about their work.
Maria Tokareva and Sergey Gordienko
We are Artist and Designers. We paint murals, design and custom paint on clothes. Our message is when you do what you love, Magic Happens. We are creatives in many different ways and we want to communicate freedom and expressing our feelings trough art. Each one of us has a different style, Maria loves to paint girls mixing portraits with lots of feeling and expressive faces and Sergey is very inspired by modern art, pop art and Basquiat. Read More >>
@norartss
Most often I draw with colored pencils but I also work with paint and more. I really enjoy portraits and nature themed projects. I share my work online with the hopes that it can inspire someone. As I'm sure this is the case for many artists, my creations mean a great deal to me as I usually spend hours working on them and put lots of effort in order to bring my imagination or a picture to life. Read More >>
Arianna Marotta
I generally like to draw people especially eyes. When I speak to people I can tell so much just from looking at their eyes. I like using acrylic paints or pencil primarily. Tattooing has been another medium I've been working with. I equate tattooing to trying to draw with a power tool. I have an enormous respect for tattooing. It has been by far the most difficult medium to master. I think that's what makes it so intriguing and addictive for me. If it was easy it wouldn't be as rewarding. There are always new or different techniques with tattooing I will never be able to stop learning it is both humbling and fascinating. Read More >>
Desmond Jones
My artwork is very nostalgic full of fun and iconic characters and cartoons and being from Miami Visiting wynwood gave me a love for graffiti and street art so I started to tag my works with "Art Is dope" and vandalize them to get a certain urban street art look. The message behind art is dope is to "paint Life" meaning that you're the artist and you hold the colors and the paintbrush so you are in control of how you paint your life aka your "masterpiece ".when people look at my artwork I want them to have nostalgic moments from childhood from gazing upon the characters and I also want them to smile or laugh which is normally the reaction I see when they look at my artwork, So that makes me happy and inspired me to keep going. Read More >>
Tiffany Skyers
My most popular / signature work is very bold, vibrant, and saturated in color. I take reference from pop art as I then break up the color with thick black lines. Lately however, I have been very experimental, my work has been everything abstract to realism. I like to push the envelope and see what I am capable of artistically. In terms of my artistic development, I like to sometimes compare myself to Pablo Picasso. My work caters to my moods and life experiences. Each piece tells a story or explains a thought or emotion. My work tends to be my therapy from my worldly issues. Some pieces are easy to understand, but some are just as complicated as I am. Read More >>
Disem
I try to work in as many mediums as possible, but I'm mostly known for my murals with spray paint, or oil on canvas. I'm heavily influenced and inspired by the city I've been raised in, Miami, from its colors to its people. I'm currently working on a series of portraits titled "Miami artist series" of artist I feel need a spot light on them for the work they've put in, and for how they've influenced this city. I also like to play with the hard contrast of "graffiti" and "fine art" and coming from both backgrounds, I play with creating a balance between the two art forms. Most vandals don't care for the "fine art" and most people into "fine art" can care less about "graffiti". My work plays with the hard contrast of the two art forms. Contrast is an ongoing subject matter for me it can be seen in my work. Read More >>
Beca Castel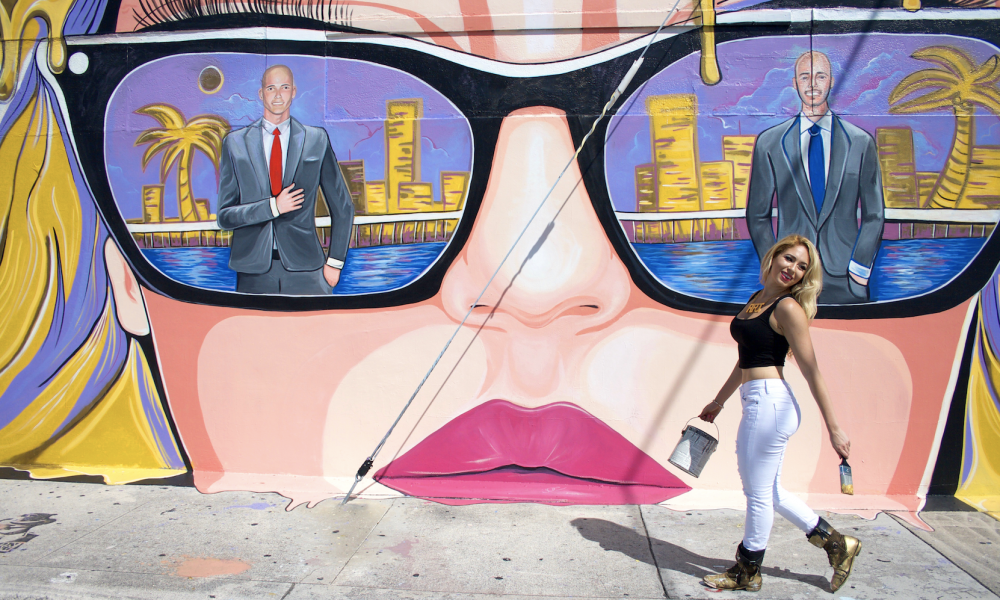 I'm a professional artist that specializes in custom paintings and murals for homes, businesses & commercial properties in South Florida. After several years of pursuing the traditional route of showcasing in galleries and big art exhibitions, I saw a demand. There was a high demand in the market for artists to create custom pieces. I've been blessed to be skillful enough to be versatile in many different mediums. This has allowed me to fulfill most of my client's needs. An art piece can be very personal and unique to a person. I have the ability and skills to recreate the client's vision. It is really rewarding to be part of that process and see the client's vision come to life. Read More >>
Nate Dee
My current masked series examines the use of animals and zoomorphic iconography from various cultures. For many past and contemporary societies, animals have various connotations whether religious, spiritual, or their images have been used to embody certain personality traits. In other cases, as found in (i.e. European) literature they can be represented as a guide, protectors, antagonists, ethereal, and even demonic.
The series of masked woman in my current focus use these animals as an extension of these psychological & metaphysical attributes as they assert themselves in their own realities. Read More >>
Loic Ercolessis
Nothing is to be taken seriously but then everything needs to have light shed on it. Movement and action starts with questions. I don't bring answers. I just try to make people feel, react, reflect even, so they stop walking through life like every day is just another version of yesterday. No filters, no answers, just food for thoughts. Read More >>